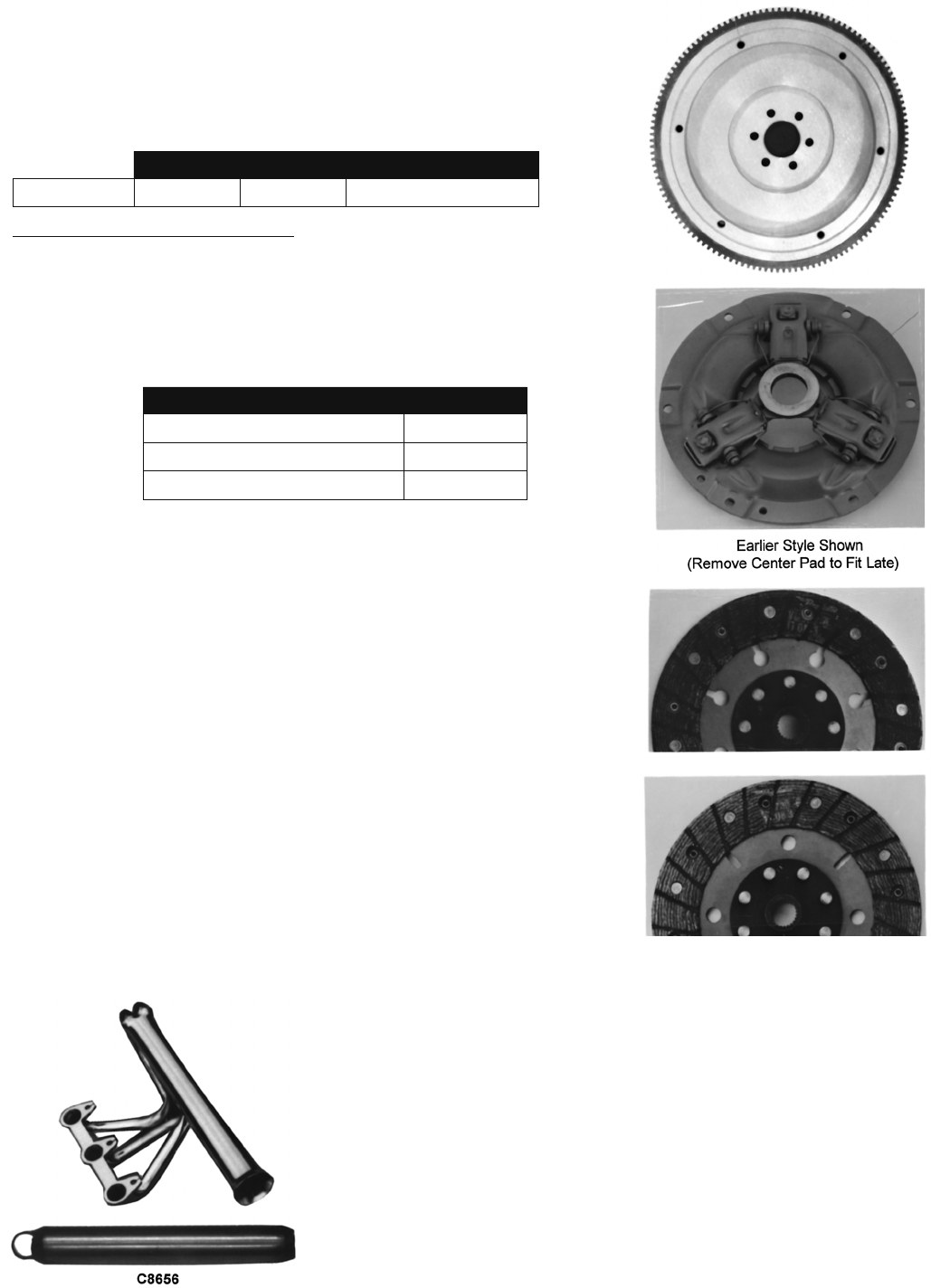 i
WARNING:
Products on this page can expose you to a chemical, which is known to the St

ate of California to cause cancer or reproductive harm. **For more information go to www.P65Warnings.ca.gov**
327
CORVAIR TO VW FLYWHEEL, STEEL – NEW
This is a one piece heavy duty steel flywheel precision machined from solid machine steel.
These are far superior to original VW flywheels and ready to install in your Corvair/VW conversion.
Perfectly balanced but for maximum output engines you should have your whole clutch and
pressure plate balanced as a unit. Only available as a 15 lb. unit. We include instructions
for any Machine Shop to easily machine to a weight of 13-14 lbs. for faster acceleration.
15 lbs. is great for most applications as it helps prevent
"bogging down"
while giving good
accelera tion. Available with or without ring gear.
109 Tooth
130 Tooth
Bare

(no ring gear)

14 lbs.
15 lb.
Flywheel
C5580
C5582
C9220
Flywheel to Crankshaft Bolts –
set of 6
C787

6 oz.
VW PRESSURE PLATE
OTTO PARTS
offers these remanufactured 200mm pressure plates to meet even the most
demanding applications. With the proper combination of pres sure plate, disc and flywheel,
you will have a reliable positive clutch. 1300 lb. is adequate for all but hottest.
All 9 lbs. ea.
Early or Late
1300 lb.
(standard
w/ Kit)

C5149
1600 lb.
– OK if needed

C8737E
2400 lb.
Late Only – competition only
C8738L
Bolts & Washers –
Special for VW Pressure Plate to Flywheel. Set/6

C5142B

4 oz.
STOCK VW DISC
A new disc with durable facing. This is the standard disc in Corvair/VW Kits. Will give good service
in regular street use with 1600 Lb. pressure plate. Not for use with other pressure plates if you
want a smooth performance clutch that can take punishment.
See "Smooth-Loc".
Stock VW Disc
C5141
3 lbs.
SMOOTH-LOC VW DISC
A performance designed disc that can provide both smooth operation for street use and positive
lockup when you turn on the power. The bonded high temp facing will give excellent service
for hard driven buggies or cars. Use the 1600 lb. pressure plate for slightly modified 140's.
Use 2400 lb. pressure plate for highly modified engine and drag type use.
Smooth-Loc VW Disc
C8739
3 lbs.
BUGGIE HEADERS, REAR ENGINE
Ceramic? No Chrome?
The Silver Ceramic can withstand heat. The chrome was always turning color or peeling off.
This is our most popular header. Will fit almost any comm ercial built rear engine buggie. Tuned equal lengths for big
broad mid range powerband. Super rigid flange is chamfered for positive seal.
Also order 1 set of packings.
SILVER CERAMIC REAR ENGINE BUGGIE HEADERS
BARE TUBE REAR ENGINE BUGGIE HEADERS –
(no paint, no ceramic)
MUFFLER INSERTS
(pair) Fit either of above.

C8656

8 lbs.
SUPERTRAP INSERTS –
Forestry Approved. Fit in end of outlet. Can't be used
with muffler inserts.
C8657
(pair)
4 lbs.
EXHAUST PACKINGS
140 (4 carb)
Set/6 =
C371C
6 oz.
All (2 carb)
Set/6 =
C479C
6 oz.