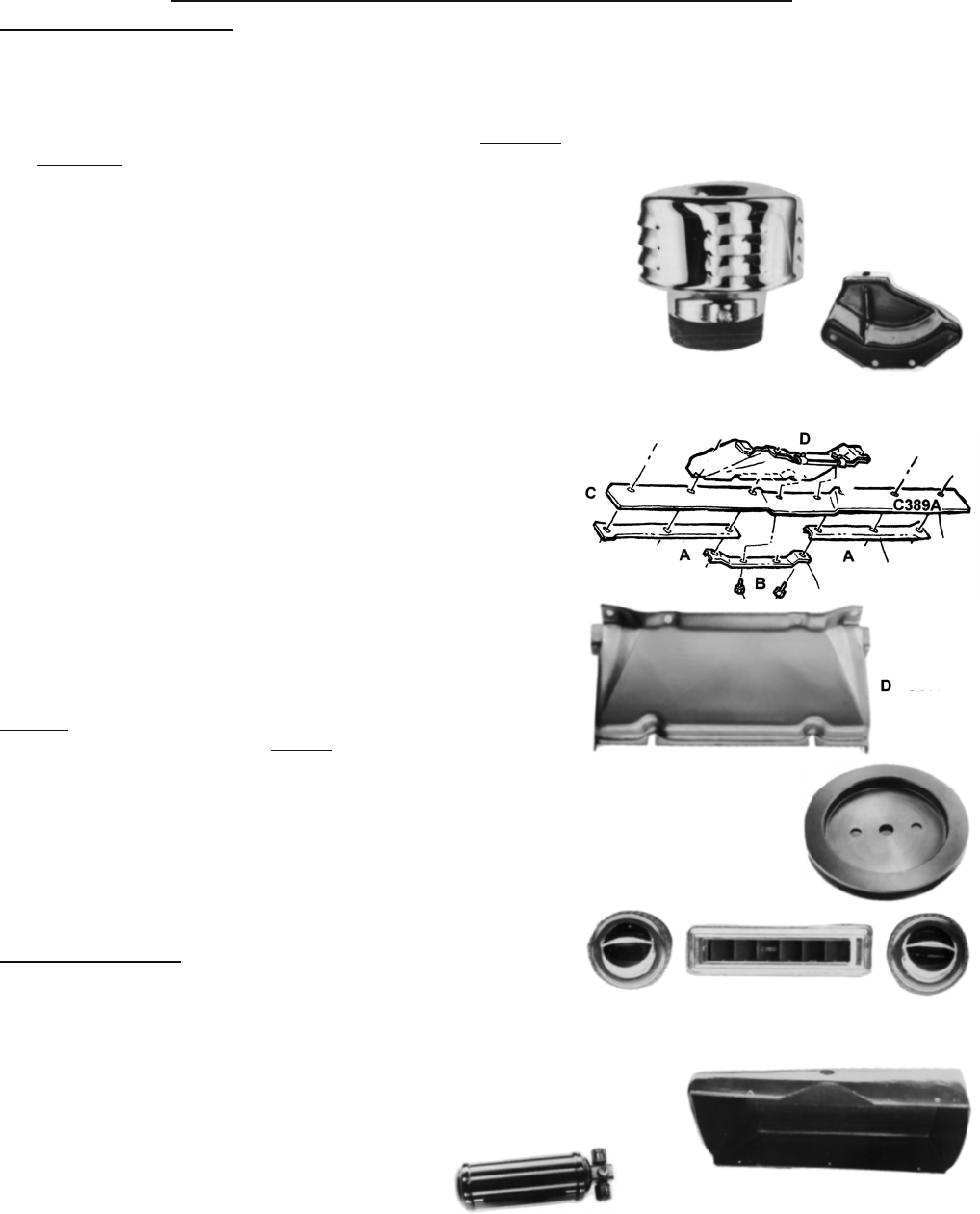 i
WARNING:
Products on this page can expose you to a chemical, which is known to the St

ate of California to cause cancer or reproductive harm. **For more information go to www.P65Warnings.ca.gov**
321
MORE INDIVIDUAL A/C PARTS
1961-64 ALL CARS
Engine Lid Seal – C805RRAC
3 lbs.
Required for 61-64 engine lid mount condenser kits. Not needed for trunk mounted condenser kits. Comes with instructions. Recommended glue is
C4870R.
Small Chrome Air Filters:
Required for use with 64 Engine Mounted Condenser Kit (C11781 on page 318.)
We've done the extra work so you can easily install these chrome air filters. ORDER 1 KIT with PCV brass fitting so you can attach a hose from the PCV
tube.
ALSO ORDER 1 or more WITHOUT.
We supply all the parts and complete instructions for an easy, professional looking installation. 140 order (
1
)
C11611 & (
3
) C11612.
KITS give you ALL PARTS FOR 1 CARB.
CHROME AIR FILTER KIT –

WITH PCV fitting
C11611
1 lb.
CHROME AIR FILTER KIT –

NO PCV fitting
C11612
1 lb.
REPLACEMENT PAPER ELEMENT
C11613
1 lb.
Note: If you don't want to use this style air filter, you could try to adapt 61-63 style air cleaners.
This requires many parts and modifications to the top of carbs.
61-63 Repro A/C Motor Mount – C8056AR
4 lbs.
64 Style, 61-63 Car & 61-65 FC A/C Engine Mount Bracket, Repro – C11847
3 lbs.
Have a non-air conditioned 61-63? If so, you will need this piece. Most 61-63 cars had the "flat" version of this lower engine bracket, but A/C cars need
this "clearance" version to make room for the A/C pulley. It came stock on all 64's. We have made some modifications and now have this hard to find
part available. You also need C11943 rear cover
(C11943 below)
. Satin black finish.
"A & B" – 61-64 Rear Engine Seal Retainers – C6804 & C6805
4 oz. ea.
These metal retainers attach to the rear shrouds to hold the rubber strip to the rear of the
engine.
3 pieces needed. (2 "A" & 1 "B")
"A"
(fits left or right side)
"B"
Center section – Slips into
2 needed
C6804
"A" at either end
C6805
"C" – Seal, Engine to Body:
Fabric reinforced rubber.

C389A

8 oz.
"D" – 61-64 and 61-65 FC Skid Plate Cover, Repro – C11943
1 lb.
This is the small rectangular steel cover behind the motor mount that helps seal
the engine compartment. We also recommend the rear engine seal retainers listed
61-65 FC Repro A/C Pulley w/ Bolt – C11945
2 lbs.
Original 6" size. Includes all needed bolts.
Does Not
look stock. This style is designed after
the 1964-67 pulley that bolted to the harmonic balancer. Building your own A/C system on an FC? We have the pulley and
bracket that you will need to make the conversion. We have designed this pulley especially for the FC knowing the tight area
you have to work with. Pulley bolts onto crank pulley same as stock A/C pulleys, but is tight to the crank pulley to allow
enough room to run this along with the stock 64 bracket or our repro bracket. No modification needed for the upper motor
mount support. Once installed changing the regular fan belt will be more work as there is not enough clearance left to get the
inner belt on and off without removing the rear air grill and motor mount nut to lower the motor down and then remove the
rear motor mount bracket. Satin black finish. All 61-63 & FC must also order 64 style engine mount bracket (C11847). Also
see skid plate cover (C11943) above.
1965-69 CARS
In-Dash Vent Kit, 65-69 Cars – C11856
2 lbs.
If you want to add A/C to a car that never had it, and want that in-dash look, then this is your kit. Kit includes one rectangular plastic chrome vent that
mounts just above the radio and two round plastic chrome vents for either side of the dash. All vents use• 2" vent hose (C11838). While not stock, these
do look more correct than the under-dash version, but are more difficult to install. Cutting of dash is required for installation.
Glove box, 65-69 Plastic Replacement – C11792
2 lbs.
This new glove box is a 2-piece, vacuum-formed plastic alternative to the factory cardboard version. Not as
deep as the original so it gives you a little more room for the cramped evaporator and passenger vent hose
area. A must have for evaporator installation.
Drier, 65-67 Replacement – C11806
2 lbs.
An aftermarket replacement for your stock drier. This affordable drier
is good for either R-12 or R-134 refrigerant, and will fit your 65-67 stock drier bracket and look great. Includes a sight glass for R-12 use and modern
o-ring style ports. No fittings included – See page 318 for kit (C11857).
*Note: This drier is close to stock dimensions but the outside diameter is a little
smaller. It can easily be shimmed to fit your stock bracket. Also note that if your A/C system has been opened for more than a few minutes, you
have
to
replace your existing drier with a new one before recharging!
Also read "Why Replace the Drier?" on page 318.
Seal, 66-67 Stock & Repro Condenser – C11811
1 lb.
These two foam seal strips are required on 66-67 condensers. Dark grey, stock with a 1" x 1" cross section.
C11847
C11943