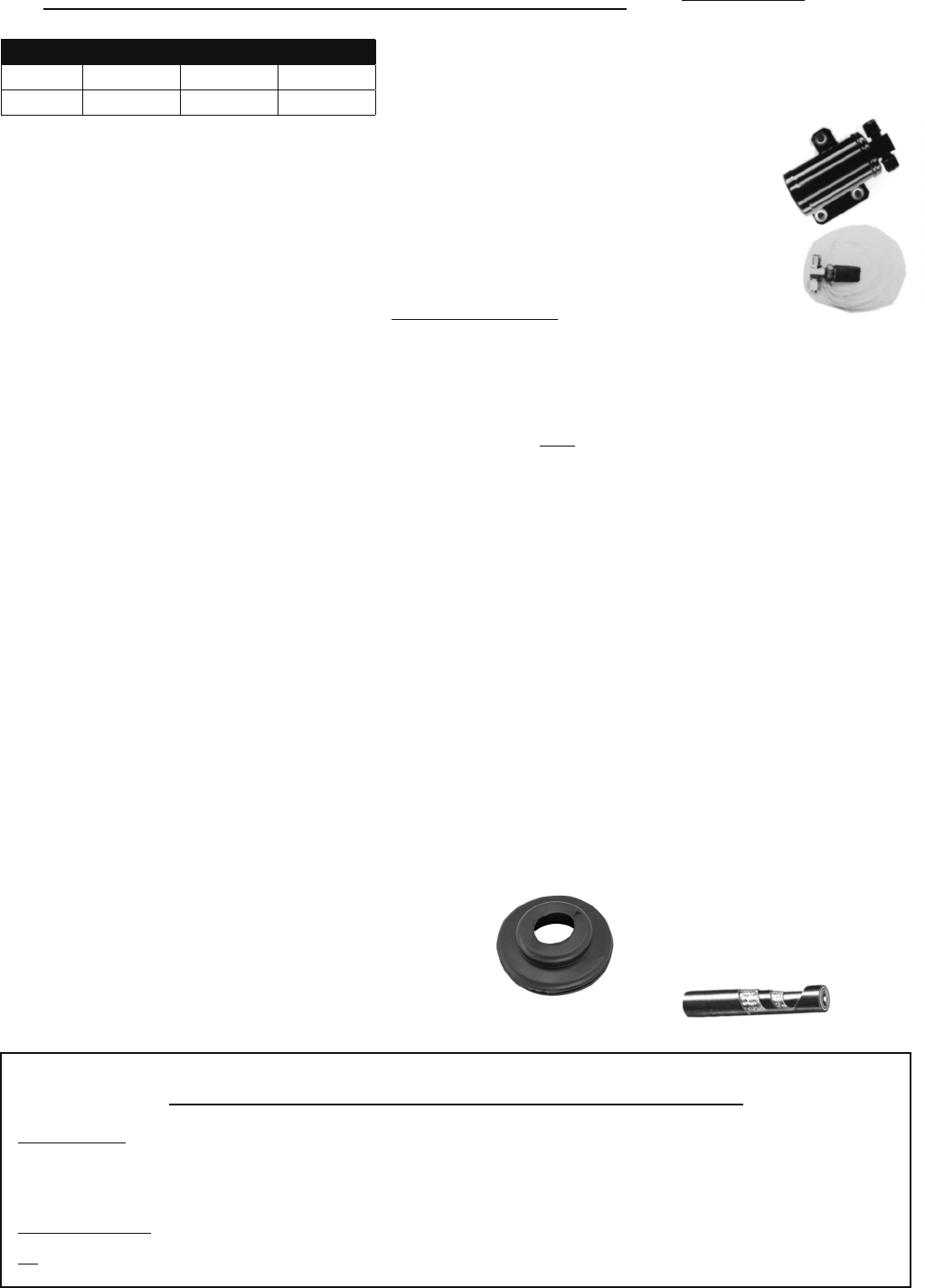 i
WARNING:
Products on this page can expose you to a chemical, which is known to the St

ate of California to cause cancer or reproductive harm. **For more information go to www.P65Warnings.ca.gov**
320
MORE INDIVIDUAL A/C PARTS
ALL YEARS
Compressor Belts
All 1 lb. ea.
A/C Pulley
Bracket

Length

Part Number
6" Std
2 – Carb

47"
C1796
6" Std
4 – Carb

54"
C4476
There are so many different pulley set-up possibilities that we are not able to supply a "one size
fits all" belt for other than the stock 6" A/C pulley when used with this system. Now that your
compressor is installed, you can measure that distance and determine the length you need by
wrapping a tape measure around the pulleys backwards when the compressor is completely
loose. This measurement should be very close and will indicate which size belt you need if not
using stock 6" A/C pulley.
Stock 90 Degree Oil Filter Adapter w/ Bolt – C11844
2 lbs.
All Corvairs with A/C need this adapter. Fits all years. Includes adapter, special short bolt, and both gaskets. These are used
adaptors that are cleaned and have glass-beaded aluminum finish.
Drier, Replacement – C11807
2 lbs.
An excellent alternative for all stock driers. This very compact design includes three rubber mounts, and will attach to many "hidden"
places on your car. Good for either R-12 or R-134 refrigerant. Includes a sight glass for R-12 use and o-ring style ports. No fittings
included – See page 318 for kit (C11849). Also read "Why Replace the Drier?" on page 318.
Hi/Low Pressure Safety Switch – C11809
1 lb.
HIGHLY SUGGESTED!
If you are "engineering" your own system or converting to R-134, you need to protect it (and yourself) with a high/low pressure cut-off switch... This
simple in-line model just screws into your drier or condenser and wires into your existing harness. If your system pressures ever move out of the normal
operating ranges, or air flow stops moving across your condenser for any reason (such as the engine lid being left open), this switch will safely shut your
system down and prevent damage to your compressor...or even worse, a high pressure hose explosion! All R-134 systems in Corvairs need one of these!
Relay, 30-Amp – C11808
1 lb.
Protect your A/C electrical system with this little relay switch. A common problem with the
Stock
Corvair A/C is the fragile switch that is used each time
the air is turned on. If you have a good one, protect it with this 30-amp relay. Straightforward wiring and small size make this an easy upgrade. It is
cheap insurance considering you cannot buy the stock switches new! This part is also necessary for electric fans.
Only for original A/C systems.
All of our
systems have this relay preinstalled so that you do not need any additional relays.
Expansion Valve w/ Adapter – C11810
1 lb.
Have an old system? Converting to R-134? You will need a new expansion valve. This new expansion valve includes the special adapter nut you will need
to attach it to your 61-67 evaporator and the tar-like tape required to reinsulate the valve. It is R-134 calibrated, but will work with R-12 as well.
Tape, Refrigerant – C11823
1 lb.
A/C tape is the tar-like, black goo you find on evaporator fittings. Its purpose is to insulate the expansion valve and bulb for quicker actuation. It also
keeps it from dripping condensed water. Comes in 1-foot long "tape" sections, and installs easily. If you remove this from your GM system, be sure to
replace it.
Step Fittings with Refrigerant Ports – R12 10-12 = C11813
R134
8-10 = C11814
all 1 lb. ea.
Keep your engine compartment clean with these
10-12 = C11815
compact step fittings. These tight 90 degree fittings fit the #8 and #10 o-ring fittings on your Sanden Compressor, then step the size up to the stock
Corvair #10 and #12 hose sizes. Both R12 and R134 refrigerant ports are available.
Plastic Flex Hose, 2" – C11838
1 lb.
Quality flex hose used to connect your evaporator to your individual vents. Used in aftermarket of 65-67 stock applications. Sold by the foot. "2" = 2
feet, etc.
Hose Clamp
Double Hoses
C11837
2 oz. ea.
Sold each; they hold your hose securely to the underside of your car and look great!
Grommet, Hose – C11832
1 lb.
The best A/C hose grommet you can buy! Very flexible grommet fits #6 - #12 hose
sizes for a clean look and safe passage through metal. Requires a standard
1.375" hole.
Bead-Lock Crimping Service – C11800
Offered as a convenient service to you, we can crimp any of our fittings to barrier hose
before they ship. This inexpensive timesaver will allow you to install your new hose right.
Air Conditioning Hose
Special A/C Pressure Hose
GM but may vary slightly from the original hose.
Sold per running foot. Order 4 feet and get 4
continuous feet.
I.D. 1/2"
C3131
1 lb. /ft.
I.D. 5/8"
C3132
1 lb. /ft.
●
KIT INFO for 61-62 WAGON & 61-65 FC
●
1961-65 FC Info:
The only real way to make this work is a "trunk mounted" kit. Mount at the front of the FC in a horizontal position behind the
front valence & design your own support system. It gives plenty of cooling for a Rampside & acceptable cooling to the front seat of a Van or Green
-
brier; however, it does not do much for the middle to rear of the vehicle. Some people have rigged up double A/C systems, but we do not have any
at this time. We have all of the basic parts to install air conditioning in your FC, however, we do not like the way it "fits" inside the cab.
1961-62 Wagon Info:
Because this is a trunk mounted condenser kit, you should read the trunk mount condenser info near the top of page 318.
FC:
You are "on your own".
C11832