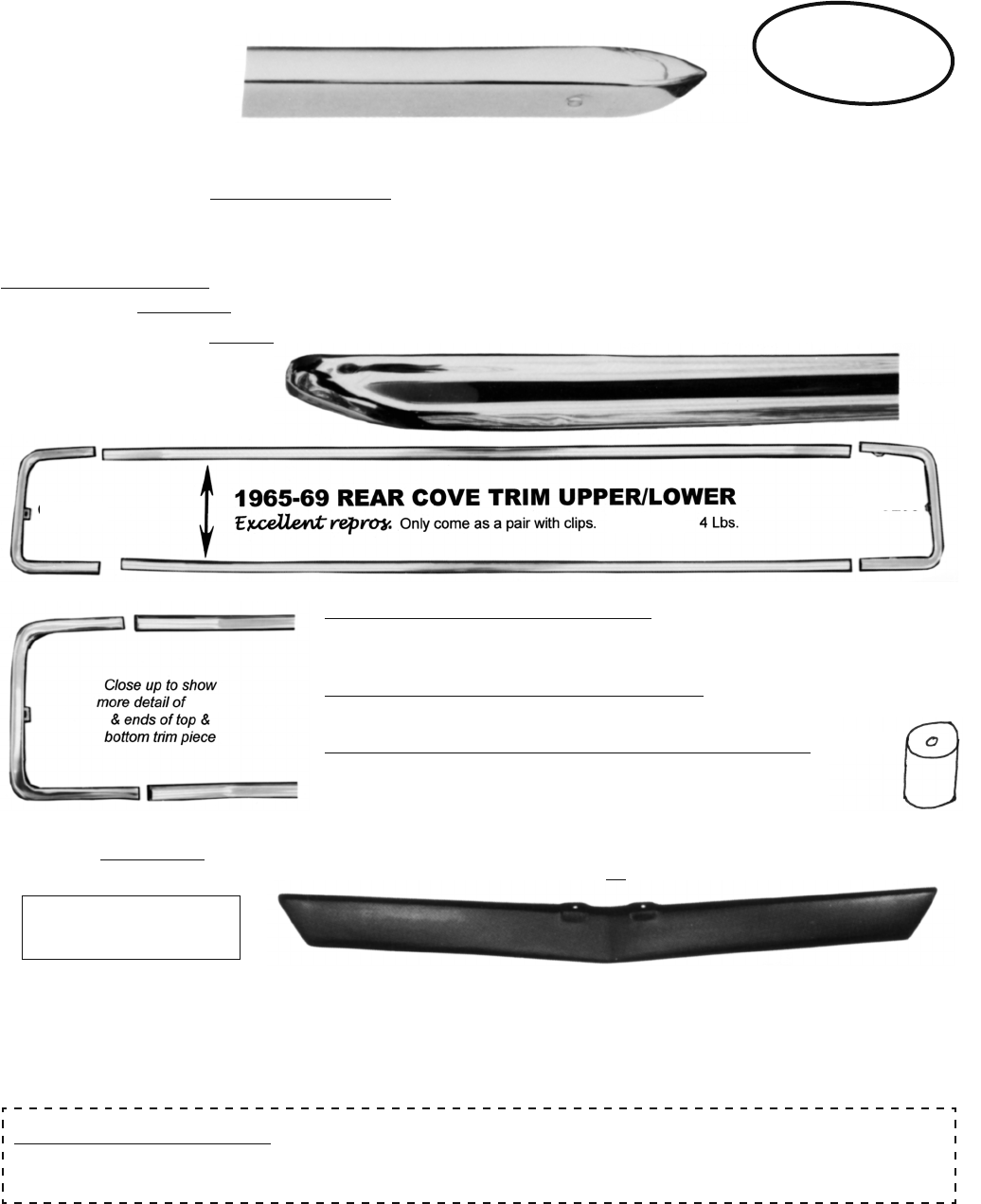 i
WARNING:
Products on this page can expose you to a chemical, which is known to the St

ate of California to cause cancer or reproductive harm. **For more information go to www.P65Warnings.ca.gov**
303B
1965 & 1966-69 ROCKER PANEL TRIM
Shipping for 2 rocker panels sent together is more economical than ordering individually.
REPLACEMENT
– ROCKER TRIM – 65-69 ALL
Very similar to original 1965 style, but each dimension is smaller by about 1/8". 1966-69 are more
"angular"
.
Looks good on all years. Includes all mounting hardware.
C5564
6 lbs. ea.
u
(Plus UPS AH – See page 204)
1965 – EXACT ROCKER TRIM
If you would like EXACT 65 Rocker Trim, please order C7710 – We need to see real interest before we reproduce – if we do repro, we will let you know.
1965 ROCKER TRIM:
C7710

ea.

6 lbs. ea.

u

(Plus UPS AH – See page 204)
1966-69 – EXACT ROCKER TRIM
Excellent repro that fits left or right. Order retainers & screws separately.
1966-69 ROCKER TRIM:
C7711 ea.

6 lbs. ea.

u

(Plus UPS AH – See page 204)
RETAINER:
Order (1) per side.

C7711R

ea.

1 lb.
1966-69 ROCKER TRIM SCREWS:
Set of 7 screws (enough for retainer & rocker trim to body on one side).
Original size
C7711RA
1 oz.
Oversize Threads
C7711RX
1 oz.
Plus UPS
"Handling Fee"
UPS ADDRESS CORRECTIONS –
UPS now charges $15.90/package

for address corrections. Please be sure you give us your correct address!
If UPS goes to the address you gave us and you, a family member or a neighbor says
"Oh, please, deliver it to … instead
" we will have to charge you for the
address change if UPS charges us. Rates subject to increases.
C11580
Camaro SPOILER –
This black ABS Camaro spoiler is a great fit for 65-69 and I think it looks nice on a 60-64 car. Ground clearance under front
bumper will be approx. 7 1/4 to 8" depending on springs. Comes w/ mounting screws & instructions. (Does
Not
fit FC)
C11580
5 lbs.
1965-69 REAR COVE END TRIM –
REPRO
(Will fit 500's)
Order screws separately. 1 lb. ea.
Left –
C297
Right –
C298
Screws
(enough for both sides) –
C9158
1 oz./set
1965-69 REAR COVE END CASTINGS –
Not shown. Often breaks.
Trim goes over it – used bare on 500's. 1 lb. ea.
Left –
C8134
Right –
C8135
1965-69 Rear Cove Casting Foam Seals & Nuts
These foam seals go behind the left & right side casting pieces to seal out water and dust.
The old ones are usually collapsed & hard. These are not exact repros, but work great.
Sold set of 4 for one side.
C715C
2 oz.
Nuts:
Hold casting to body. Set/4 for one side. May vary slightly from original.
C3712N
1 oz.
Original style repro spoiler
Page 305, #6
Thanks to YOUR support the parts keep coming!
C5564
C7711
C298
C301P
C715C
C297
C297