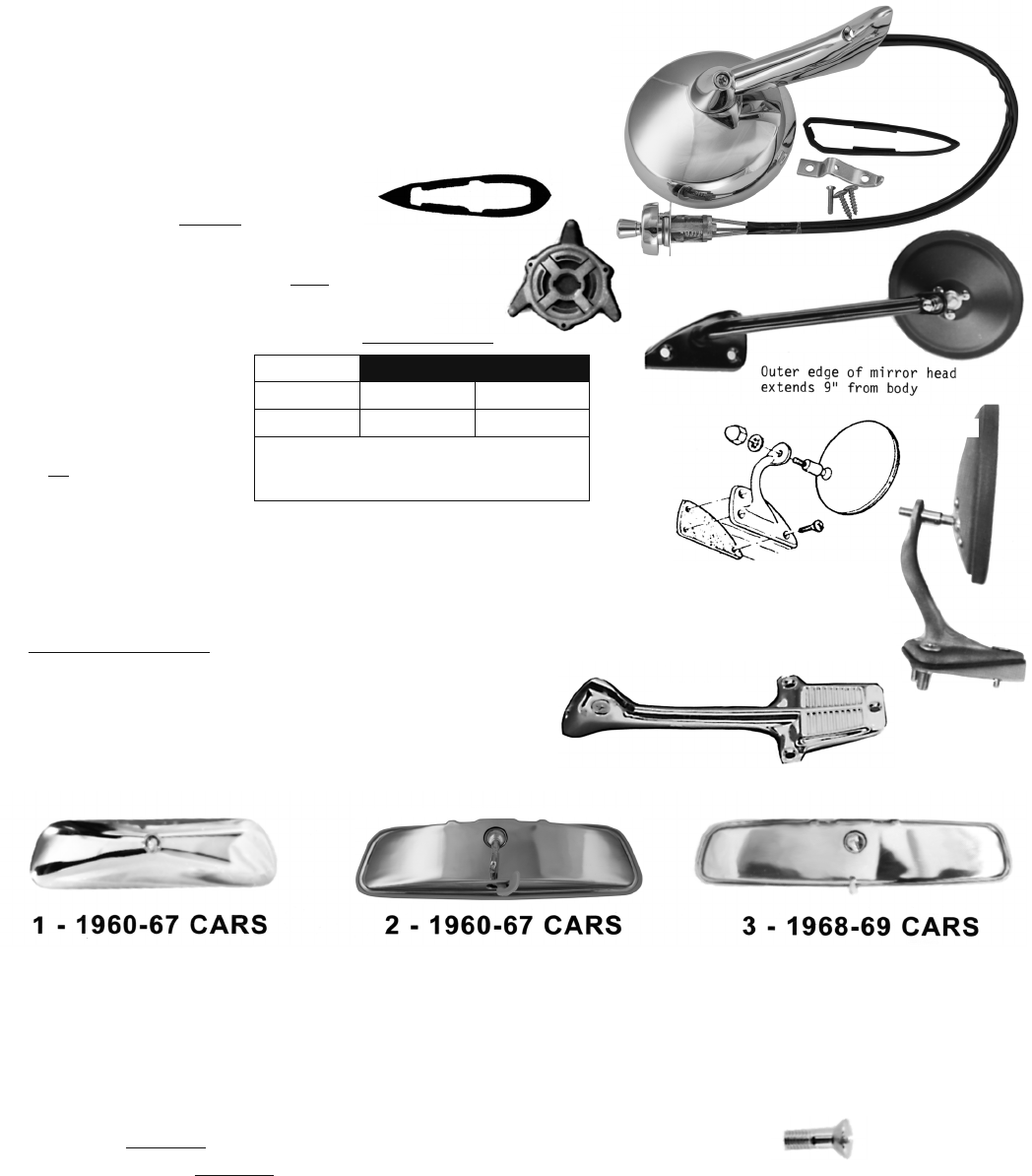 i
WARNING:
Products on this page can expose you to a chemical, which is known to the St

ate of California to cause cancer or reproductive harm. **For more information go to www.P65Warnings.ca.gov**
303A
MIRRORS
1960-69 REMOTE CONTROL MIRROR
This remote control mirror will fit the drivers side of all Corvairs 1960-69 and is 98% exact for the
original 1967. The inside control requires a 3/4" hole in the door and has a round chrome bezel with
a 1 3/8" diameter. Complete with all mounting hardware.
C10928
5 lbs.
REMOTE CONTROL MIRROR PARTS
These repros are for original GM remote control mirrors.
1965-66
C9566

2 oz. (only fit "NOS" mirrors)
REMOTE CONTROL MIRROR PIVOT
FC (van) AFTERMARKET MIRRORS
These are similar in design
to some originals but stick
out a little more. 5" diameter
mirror fits and works great on
both sides of FC. Mirror comes
with attaching screws and gasket.
Do Not Match Original Bolt Holes
Replacement
HEAD – BLACK C11286B
1 lb.
Fit left & right.
CHROME C11288C
1 lb.
Only fit these mirrors.
FC Side Mirror Repro:
Excellent original style repro of the small FC side mirrors. Cast base,
off-set mirror, threaded mounting base for inside the door. Cal says about 95% exact. The stem even has
minor indents like the originals. Mirror & base need to be painted; these were painted body color from the factory.
Sorry, no chrome ones. Includes mounting instructions.
Replacement mirror head for C13264
C13267
1 lb.
FC Mirror Gasket
– Front Door
Fits FC aftermarket mirrors and side repro mirrors.
Left C13254
2 oz.
FC Chrome Inside Mirror Support
Exact repro except chrome. Includes screw for mirror head.
C12670
2 lbs.
Set of 3 Screws to Hold Mirror Support to Roof
C12674
1 oz./set
1960-69 INSIDE REAR VIEW MIRRORS
1 – 1960-67
STAINLESS STEEL BACKSIDE:
Very close to original for 1960-67 (

not

"day/night")

C9523

2 lbs.
2 – 1960-67
"DAY/NIGHT":
This is the original 8" width and fits 1960-67. It has a stainless back like the originals but also has a gray rubber around the
edge which the originals DID NOT.
C10916
2 lbs.
3 – 1968-69
"DAY/NIGHT":
This is an exact replacement for the 1968-69 (

will not

fit 1960-67). Stainless back with light gray plastic trim
and a gray plastic knob.
C9862
2 lbs.
L
FC –

Not Original but will Fit FC
MIRROR SCREW –
Cars & FC: The one that keeps the mirror head from falling.

C3245

1 oz.
MIRROR TO ROOF SCREWS –
Set of 3 screws that attach inside rear view mirror to roof. May not be original size head.
1960-63 Monza CP & Oversize for '64
C7477
1 oz./
set
1964 Monza Coupe
C7477L
1 oz./
set
1965-67 Monza Coupe
C7160
1 oz./
set
We Welcome Corvair Questions –
We have always felt this is an important service of Clark's Corvair Parts, Inc.
EVEN AFTER ALL THESE YEARS
it is sometimes necessary for our

"TECH"

people to ask another

"TECH"

person's opinion, do research or even call other
Corvair experts. We've never felt
"forced"
to do this, it is just the way
CLARK'S
does business. Friendly, helpful people selling the highest quality parts and
giving you the level of service you deserve. We hope it shows in everything we do, from our detailed computer customer order copy, and the thousands of
hours that have gone into our catalogs and supplements, to the hundreds of instruction sheets supplied with our parts. Are we perfect?
"NO"
Do we try
to be?
"YES"
(Please let us know when we aren't.)
Thanks to your tremendous support over the years, we can give you far more than just parts for your
dollar.
Clark's ... more than parts!
C9394
C11286
C13264
C12670