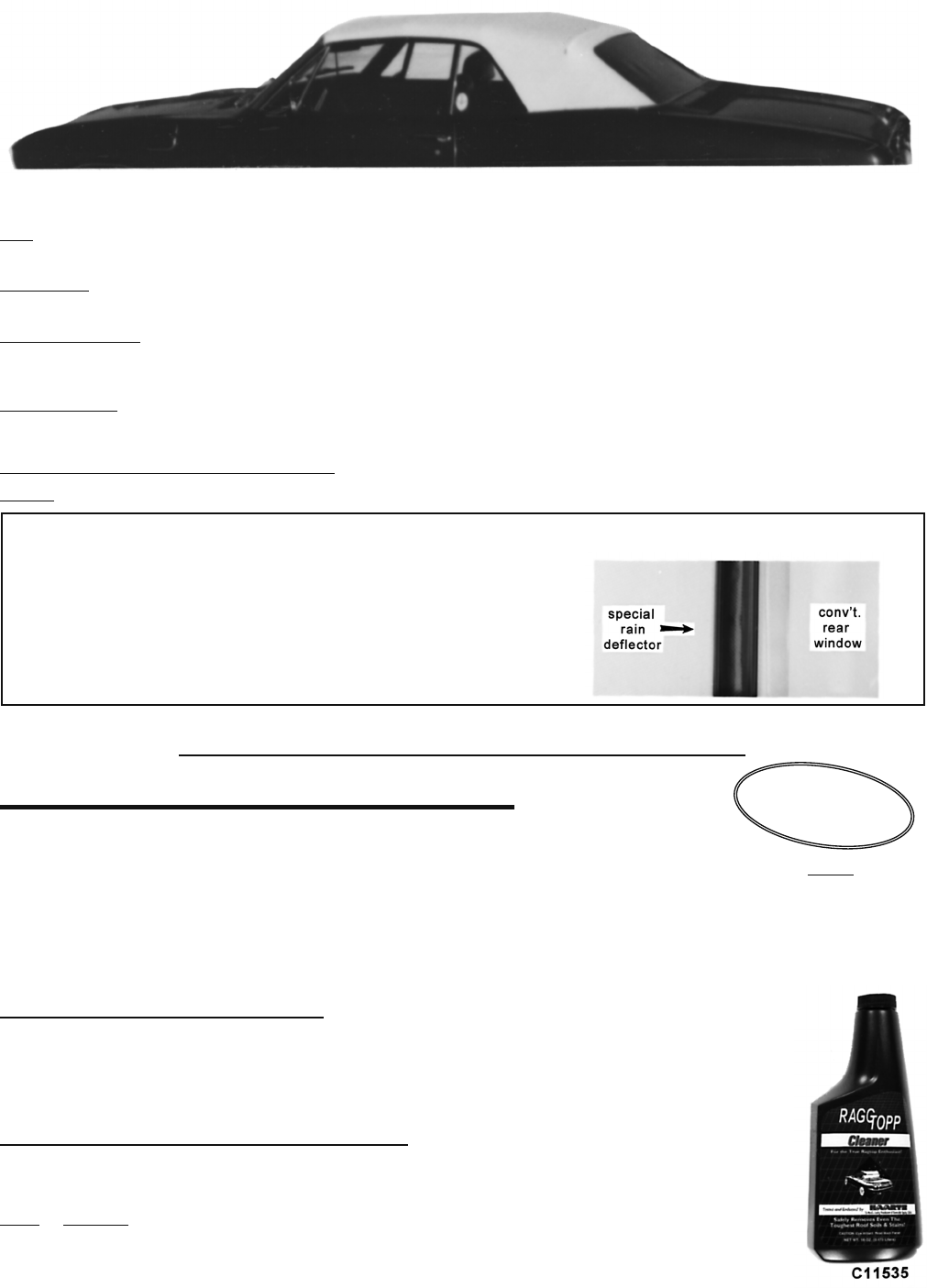 i
WARNING:
Products on this page can expose you to a chemical, which is known to the St

ate of California to cause cancer or reproductive harm. **For more information go to www.P65Warnings.ca.gov**
291
CONVERTIBLE TOPS
We have sold over 6000 tops since 1976. Because we buy such quantity, and they are custom made for us by a large top manufacturer, we are able to specify the best
quality in all aspects of construction. You can be sure of getting the best available top for your Corvair.
Fit:
In 1981 we double checked all our patterns against our original convertibles and made a few minor adjustments. This assures that our tops are the most factory
original, best fitting tops you can buy, right down to the smallest detail.
Material:
Some top manufacturers are trying to cut corners these days

("yellow" whites, cheaper plastic bindings, 2nd quality windows, no front bowstrip, poor or no
instructions)
. We know we want a top quality top on our cars and that's all we will sell.
Workmanship:
A Convertible top requires considerable manual labor to construct: they are cut, sewn, bound, glued, heat sealed, and packed. Sloppiness on
any one step produces a poor
"run of the mill"
top. The factory we use has kept consistant high quality. For the money, effort and time involved - don't settle for less than a
Clark's Corvair Parts, Inc. top
.
Installation:
Installing a top is not easy but our feedback indicates that 30-50% of our customers install

Clark

tops themselves in about 6-10 hrs. We supply
excellent instructions and are as near as your phone if you need extra help. It is normal to "tack" the top in for the initial trial fit and remove it several times to adjust!
See "suggested parts", pages 292-294.
TOP INSTRUCTIONS SOLD SEPARATELY:
(included with our tops) – 1962-64

C6956

4 oz.

1965-69

C6957

4 oz.
TOOLS For Installation –
Scissors,

"arrow stapler"

with 5/16" staples,

(you can use tacks but that's much harder)

, and other regular hand tools.
CLARK's Tops give you:
1. Complete covered front bow strip
(not just the fabric)
.
2. Original grain binding on edges.
3. Computer controlled cutting of all tops.
4. The same manufacturer since 1976.
5. Original plastic rain deflectors on the sides of the rear window
(see photo)
.
6. Various
MULTI-KIT
choices.
(see Blue page MK-19)
7. Complete instructions.
8. Installation assistance by phone.
HIGHEST QUALITY TOPS
TOPS – WHAT'S INCLUDED
Each Clark top includes the following:
1. Main top.
2. Rear window with zipper
(for no zipper

ADD "NZ"

[65-69 black & white only] to end of part number)
.
3. Special binding for across bow above rear window.
4. New, covered bow strip for front
(leadlng)
edge of top.
5. Detailed, illustrated
Clark instructions, specifically for Corvair
.
1967-69 OWNERS:
Your top originally had a

NO

zip out rear window. The replacement will have a zipper

UNLESS YOU SPECIFY "NO ZIP"

(NZ) after the part
number (65-69 black and white original grain only).
OTHER SUGGESTED PARTS:
Be sure to see the list (after replacement window

page 292

) of other parts you should
consider for replacing a top.
Also see MULTI-KITS Blue page MK-19.
IN STOCK –
We normally have

ALL

tops in stock.
COLORS –
See next page. All tops are black inside (exc. beige - beige inside). Black side pads recommended with all tops exc. Beige
(use beige pads).
NO RETURNS DUE TO COLOR – PLEASE SEE FREE SAMPLES.
UPHOLSTERY & CT. TOP CLEANER:
This is the best

vinyl

and

convertible top

cleaner I've ever used that
is perfectly safe for the material. Not only does it clean but it leaves the correct
"sheen"
on the material. It also works great on the rear windows as
it is mild but really cleans
(if you have a lot of scratches, try this but you may still need our C106 cleaner with fine polishing agents)
. Tested and
endorsed by Haartz
(a leading manufacturer of vinyl and top material)
.
C11535
1 lb.
Vinyl & Silicone –
NO! NO!!
Most of our vinyl comes from Haartz and they claim that extensive testing has shown that vinyl
"cleaners and protectors"
that contain silicone
are detrimental to the components in the vinyl. The above product is the
only one
they endorse.
MULTI-KITS
see Blue pg. MK-19
regular part # & "NZ"
will display below