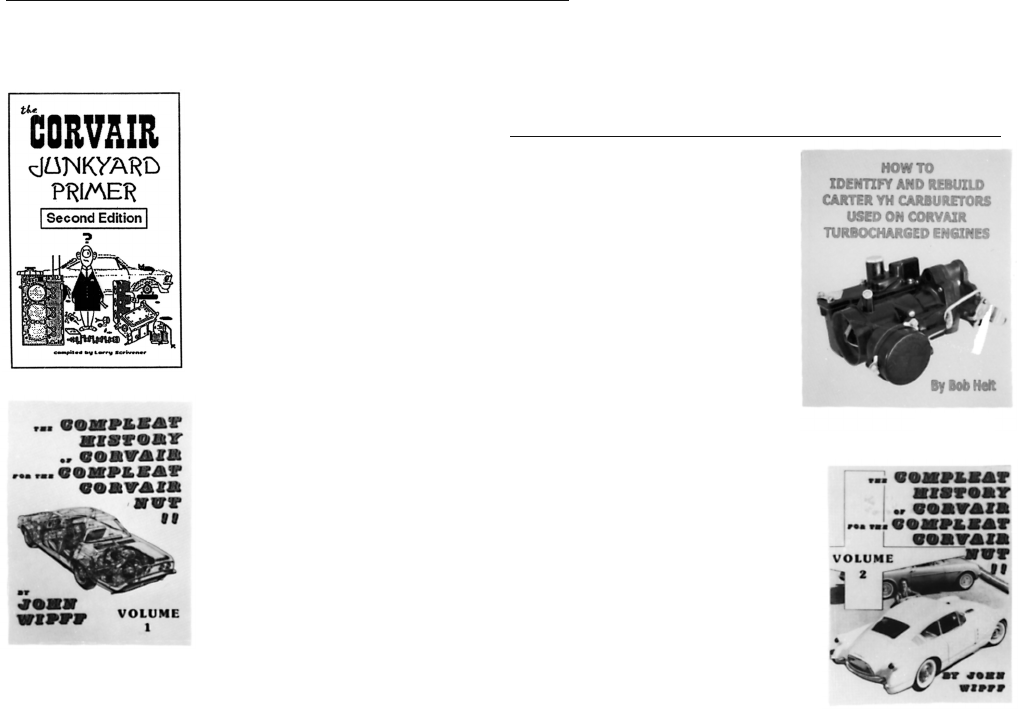 i
WARNING:
Products on this page can expose you to a chemical, which is known to the St

ate of California to cause cancer or reproductive harm. **For more information go to www.P65Warnings.ca.gov**
248
OTHER HELPFUL REPAIR BOOKLETS
STEREO MULTIPLEX PARTS LIST & DIAGRAMS
14 pages done on copier. Schematics, parts lists, alignment, general hook-up.
C7592
4 oz.
CLARK INSTRUCTIONS
Instructions you receive when we sell the following.
CONVERTIBLE TOPS:
1962-64
C6956
4 oz.
PADDED DASH:
C6953
1 oz.
HEADLINERS:
C6955
1 oz.
1965-69
C6957

4 oz.

UPHOLSTERY: C6954

1 oz.
SPECIFICATIONS GALORE
Capacities, alignment, torques, timing, tire pressure, electrical specs, all engine specs, ratios, etc. These are exact copies from the Shop Manuals. Keep in your car or use
when working on your car and your hands are all dirty. (
NOT
a substitute for having a Shop Manual.)
COMPLETE BOOKLET SET – all specs. 1960-69 –
C6964

6 oz.
SPECS. BY YEARS –
1960:

C6965

1962/63: C6967 1965: C6969 1967: C6971 1969: C6973
ALL 1 oz. ea.
1961: C6966 1964: C6968 1966: C6970 1968:

C6972
TIMING SPECS – 1960-69 –
Now you can have a booklet that lists all the timing specifications for all engines.

C6963

4 oz.
WIRING DIAGRAMS –
These are exact copies from the Shop Manuals and covers all Models for that year.
COMPLETE BOOKLET – All 1960-69 –
C6974

4 oz.
HARNESSES BY YEARS –
1960:

C6975

1962/63:

C6977

1965:

C6979

1967: C6981 1969:

C6983
1961:
C6976

1964: C6978

1966: C6980 1968: C6982
INTERIOR/EXTERIOR COLOR COMBINATIONS
Finally! A list of interior colors and codes and exterior color combinations that were available from the factory. Great reference if you want to change color of interior and/or
exterior but still stay original. We believe these are at least 95% complete and accurate.
1960-64 Cars & 1961-64 FC:
C8420
4 oz.
1965-69 Cars & 1965 FC:
C8421
4 oz.
Corvair "Junkyard Primer"
By Larry Scrivener
A handy booklet – shirt pocket size great for
identifying parts. Know that you are getting
the right used part! Tag info., model numbers,
engine codes, crank, head, differential,
transmission, input shafts, bell housings,
carbs., distributors, etc.
25 pgs.
– over 35
illustrations.
2nd Edition
HOW TO IDENTIFY & REBUILD CARTER
YH CARBS USED ON CORVAIR TURBOCHARGED ENGINES
A new book by Bob Helt. 82 pages. A very
detailed book with lots of good photos, specs
& general info. Explains & shows the basic
circuits, holes & theory as well as step by step
disassembly/assembly.
C12813
1 lb.
COMPLEAT HISTORY
OF THE CORVAIR
FOR THE COMPLEAT CORVAIR NUT!!
2 Volumes!
These books are a must for any Corvair addicts collection. No duplication.
VOLUME #1
Over 120 pages of old ads, general history,
development. Basic discussion of all mechanical
systems and charts of specifications. Development
data, comparison with the Tucker, Falcon, yearly
changes, and much more.
VOLUME #2
Road test of every year Corvair (including
Stinger, Sprint, & Greenbrier). Pictures of all
"Corvair" dream cars, Carter repair manual for
Turbo carbs. , electric Corvairs, dragster charts
of gross/net horsepower, rear end codes and
where to find them. 180 pages.
Save $$ –
Order C6153A

which gives you

BOTH VOLUME #1 & #2 – C6153A 4

lbs.
WHAT'S WRONG WITH YOUR CAR?
See TECH Section, pages 386 & 387
C12813