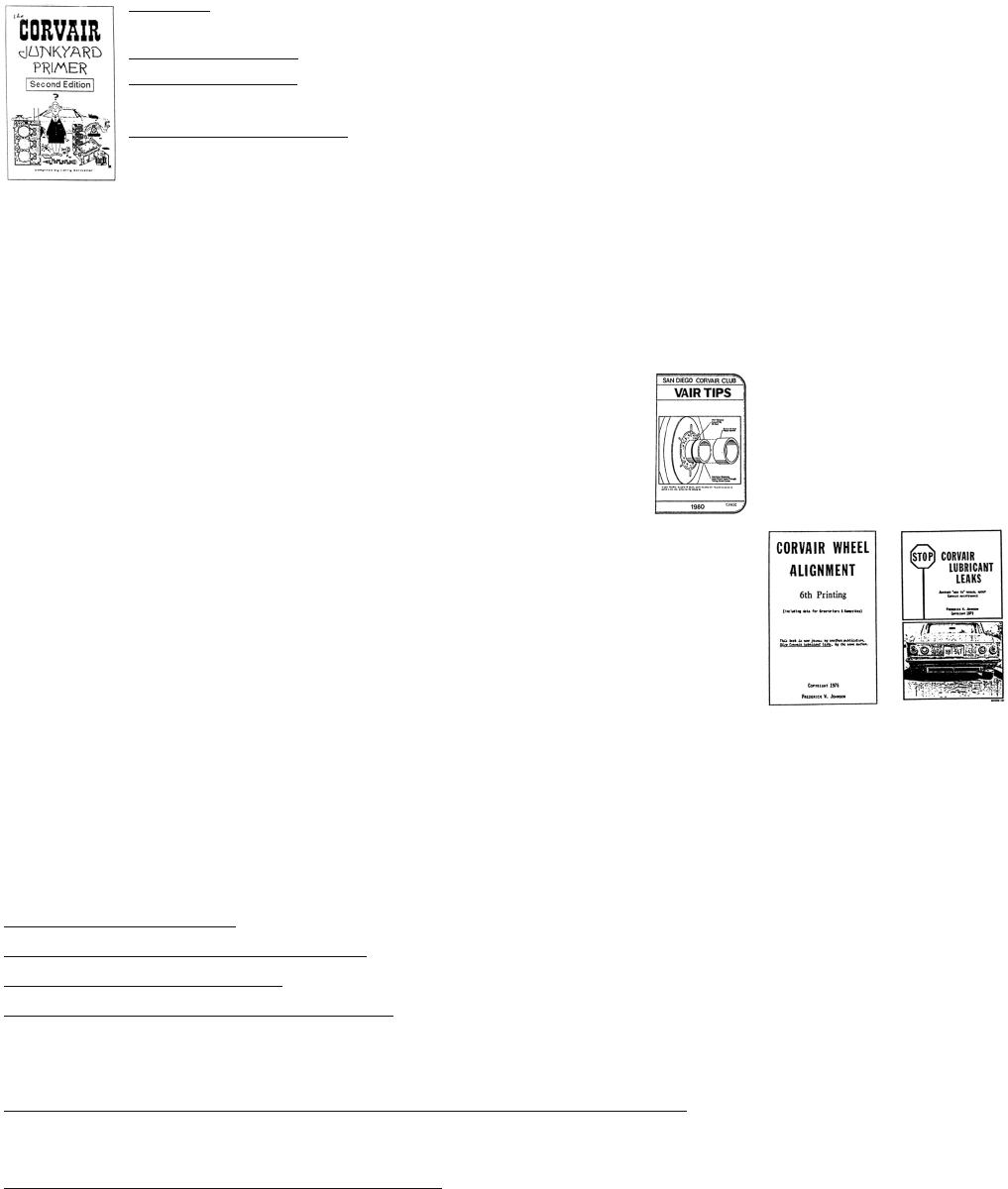 i
WARNING:
Products on this page can expose you to a chemical, which is known to the St

ate of California to cause cancer or reproductive harm. **For more information go to www.P65Warnings.ca.gov**
247
REPAIR REPRINTS
Accessory Installation Instructions
'65-69 CARS
ELECTRICAL: Antennas (front & rear), clocks, backup lights, AM-FM radio, regular radio, rear seat speaker, multiplex, hazard switches.
A/C – AIR CONDITIONING: 1966 style – complete instructions in 95, 110, 140 hp. engines.
C4980
4 oz.
TRIM & MISCELLANEOUS: Guards for bumpers, door, gas filler, trailer hitches, spare tire locks, regular outside mirror, remote control
mirror (4 styles), luggage rack.
C4982
4 oz.
JUNKYARD PRIMER:
Handy shirt pocket sized booklet great for identifying parts. Includes tag info., model numbers,
engine codes, cranks, heads, differentials, transmissions, input shafts, bell housings, carbs, distributors, etc.
25 pages
& over 35
illustrations.
2nd Edition
CD –
C5724
6 oz.
Book –
C8248
4 oz.
DISTRIBUTOR CURVE GRAPHS:
Vacuum advance curves, centrifugal advance curves, distributor numbers, basic
advance for nearly every engine and distributor, powerglide and manual transmission.
1960-64
C7546
6 oz.
1965-69
C7547
6 oz.
RADIO REPAIR MANUAL REPRINT –
C9928

6 oz. (Should be helpful for 60-64's)
This is the original repair manual for 1963 push button & manual tune Corvair & Chevy II Delco radios. Covers general specs, photos and diagrams of
the tuning assembly and how to fix, schematics and a complete list of components as well as test points on circuit boards.
20 pages.
8 1/2" x 11"
Some aspects will also apply to 60-62 & 64's.
CORVAIR TIP BOOKLETS
Very informative Booklets put out for 13 years – many tips not available in any other source.
Number of pages varies. Now a set of 11 (some years are gone). Includes index booklet.
CORVAIR WHEEL ALIGNMENT
Tells how YOU at home can probably do a better than professional alignment with simple tools. If nothing else,
you will have a good understanding of your car suspension and maybe would be worth pointing out a few pages
to your local alignment man if you don't end up doing the job yourself.
C5061
8 oz.
STOP CORVAIR LUBRICANT LEAKS
A booklet by Fred Johnson. The most indepth look at engine leaks. Why they leak, where they leak, types of seals
(and their short comings). Effects of expansion, best ways to totally seal your engine and a list of nearly 200
places your engine can leak!
C5261
6 oz.
PREVENT RUST OUTS & LEAKS:
Tells you all the places to clean out, dry out, treat, put plugs, drill extra drainage holes, and
how to get to these places. (For example did you know there is a small drain hole in the lower corner of 1965-69 windshields?) Prevention is definitely
the cheapest cure with rust.
1960-64 Cars:
C23
1 oz.
1965-69 Cars:
C24
1 oz.
1961-65 FC (Vans):
C7309
1 oz.
PRODUCTION FIGURES:
For all Corvair Models

C25

1 oz.
KNOW WHAT THOSE NUMBERS & LETTERS MEAN:
Identification numbers for transmissions, axles, engines and body
models, for all years and models.
C26
1 oz.
ENGINE SPECIFICATIONS:
For 1960-69

C27

1 oz.
INTERIOR TRIM COMBINATION CHARTS:
1961-69

C28

1 oz.
PAINT COMBINATION CHARTS:
With color name, number and stock number of Lucite, Rinshed-Mason & Ditzler.

C29

1 oz.
HOW TO RESTORE HEATER JUNCTION BOX:
1961-64 Hot air heated cars. This is located outside the body, behind the rear seat.
Usually necessary to remove transaxle box. With age, the insulation falls apart and picks up an oily, musty smell. GM no longer makes them
but you can rebuild it back to better than GM. Instructions tell you to remove, open, and replace insulation and how to seal back up.
— New insulation see page 104 —
INSTRUCTIONS FOR REPLACING THE ENDS OF MANIFOLD PRESSURE HOSE:
1962-66 Turbo & 140 engines.
The plastic hose often breaks off of this when removing it for repairs to head. It can easily be replaced by following these instructions and diagrams.
If you order C20 (new hose) these instructions are included.
C262
1 oz.
0000000000 TURN YOUR SPEEDOMETER BACK:
When you rebuild your speedometer. Once you have it out of the dash, you can follow
these directions and do it in 10 minutes or less. Requires a screwdriver and pliers. Instruction sheet for all Corvairs (including Spyder & Corsa).
GENERATOR TO ALTERNATOR:
Tells you what is needed to convert a 1960-64 generator system to the 1965-69 alternator system.
Includes wiring diagram.
C6958
1 oz.