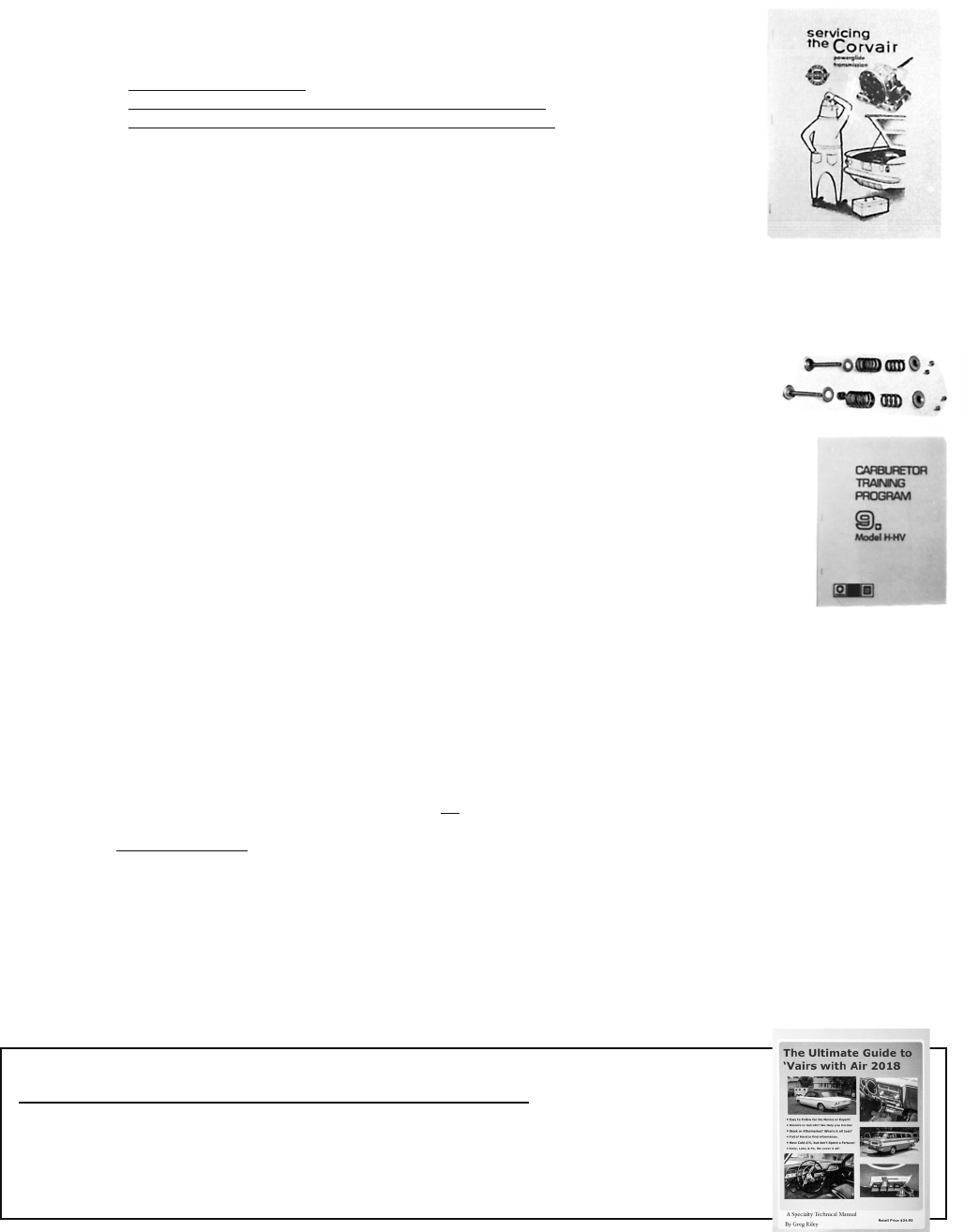 i
WARNING:
Products on this page can expose you to a chemical, which is known to the St

ate of California to cause cancer or reproductive harm. **For more information go to www.P65Warnings.ca.gov**
246
REPAIR REPRINTS
These are excellent reprints of Booklets, Service Bulletins, etc. Produced by Chevrolet over the years for CorvaIr repairmen.
POWER TRAIN REMOVAL & INSTALLATlON
Covers standards and automatics. For 1960-64 Cars and 1961-65 FC (Vans). 62 pictures makes procedures clear even for the first timer.
BASIC information would apply for 1965-69 but details differ.
reprint C5961
4 oz.
SERVICING THE POWERGLIDE TRANSMISSION
Originally 1960-64 but nearly all aspects apply to 1960-69.
C4002
6 oz.
PART I
DESCRIPTION & OPERATION: Lets anyone understand just how a powerglide works! Over 60 pictures.
PART II
TROUBLE SHOOTING ON THE CAR AND ON THE CAR ADJUSTMENTS: Over 60 pictures.
PART III
DISASSEMBLY OF TRANSMISSION AND CONVERTER & REASSEMBLY: Over 60 pictures. Use in
& PART IV
conjunction with appropriate Shop Manual.
OVERHAULING The Corvair DIFFERENTIAL & 4-Spd. TRANS.
This is a reprint of the Special 1961 Manuals supplied to the Repairmen for reference along with the Manuals. Uses
some pictures and references not made in Shop Manuals. Could be useful for 1961-64 although there were some
SMOKE and SMELLS
CORVAIR VALVE SERVICING:
C5962

2 oz. Designed for Repairmen.
Reprint of 27 pictures covering basic information on cleaning heads, checking and replacing valve guides, grinding valves
and seats. Originally for 1960-64 but basic ideas apply to 1965-69. Some specs are incorrect in the booklet. Basically
same as Shop Manual.
CARBURETOR TRAINING BOOKLET
All Corvair carburetors (exc. Turbo). Originally designed for training Dealer Mechanics. 28 pictures More detailed steps
and theory than in a Shop Manual.
10 pages, 8 1/2" x 11" – A MUST!
C3768
4 oz.
VAN FRONT END DAMAGE:
Covers both minor and major front end damage back to and including front doors.
Over 40 pictures. You won't believe the "vairs" they saved! REPRINT
C5963
4 oz.
SERVICE HIGHLIGHTS OF THE 1965 CORVAIR
Great for the 1965-69 owners – was a 16 page booklet made to introduce Mechanics to the basics of the 1965 Corvair.
45 pictures, door glass, electric top, speedo cables, front and rear suspension adjustment, universal joint replacement,
rear wheel bearings, power train removal, P.G. cable adjustment, clutch cables and . . . more!
C6016
4 oz.
SERVICE NEWS & TECHNICAL BULLETINS
During the years the Corvair was being made Chevrolet mailed out Bulletins weekly (as needed) and Service News Monthly. These were designed to let
the Repairmen know of problems, new ways to fix things, new changes, etc. We have reprinted most of these articles. Some of the information is in the
Shop Manuals, but some never got that far (and some corrected Shop Manual errors!).
1960 ONLY
C6960
6 oz.
1961-64 Cars & 1961-65 FC
C6961

8 oz.
REGULAR HOT AIR HEATER INSTALLATION
– 1961-64 CARS & FC – C7564

4 oz.
During the early 1960s you could order a 1961-64 Corvair or Van with NO heater or defroster. These instructions were de signed to help a Dealer install
the heater if a customer later decided they needed one. Great help if you aren't sure how the stock heater is supposed to be. Pictures, descriptions,
covers everything (except GAS HEATERS).
ACCESSORY INSTALLATION INSTRUCTIONS – '60-64 CARS & '61-65 FC
Great help for repair, removal, transferring or installing accessories. Includes pictures, locations, and step by step procedures as outlined for Chevrolet
Dealers.
Most average 20-40 pages.
ELECTRICAL:
Covers lights (spot, dome, engine, trunk), antennas, hazard flasher, rear speaker, clocks, cigarette lighter, brake signal.
C4975
6 oz.
A/C – AIR CONDITIONING:
Complete detailed instructions for installing in 1961-64 Cars.
C4976
4 oz.
GAS HEATERS:
You have asked, now you can see how the factory did it. 1960-64 Cars

C4978

4 oz.
MISCELLANEOUS:
Seat covers, tissue dispenser, door safety locks, spare tire locks, arm rests, visors, windshield washer, trailer hitches.
C4979
6 oz.
TRIM:
1960-64 Cars – Special Chevrolet instruction sheets on installation of stock and accessory trim.
C5110
4 oz.
13 pages.
CORVAIR MAINTENANCE - Chevy Service News Engine fumes and odor diagnosis.
Introduction, check list, heads, exhaust, oil fumes-fuel odors. Many points I'd never seen
anywhere. Includes letter sent to Corvair owners!
C4675
4 oz.
The Ultimate Guides to Vairs with AIR
This is the most Comprehensive guide to stock air conditioning in Corvairs. It covers general A/C theory. A year by year
list of changes, retro fits, refrigerants, electrical updates, compressors, condensers, FC's, etc. Approximately
80 pages
,
metal spiral bound, full color cover and 4 full color pages in the center along with an index, list of resources and over
160 photos. This should tell you everything you want to know.
C6562
1 lb.