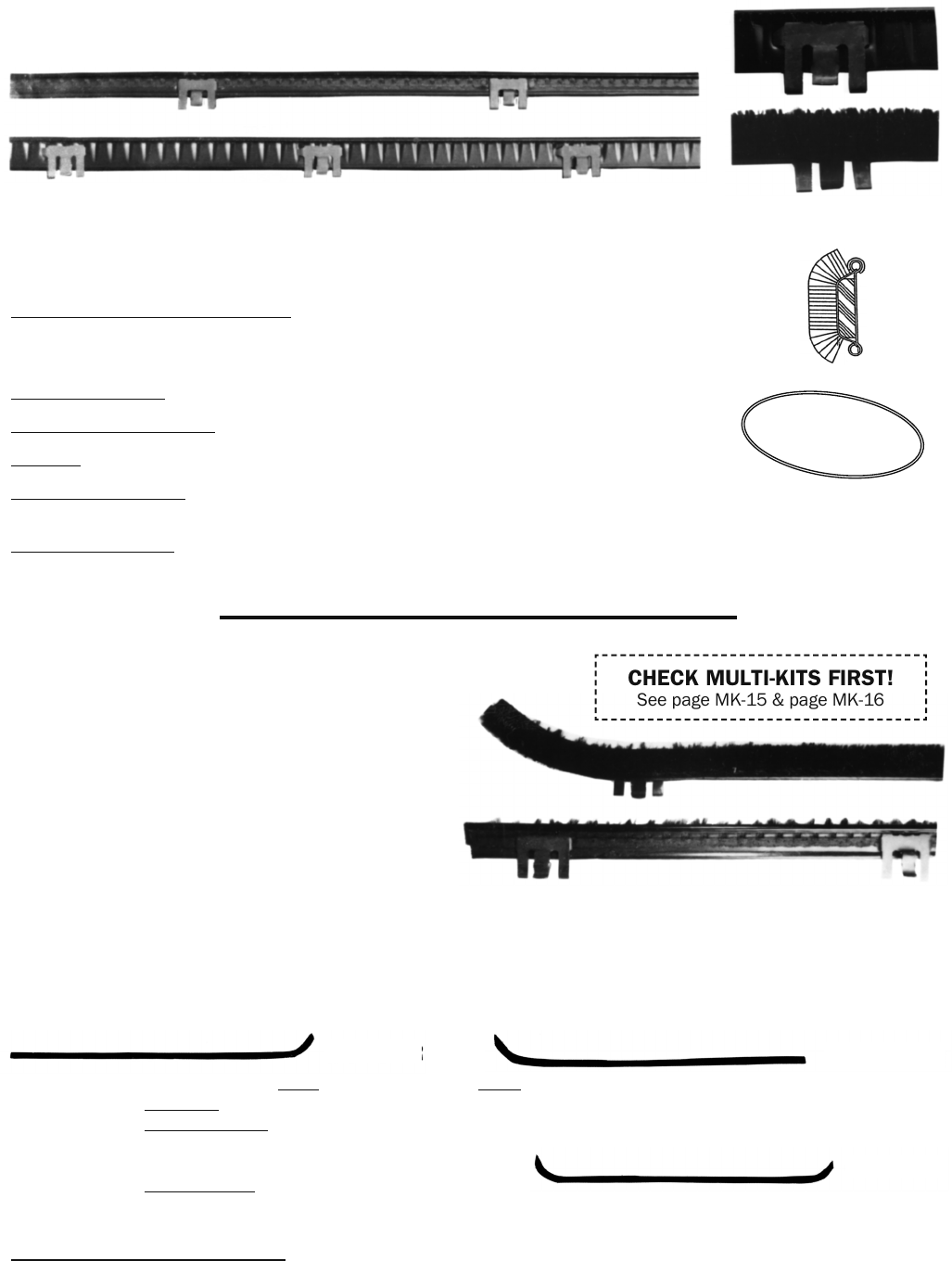 i
WARNING:
Products on this page can expose you to a chemical, which is known to the St

ate of California to cause cancer or reproductive harm. **For more information go to www.P65Warnings.ca.gov**
220
FUZZIES
"FUZZIES, WINDOW WIPES, CAT WHISKERS OR FELTS"
Whatever you call them, these are the strips that the door and rear windows roll down thru. The old ones rust and
deteriorate so they do not function well (preventing window rattles and keeping debris or cold air from getting in).
Our REPRODUCTION FUZZIES are easy to install.
ORIGINAL MATERIAL –
Early and Late
Our current fuzzie material looks nice and does the job but is not quite as thick as the factory fuzzies – the original
manufacturer no longer makes the exact material.
BLACK BEAD –
Just like the original.
STAINLESS BEAD –
Not original but looks classy and was often used on more expensive GM cars.
CLIPS –
Original style clips are installed in the correct location. Ready for you to just push the fuzzie in place.
SCREW HOLES –
Some fuzzies were originally held in (usually at the ends) with screws.
Our fuzzies already have these holes provided.
INSTRUCTIONS –
All our fuzzies come with removal and installation instructions. Unwrap fuzzies upon receipt.
FUZZIE SETS – '60-'69
Reproduced
FUZZIE SETS
for all doors and windows. All
FUZZIE SETS
are original black bead complete, ready to install and include any needed screws
and instructions. Unwrap upon receipt.
VANS – below
1960-64 COUPE
C335X

2 lbs./set
1960-64 4-DOOR
C465X

2 lbs./set
1961-62 WAGONS
C468X

2 lbs./set
1962-64 CONVERTIBLE
C336CT

2 lbs./set
1965-69
COUPE – BLACK BEAD
C337X
2 lbs./set
1965-69
COUPE – STAINLESS BEAD
C342Z
2 lbs./set
1965-69
CONVERTIBLE – BLACK BEAD
C338X
2 lbs./set
1965-69
CONV – STAINLESS BEAD
C346Z
2 lbs./set
Q
1965-67

4-DOOR – BLACK BEAD

C467X

2 lbs./set
Q
Some of the 65-67 4-Door fuzzies had plastic at the end. Ours don't, but fit and work great.
WINDOW CHANNELS – See pages 223-227
1961-65 VAN FUZZIES
REPRODUCED – SOLD INDIVIDUALLY –

Also see Multi-Kits Blue pg. MK-16 for
sets
Greenbrier, Corvans, Rampside. Reproduced like the original and ready to install with all original style clips installed.
RIGHT SIDE
C1105AR
6 oz. ea.
C1105R
6 oz. ea.
LEFT SIDE (Drivers)
C1105R
6 oz. ea.
C1105AR
6 oz. ea.
SIDE ROLL DOWN WINDOWS –
(Except Front Doors) – REPRODUCED
INNER OR OUTER
C1104R
6 oz. ea.
VAN FUZZIE SETS –
These are also included in some of the Multi-Kits on page MK-16
Pickups, Panel Vans – Full set for both front doors

C598X

2 lbs.
Greenbrier 6 Dr. & 8 Dr. –
Full set for both front doors & 4 roll down side windows

C599X

5 lbs.
Fuzzy Cross-Section
MULTI-KITS
see Blue page MK-15
& page MK-16
See page MK
-1
5 & page MK
-1
6
C1105R
C1105AR
C1104R