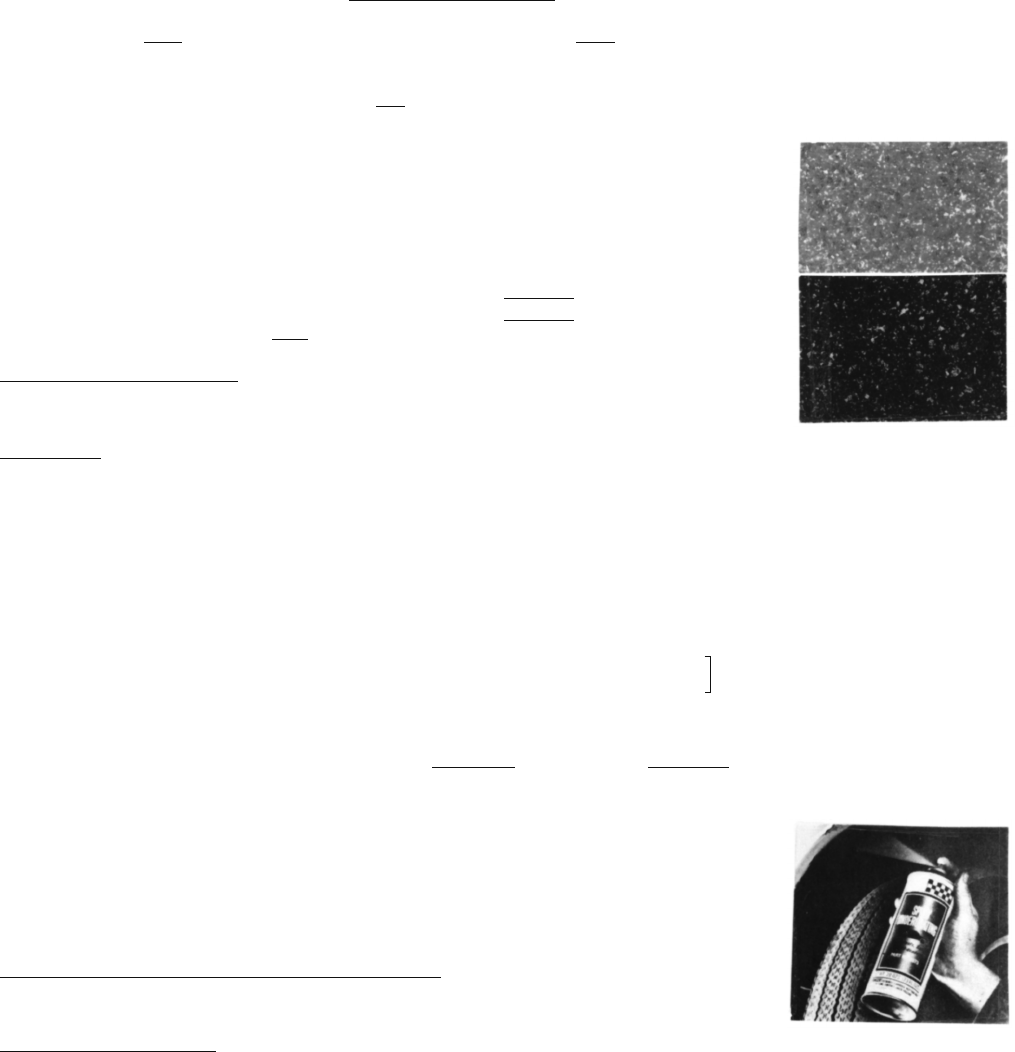 i
WARNING:
Products on this page can expose you to a chemical, which is known to the St

ate of California to cause cancer or reproductive harm. **For more information go to www.P65Warnings.ca.gov**
202
SPECIAL CORVAIR PAINTS
SHROUD PAINT:
99% original color with that slight sheen of factory shrouds. Also original color for suspension
and belly pans but not nearly as long lasting as epoxy black.
SPRAY CANS –
12 Fluid oz.

C1325

1 lb.

CAN'T SHIP BY AIR
WRINKLE DASH PAINT:
Best I have ever seen. You can come close (80-90%) to the original Corsa black wrinkle dash effect or use on
your Non-Corsa dash.
C2213
1 lb.
CAN'T SHIP BY AIR
CORSA SILVER:
For rear cove area. Spray can. Apply in several light coats.

C9393

1 lb.

CAN'T SHIP BY AIR
Quarts & Spray Cans
MOST LOCALLY AVAILABLE SPLATTER PAINT IS A POOR MATCH.
We now have trunk splatter paint in quarts and spray cans.
PLEASE READ THE DIFFERENCES!
For both types we suggest a primer (light to medium gray primer
for the 1961-67 gray/white) & (dark gray or black primer for the 1967-69 black/aqua). Scuff primer before splattering.
NOTE: 1967 CAN BE EITHER COLOR.
QUARTS
Much more durable, Dries smoother, Good original sheen

Color is not quite as original as
No sealer coat needed,
see spray gun note!
spray cans – white specs smaller.
SPRAY CANS
Easier to spray, Good match to original color

Not as durable, Usually dries less
smooth, Must be sealed w/ clear sealer
SAMPLES:
We now offer samples of both quarts & spray cans that have been applied to special paper
(close approximation). We'll send samples of both Quarts & Spray cans at
NO CHARGE
.
Gray/White Samples –
C398X
2 oz.
Black/Aqua Samples –
C1238X
2 oz.
Spray Can Coverage:
Approximately 4-5 Cans for 61-64 & 5-6 Cans for 65-69.
Also order at least one can of sealer (2 Max).
CAN'T SHIP BY AIR.
LIGHT GRAY & WHITE
1961-67 SPRAY CAN

–

C5469A

1 lb.
BLACK/AQUA
1967-69
SPRAY CAN
–
C1238A
1 lb.
NOTE:

Some early 67's had light gray/white.
Splatter Sealer:
Trunk splatter paints are water base and really need to be sealed with a clear sealer.
Our sealer works perfectly with the above splatter paints. 1-2 cans will seal a full trunk.
C398AC
1 lb.
CAN'T SHIP BY AIR
Quarts of Splatter Paint
(Coverage):

With correct color primer, a quart will just do a trunk. We include instructions & hints.
See FREE Samples above.
Specially matched & mixed for Clark's Corvair Parts®.
CAN'T SHIP BY AIR.
Note!
The splatter paint in quarts gives a much better finish, but please note: Your paint gun nozzle must be at least 0.080-0.090" or 2-2.2 mm. Many
HVLP guns do not offer nozzles this large (I had to drill mine out to 0.090".) Some body shops have even larger nozzles they use to spray body filler.
1961-67 Light Gray/White
C8416A
4 lbs.
SPRAY PAINT –
CANS:
Top quality spray paint. Spray Cans.

CAN'T SHIP BY AIR.
Hi-HEAT
Black
C6919
1 lb.
Corsa Silver:
Apply several light coats.

C9393

1 lb.

CAN'T SHIP BY AIR.
EPOXY:
Great for suspensions.
VERY STRONG.
GLOSS BLACK –
C6115
1 lb.
CAN'T SHIP BY AIR
GLOSS WHITE –
C6116

1 lb.
STEERING WHEEL PAINT:
Finally a spray paint that can be used effectively on steering wheels. We supply 400 grit sandpaper with
each can. Just sand with this fine paper, (clean with lacquer thinner for best results), spray. Dries to a "tile" hard finish overnight. Will not chip, peel, or crack. Can also be
used for other hard plastics.
CAN'T SHIP BY AIR.
GLOSS BLACK –
C6115
1 lb.
GLOSS WHITE –
C6116
1 lb.
UNDERCOATING PROTECTION
Finish wheel wells and rear fenders with spray undercoating to protect the paint. NEVER use under coating over rust. You will actually
speed the rusting process by holding moisture in for the "live" rust.
ALSO SEE PAGE 199
EXACT BLACK UNDERCOATING:
Matches original as used in wheel wells and sprayed under
bodies by Dealers during the 1960's.
16 oz. Can
C1293
2 lbs.
CAN'T SHIP BY AIR
BLACK BRUSHABLE UNDERCOATING:
This flexible black undercoating is specially formulated
for brushing on with a paint brush. We used 3 Gallons on our 1964 Spyder Coupe
"Winter" car
, and were very pleased.
Rampside Bed Paint Codes:
Cal mixed 15 combinations until he was happy with the match to both of his 61's. He does not know
if this color stayed the same 1961-64, but he mixed the following 2 paints & added a flattener. The original seems like it was a dull semi-gloss:
2/3 W5A7701
1991 Chevy Graphite - Interior - single stage and
1/3 WA105E
1998-2002 Buick Highland Green - Interior - single stage