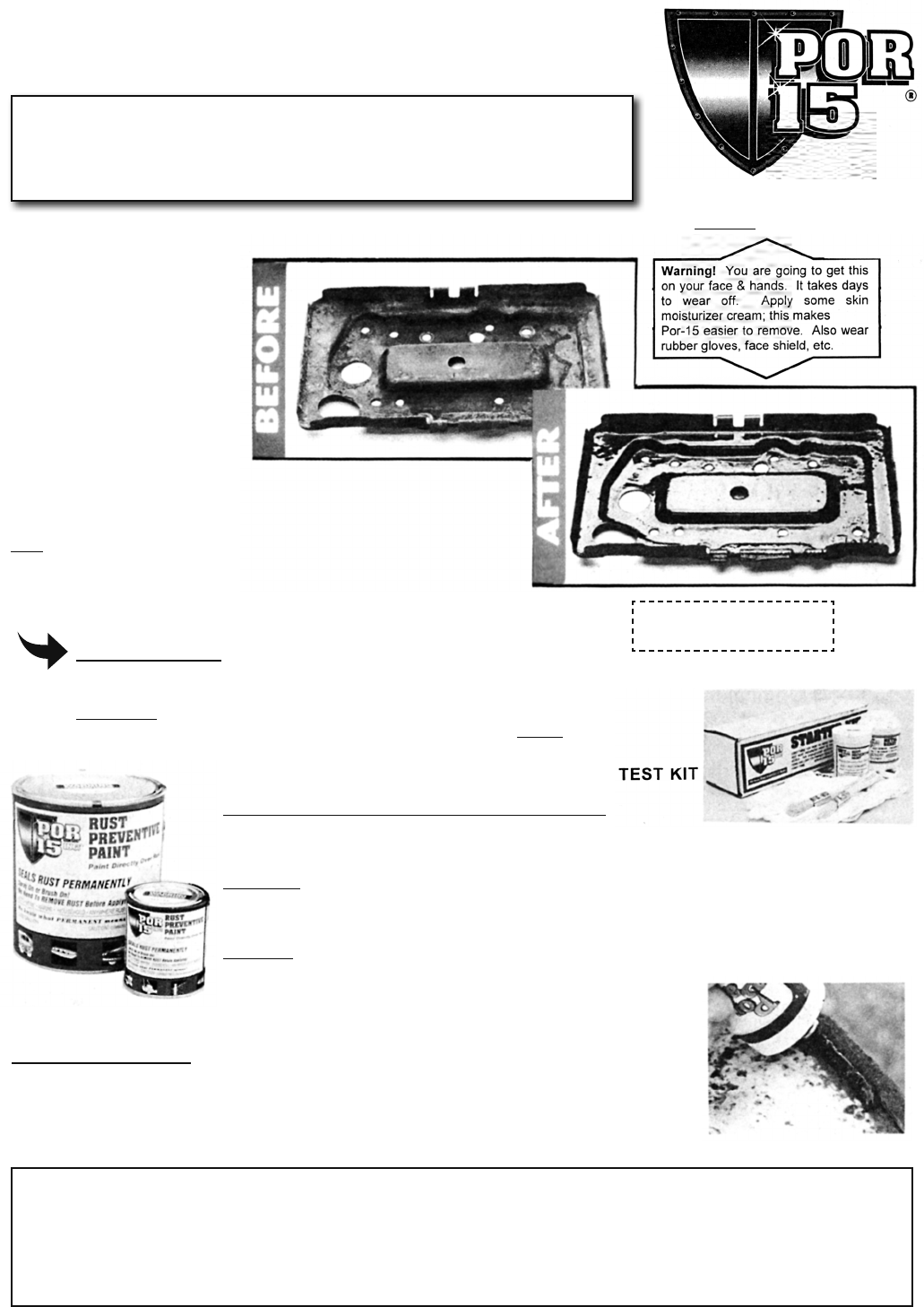 i
WARNING:
Products on this page can expose you to a chemical, which is known to the St

ate of California to cause cancer or reproductive harm. **For more information go to www.P65Warnings.ca.gov**
199
POR-15
Family of QUALITY Products
All of the following products are produced by the same company with quality
and performance being more important than a low selling price.
SHELF LIFE –
These items have an excellent shelf life until the can is opened,
then the moisture in the air can harden it. If you open the can and do not use all of it, put
into a smaller jar or can. Always clean the can lid groove and put a layer of plastic wrap
on container before the cover (or you may never get it off!).
POR-15 RUST PREVENTIVE COATING
POR-15
is a gloss black paint like substance
which acts as a total rust inhibitor.
POR-15
chemically bonds to rusted steel to form
a rock hard non-porous coating that won't
crack, chip or peel. It works by isolating
metal from moisture. No moisture,
NO
RUST!
Paint right over rust on floor pans,
frames, chassis, trunks or any rusty metal.
POR-15
grips to rust unlike any paint you've
ever seen. It dries to an unbelievably tough,
ceramic-like finish.
POR-15
is not a water based product
(like

EXTEND

)

.
POR-15
is anhydrous

(made without water)

.
It is actually strengthened and hardened by moisture. It dries faster on a humid day so moisture
DOES NOT
weaken it like regular rust paints.
NOTHING WILL REMOVE IT
short of a hammer and
chisel. Gas and thinners?
NO EFFECT!
You can even twist the coated metal!
NOTE:
POR-15
must be top coated if it will be exposed to direct sunlight or it will discolor (use
BLACKCOTE
or CHASSIS COAT
. They make it even tougher!). POR-15

and the black coatings
should not
be considered top coats on "visible" parts of fenders, etc. They are tough and
"imperfect"
for use as your final paint coating on the top of the car.
REMOVE FROM HANDS IMMEDIATELY
or you'll have to "wear" it off!
POR-15 PRODUCTS
CAN'T GO AIR
Most Por-15 products must ship
surface.
CANNOT Ship Air.
MORE INFO?
Request more info., and questions & answers –

C11117

free 2 oz.
TEST KIT –
Order this

TEST

"STARTER"

KIT

and see for yourself. I'm sure you'll be sold!
KIT INCLUDES:
8 oz. of Marine Clean, ½ pint of Metal Ready and enough Gloss Black POR-15 to cover
12 sq. ft. (or buy the 4 oz. can below), 2 paint brushes and some rubber gloves.
TEST KIT C11118
3 lbs.
POR-15 Gloss Black
RUST PREVENTIVE COATING
Need to be top coated if it will be exposed to direct sunlight.
Use
DIRECTLY ON HEAVY RUST
. Complete instructions for brushing or spraying. See
SOLVENT
next page.
GLOSS BLACK
4 oz. CAN
C11119A
6 oz.
QUART
C11119

3 lbs. (A QUART

goes a long way!)
SEMI-GLOSS
PINT C11394

1 lb. 8 oz.
POR PATCH
This is a thicker version of
POR-15

(like caulking)
. Since it is thicker, you can use to fill metal seams, small holes,
rust pits, any place you'd normally use
POR-15
to stop rust. Can be painted over with
POR-15
.
4 oz. tube – BLACK

C11125

8 oz.
What Do Customers Say?
We have gotten more positive comments about the POR-15
products than just about any new product we've ever had. Customers that have used it in the past had nothing
but praise and were glad to be able to order from us. Those who have just recently tried
POR-15
were amazed
and said
"this is even better than you said!"