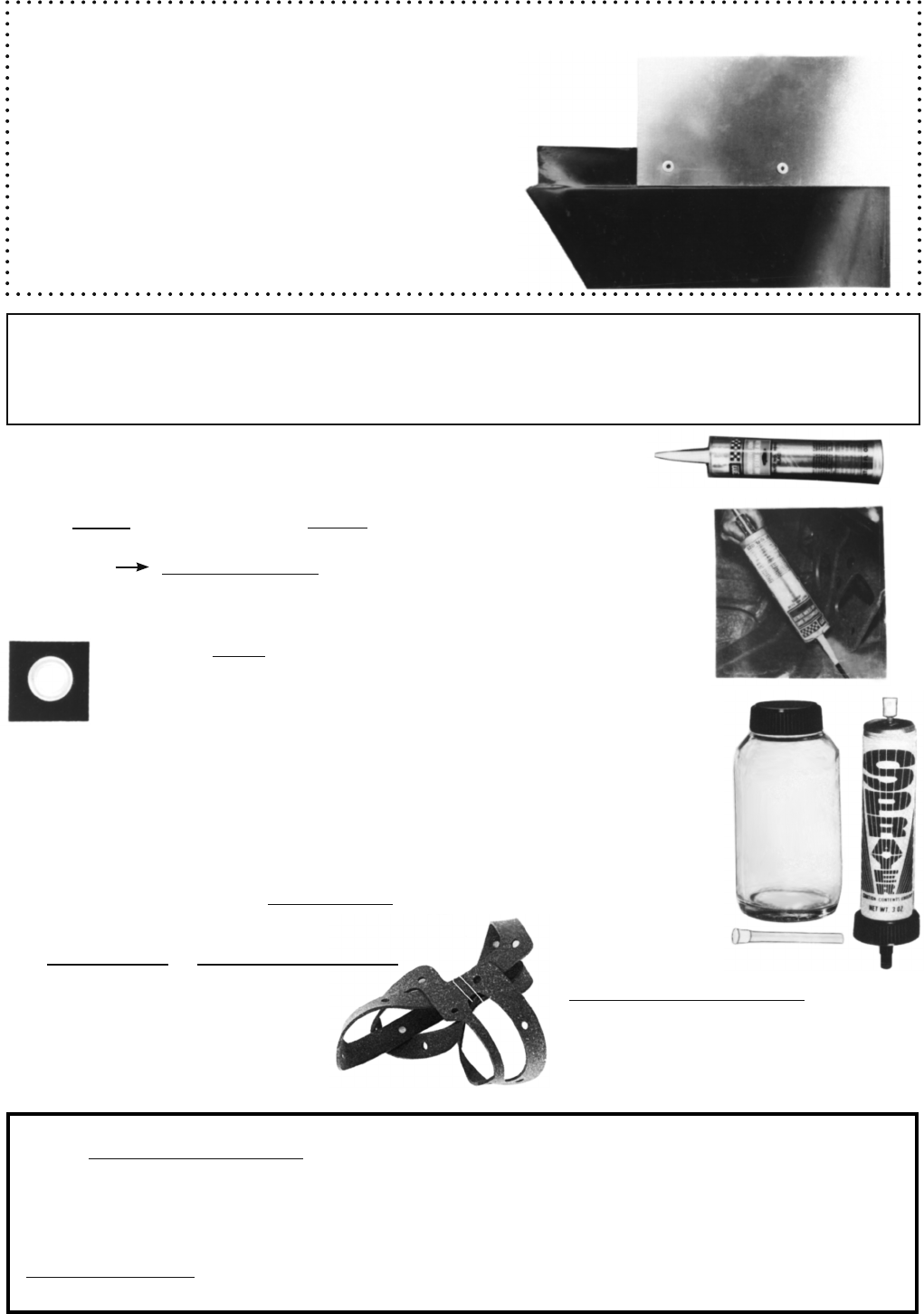 i
WARNING:
Products on this page can expose you to a chemical, which is known to the St

ate of California to cause cancer or reproductive harm. **For more information go to www.P65Warnings.ca.gov**
198
FIBERGLASS ATTACHING ITEMS
Our fiberglass panels are hand layed and in many cases they are actually stronger than
original steel panels and will bounce back from a blow that would dent steel.
When possible we notch the edge that will attach to existing steel sheet metal so it may
slip behind.
Complete instructions are included with panels.
In general, the panels are pop riveted in and fiberglassed over. For ultimate strength and
adhesion use epoxy.
EPOXY
Much stronger than fiberglass. Use to fasten fiberglass panels to steel.
1 Quart (1 Pint epoxy, 1 Pint hardener)
C3587
2 lbs.
SHEET METAL PIECES
Sheet metal panels are usually attached by welding, brazing, or pop rivets . The area is then filled in with body filler or fiberglass
(see "Fiberglass Attaching")
.
SHEET METAL FOR REPAIRS:
Buy just what you need.
22 GA.
1 square foot
C3308
1 lb. 1 ft. x 2 ft.
C3309
3 lbs. 2 ft. x 2 ft.
C3310
5 lbs.
Our Cork Oil Pan & Valve Cover Gaskets
Are custom made for us from
High Quality Rubber & Cork
.
They are
Very Flexible
& They
Seal
!
PG TORQUE CONVERTERS
Check Those Teeth!
The ring gear on the PG is much
thinner than on the standards. There are times when all of the
teeth wear exactly the same; to a fine point. Don't be fooled, they
are worn! They should have a "flat" on top about 0.096" across.
All of our rebuilt torque converters have new ring gears installed.
BODY FILLER:
1 Quart can with hardener

C1488

1 lb.
BEST:
Headlight pockets, floor seams, 3M BRAND in cartridge. Resists compression, abrasion and water.
Can also be painted! Tan color.
C2009
1 lb.
BLACK BODY JOINT SEALER:
Not as good painted over but okay for seams that don't show. Won't
harden and crack like original. Comes in cartridge. Stays very soft.
C769
1 lb.
RIVETS
Original Style RIVETS for Corvair Paint/Trim TAGS
(

not

for serial #)
If yours are loose or removed for restoration you can now replace them. (installed in black metal for photo)
60-69 Sold as a PAIR.

C11389

1 oz.
PAINT SPRAYER
The fastest Professional Auto SPRAYER is also the cheapest & easiest.
Completely portable.
• Self-powered.
Sprays up to 16 ounces
of any automotive paint.
Acrylics, Lacquers , Enamels, Vinyls, Primers, Custom Colors.
No clogging.
Built-in strainer automatically screens out solid particles.
Self-cleaning.
A few short sprays of the right solvent or cleaner instantly
cleans out power-unit.
COMPLETE UNIT –
C5992
1 lb.
$$ Saver
PLEASE NOTE:
WEB SITE ORDERS ARE NOT "LIVE"
We download web site orders twice a day during work days (except holidays & weekends). If you call about a web order, we may
not have it in house for half a day. We look at each order to double check what you've ordered. The orders are then entered into
our system and start to process. Your credit card is not charged until the order is complete and ready to go out the door.
DO NOT USE WEB SITE ORDER FOR RUSH SITUATIONS.
RUSH ORDER???
When you must have the part rushed, no problem, we can do that. The fastest way is to call the order
in – we will then do our best to process your order as quickly as possible.