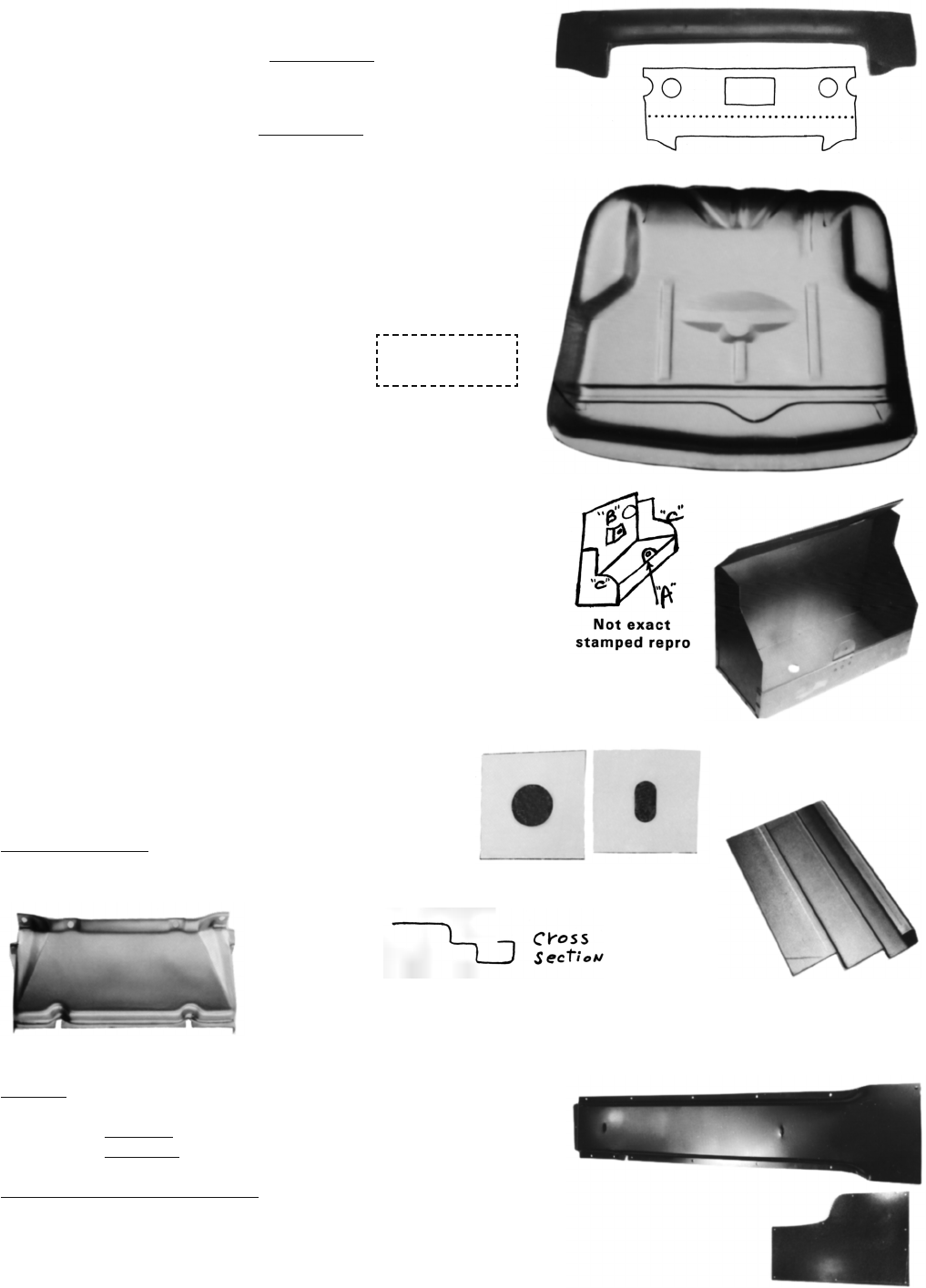 i
WARNING:
Products on this page can expose you to a chemical, which is known to the St

ate of California to cause cancer or reproductive harm. **For more information go to www.P65Warnings.ca.gov**
189
'60-64 CAR BODY PANELS
1960-64 REAR PANEL
PARTIAL REAR PANEL – FIBERGLASS
Behind bumper and down over to seams. Forms hole for air grill – below dots in sketch.
WHOLE REAR PANEL – FIBERGLASS
Replaces whole original rear panel from seams thru taillights and engine lid to
and including air grill area. Exhaust hole must be cut for Turbo.
C1530F-U
68 lbs.
STEEL TRUNK BOTTOMS
Fix that rusted trunk – easily! These excellent repro panels go up about 3" on the sides and have all the
original reinforced ribs. You'll only find 3 slight changes from the originals.
(1) The drain holes have been stamped but not cut thru.
(2) The "seam" across the 61-64 is simulated – not an overlapped moisture trap like the original.
(3) To avoid prohibitively costly tooling small cuts are made in the corners prior to stamping.
They can easily be welded closed during installation.
STEEL 61-64 Cars C4778A
8 lbs.
Also see FLOOR KITS – page 190
STEEL BATTERY BOX –
1961-64 (exc. Wagons)
YES! (Excuse sketch) Replace that rusted out battery box. Slightly thicker than original. All
welded and ready to be welded or pop riveted in. Includes approximately 1" extra in areas "C"
which allows you to heat and bend over in case the areas beside box are rusted. Top is left
straight with enough steel to form to gutter. Loop "A" is included. Bracket "B" is available or
use your original. (our bracket is not that original.)
ENGINE COMPARTMENT PATCH PANELS
1961-64 Cars
These panels allow you to easily patch two of the frequently rusted plastic plug holes. The 2" round Holes
(C4227 plugs) are used on nearly all models above the spare tire & battery box. The oblong (C4226 plugs) are in
common rust area of 62-64 convertibles – made from 20 ga steel – 5" x 5" these holes are exact for the plugs.
2" Round patch
C3450
1 lb.
Rain Gutter – Steel
'61-64
ENGINE COMPARTMENT: Either Side above battery and spare tire.
Goes 1" into fender. 3 Ft. length. Order 2 pieces and do both sides.
Must be heated to bend slightly as installing.
1964 ENGINE SKID PLATE END COVER:
Repro of this hard to find part.
Also needed for 61-63 A/C Cars
C11943
1 lb.
TUNNEL PANS – STEEL
NOT EXACT but extremely close reproduction. Will get past all but the sharpest concours judge.
LONG ONE: 1960-64
C4781
9 lbs.
SHORT ONE: 1960-64
C1189R
2 lbs.
TUNNEL PAN INSULATOR SQUARE OF FELT: 2-3 were glued to the inside of 1960-69 tunnel
pans to keep cables and rods from rattling. Exact replacement.
PANEL DISCOUNT
page 186