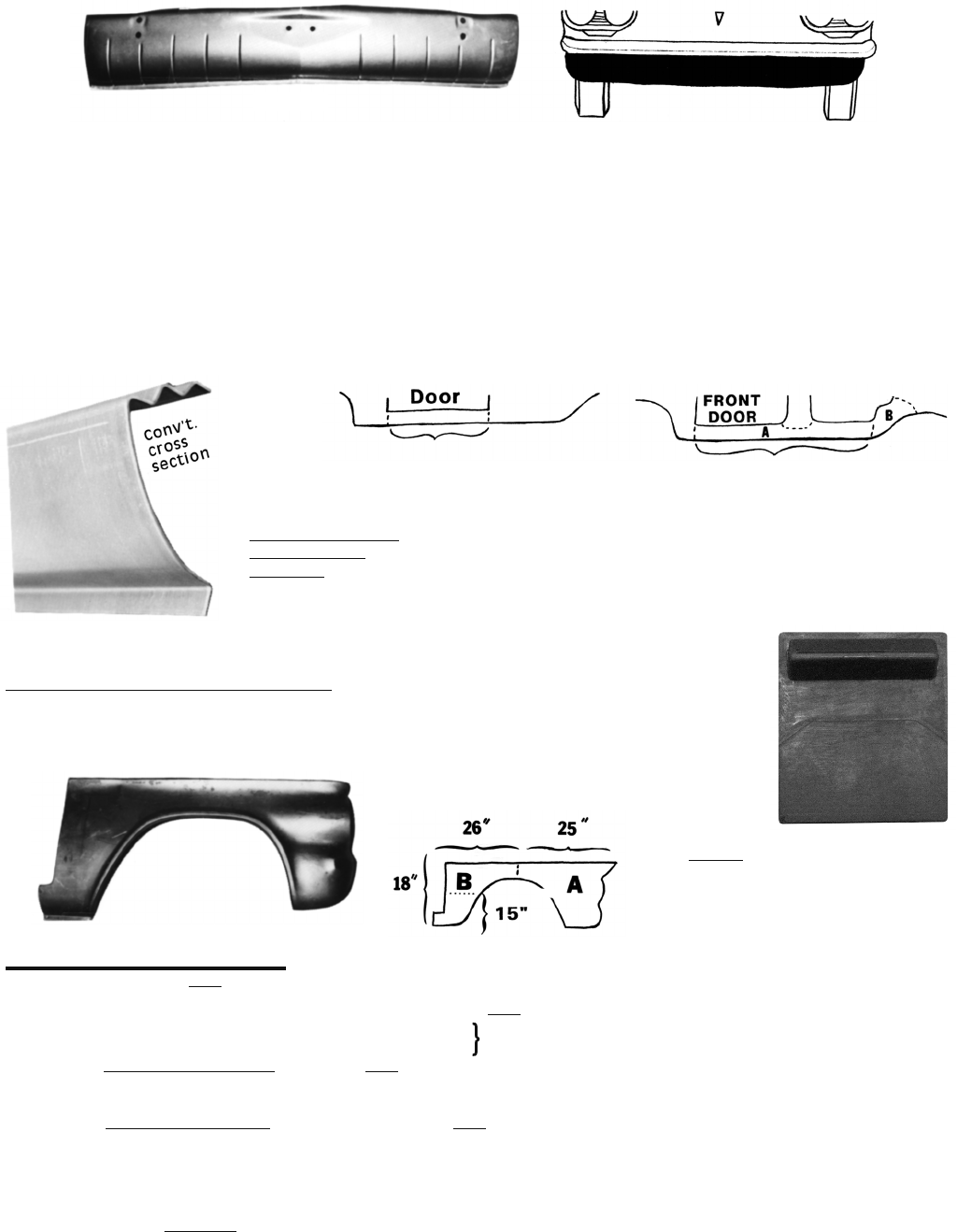 i
WARNING:
Products on this page can expose you to a chemical, which is known to the St

ate of California to cause cancer or reproductive harm. **For more information go to www.P65Warnings.ca.gov**
187
'60-64 CAR BODY PANELS
SEE INTRODUCTION – PAGE 186
FRONT LOWER PANEL:
STEEL – 1960-64 From behind bumper to bottom seam.

C1500

40 lbs. dimensional
WHOLE FRONT BODY PANEL:
FIBERGLASS – 1961-64

From bottom seam up to trunk weatherstrip.
See page 186 – INTRODUCTION page.
FIBERGLASS – C4779
92 lbs.
u
(

plus UPS LPS due to size

– See page 204 for shipping info) *UPS

WILL NOT

insure.
ROCKER PANEL Improvements!
ROCKER PANELS –
2 DOOR
4 DOOR
we introduced these completely retooled
60-64 steel rocker panels with
EXACT profiles and correct gauge steel
.
COUPES and CONVERTIBLE the rocker panel is mainly under the door so 1 is needed for
each side
.
4-DOOR and WAGON owners need to order
3
(1 1/2
per side
) and weld together.
CONVERTIBLE rocker panel has the correct
"flattened"
area on the bottom while the COUPE and 4-DOOR
"rolls"
smoothly to
the bottom lip.
BOTH
styles go from the lower lip to under the door sill.
Your old ones must be
removed
and these
CLARK
ones welded in place.
Support body while installing.
COUPES and 4-DOOR – 18 GA x 48"
C1501R
7 lbs. ea.
CONVERTIBLES – 12 GA X 48"
C1501RCT
14 lbs. ea.
RUBBER ROCKER PANEL DRAIN FLAP:
1960-64 EXACT REPRO

C856E

2 oz.
DOG LEGS:
"B" ABOVE – Part by lower rear corner of rear door, forms part of wheel opening (often rusts out).
Especially rusts on station wagons. 1960-64 4-DOOR and 1961-62 WAGONS –
FIBERGLASS
FRONT FENDERS:
Steel replacement panels – see page 188 for the tops.
Note dimensions. Fit 2 or 4-Door STEEL. For COMPLETE FENDERS see fiberglass below.
FRONT FENDER – SIDE:
Complete unit as shown above (A & B) – 1960-64 STEEL
81 lbs. UPS (due to size)
A –
FRONT 1/2 OF FRONT FENDER: Shown Above – STEEL
B –
REAR 1/2 OF FRONT FENDER: Shown in diagram as Area "B" – STEEL
FRONT FIBERGLASS FENDERS –
Need to replace a whole front fender?
Now you can do it with these beautiful FULL FRONT FENDERS (sides and top in one piece). Pop rivet, screw and/or bolt where original was. For left side also order gas
pocket.
MUST BE PREPAID. FIBERGLASS
1960-64 Car Left
C6642
UPS 87 lbs. (due to size)
1960-64 Car Right
C6641
UPS 87 lbs. (due to size)
Handling Panels
NOTE
Panels may not join exactly
if you are trying to piece 2-3
small panels together.
C856E
C1500