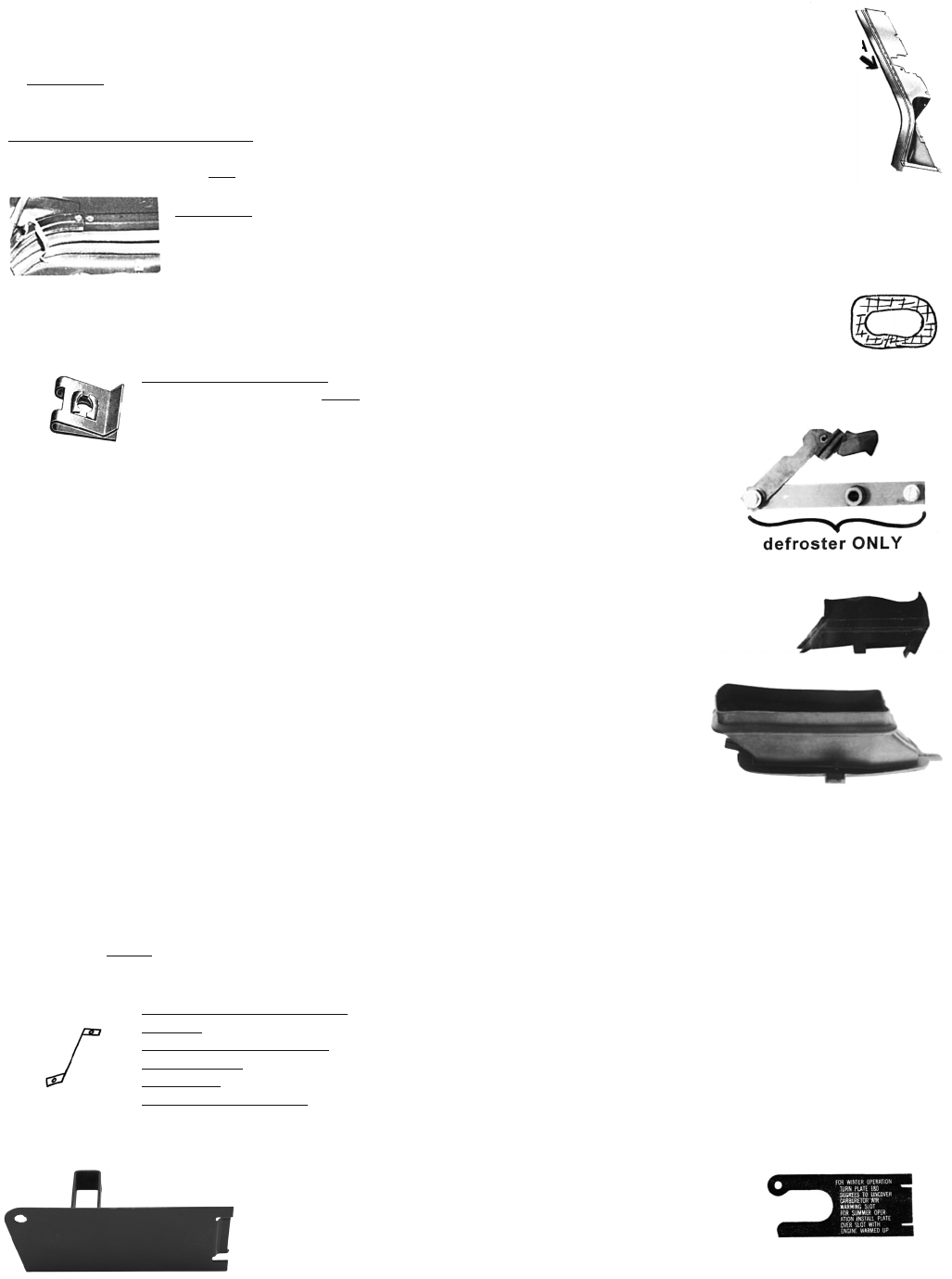 i
WARNING:
Products on this page can expose you to a chemical, which is known to the St

ate of California to cause cancer or reproductive harm. **For more information go to www.P65Warnings.ca.gov**
104
Heater Helpers
Various parts that will help give you a better heating system. See also cables following this section.
Seals
–
Fit between engine shrouds and body to seal out dirt, water and hot air.
1960-64:
Rubberized fabric. Attaches to shroud with staples. Instructions included. Exact replacement.
1 needed
for each side.
C389A

4 lbs.

STAPLES – Preferred Method
Stainless Pre-formed Staples:
Original size, easier to use than wire. Re-drill the holes (through the rubber seal) with a #53 drill (.007)
bigger, but staple goes in easier) or #54 (.003 bigger than original holes.) 1 set of 15 does 1 side, 50 for full engine.
Set of 50
C858E
2 oz.
Drills #53 =
C858B
#54 =
C858C
1 oz.
1965-69:
Long rubber seal that pushes onto shrouds and attaches to body. Exact repro.

C102R

4 lbs.
"Manifold Collars":
Original size, material, color, attaching. Woven material keeps air in and dirt out, where manifold goes through
shroud. Helps to prevent steaming after going through puddles. Complete, easy to install.
C2418
2 oz.
HEATER & DEFROSTER LEVERS & CONTROLS:
See "NOS" on website
Heater Control Rod Retainer:
Holds pin that heater and defroster pivot on.
If you have to remove pin these "
always
" break.
C5092
1 oz.
DEFROSTER – LEVER KIT
Repair that snapped lever for good. Kit fits all 1961-64 Cars & 1961-65 Van levers. Not stock looking but it doesn't show
and it works. The stock steel lever and knob part are transferred to the kit. Instructions included.
C7703
4 oz.
Fresh Air "Door" Repair Kits:
Keep cold air out!

See pages 216, 217, & 219
Heater Boot:
1961-64 Cars & 1961-65 Vans
Note: This is not an attempt at a repro.
This is a sewn boot of fabric reinforced neoprene and fills the hole quite well
if your original is shot. Concours judges will probably never see it. Goes between the "firewall" on the right hand side
and is stapled to the heater housing.
Sewn
C5614
8 oz.
Molded Repro
C10064
1 lb.
Heater Box Insulating Felt:
'61-64 Cars & '61-65 Vans
The heater boxes were originally insulated with a material that falls aparts and gets smelly. The best solution we have
is 3/16" special felt material. The 1961-64 car box is welded shut and is not an easy job! The Van box isn't too bad to do.
We supply material and special glue. You will have to cut the pieces to size and glue in.
Material & glue: '61-64 Cars
C7147
1 lb.
Material & glue: '61-65 Vans
C7148
1 lb.
'61-64 Fix Your Heater-Defroster Foam:
The air for your defroster is controlled by small "doors" behind
the "grill work" near the floor on the left and right sides where the hot air comes out. These have a special foam layer which helps seal
and direct hot air to the windshield. Easily replaced. Foam is self-adhesive. Includes complete instructions. (1) is enough for 1 car.
1961-64 Coupes & 4-Door
C2845
4 oz.
1962-64 Convertible
C2846
4 oz.
1965-69 Defroster "Cardboard" & Foam – See page 103, #6
Heater Control Screws:
Hold the 1965-69 heater control to the dash.
Sold set of 4.
C10863
1 oz./set
'65-69 Duct Foam
Original Style – Adhesive Foam Strips: On Plastic Heater Duct.

1965-69 Cars
Rectangular Opening – Rear Outlet
C4961
4 oz.
Large "Joint" Piece
C4962
4 oz.
Top Pieces (3)
C3233
4 oz.
Rear Heat Duct Support Strap: Usually Very Rusty – 1965-69
C1667
4 oz.
Summer-Winter Covers
– see Decals (not included), page 238
These covers go below the oil cooler and distributor (early Turbos). They are important for correct summer-winter cooling and heating.
1962-63 Turbo & Air Cond. we believe used the
"large one"
both sides.
1964 Turbo & Air Cond. we believe used
1 "large" and 1 "small"
1962-64 Turbo & Air Cond.
"small"
(5 1/2" x 2 5/8") =
C4926

4 oz.
"large"
(5 1/2" x 3 1/4") =
C7133

4 oz.
1965-67 Air Cond, 140 & Turbo cover below oil cooler
(can be used on all 1965-69 w/ NO Smog pipe)
REPRO C645
4 oz.
67-69 with Smog
REPRO C645L
4 oz.
C102R
C2418
C645L
C645
C389A
C5614
C10064