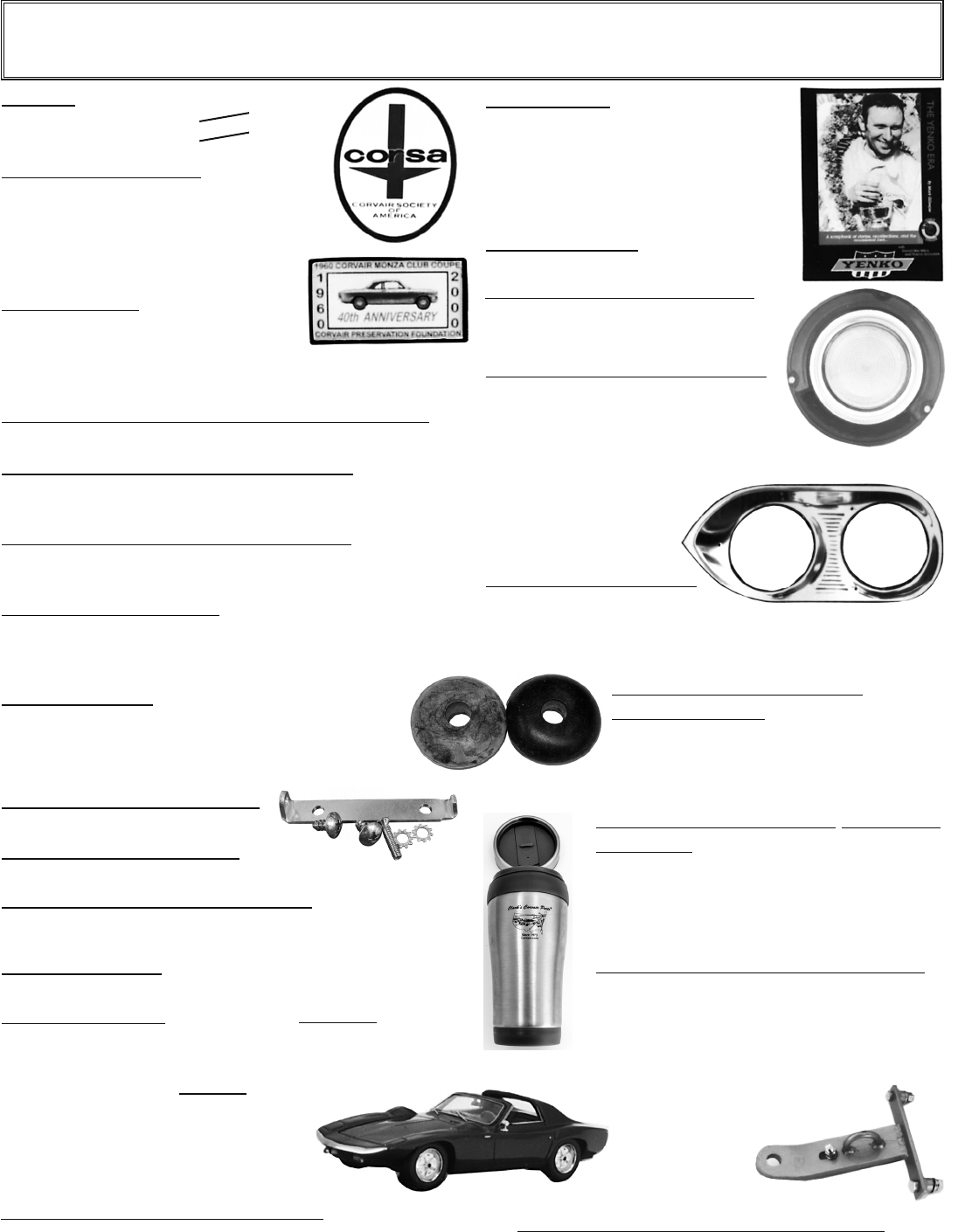 i
WARNING:
Product

s on this page can expose you to a chemical, which is known to the State of California to cause cancer or reproductive harm. **For more information go to w

ww.P65Warnings.ca.gov**
12
27
CORSA GRILL BADGE
Enamel red, white and blue with chrome accents.
Approximately 2 5/8" x 3 3/8" x 1/16" thick with 2
threaded "nuts" on the back to accept (2) 1" threaded
studs.
C11793
$15.20 6 oz.
1960 Monza Coupe
PIN/TIE TACK
40th Anniversary (1960-2000)
Another pin produced by The Corvair Preservation
Foundation. PIN is 1 1/8" long x 5/8". Black border, white background,
red Monza Coupe and blue lettering.
C11354
$1.60 2 oz.
NOS 14" Wire Wheel Cover w/ Spinner
64-65 FC Sold each
NOS
CX4225
$140.00 9 lbs.
NOS 64-69 Regular Pressure Plate
New and complete, but heavy surface rust. No real pits.
CX1520
$79.20 18 lbs. (exc. 140 and Turbo)
LAST CORVAIR ONLY PARKING SIGNS
Corsa only
C12799
$15.20
2 lbs.
Corvair Monza only
C12798 $15.20

2 lbs.
CORVAIR POSTER
18" x 24" – shades of blue & white, shows 60-64 models – Coupes, wagon,
convertible, FC van. Was in old catalog, page 241A.
Books
Vintage Racing
C3407R
$26.00

=

$8.00
Lifemobile
C4617B
$14.95

=

$6.40
YENKO
Book:

"A Scrapbook of
Stories, Recollections & the
Occasional Fact"
By employees & others that were there at the time.
Covers the Corvairs, Corvettes, Novas, Camaros,
VW Ring Gear
–

6 Volt (109 Teeth)
1965 Headlight Bezels
These were an excellent aftermarket part that was
produced during the 1960's. These are the 1965
style. They do not have the raised area on the edge
like the 66-69. It is unlikely that we will ever repro
the 65 style. These have very slight waves in the
stamping (compare to NOS).
Left side ONLY:
Best Quality
5" Globe Light Bulbs
Pure white, regular "old fashioned
light bulbs". 150 watts only.
Set of 6 =
CX9171
$8.00
5 lbs.
Set of 2 =
CX9172
$3.20

2 lbs.
Rechromed Turbo Intake
Crossover Pipe
Chromed about 20 years ago & put in storage. Very
nice, but not the absolute highest quality. Fit 63-66
Turbos.
2nds:

Not buffed enough & minor "spots"
Original Turbo to Chrome Crossover
Pipe Hose
These are originals that are about 40 years old. The
exterior wrap is slightly different from our repro C11.
Please note that these are rather stiff. You might need to
leave them in the sun or use a hairdryer to soften them
enough to stretch into place.
CX11
1965-69 Corvair Towing Hitch
Similar in appearance to the factory hitch.
Rated 1200 lb.
max tow & 300 lb. max tongue weight. Takes a
3/4
" ball
shaft.
NOTE: Requires that the rear grill be removed and 2
holes be drilled in pinch weld behind top of grill; top of grill
must be cut. The center lower bumper bolt is replaced by
supplied bolt. Hitch is pictured upside-down in photo.
Reconditioned Exhaust Manifolds
Includes studs & nuts.
1960, 61 original style:
LEFT SIDE
1965 Globright Backup Lens
Looks identical to guide lens except for the
CX8645
CX8915
Plug Wire Boots
This aftermarket style was used for years before we reproduced the
original 1 piece style. Come with white wax, cleans easily waxed &
cleaned shown. Center hole approximately 1/2". Sold set of 6.
1963-65 Mirror Bracket Kit
Less the gasket.
CX9049
$3.95 4 oz.
1 Set of Front 65-69 KYB
High pressure shocks.
CX9108
$127.20 8 lbs.
1967-69 Style DELCO NOS Radio
Complete except for chrome surround, in original box. Push button.
Clark Travel Mug
Holds 12 oz.
CX9121
$2.80 8 oz.
1962 Tail Lens
– Aftermarket NO TRIM
Apparently when these were made they ran out of trim and never finished
them. Transfer your trim.
CX6084
C12661
Fitch – Phoenix Model
This is a very limited, detailed, high quality run of about
150 1:43 scale models of the dramatic Phoenix.
Model is mounted inside a display case with
engraved numbered plaque signed by John Fitch.
Steel Muffler Straps: 60-63 Car
C15A
1-2 $1.20

3+ $1.00 ea. 8 oz.
CX9049
CX9103
CX9121
All remaining items on DWG pages 11, 12 and 13 will be on sale for 20% off
from August 30, 2022–November 30, 2022.
Prices on the website & when ordering will reflect the discounts as of August 30.
DWG