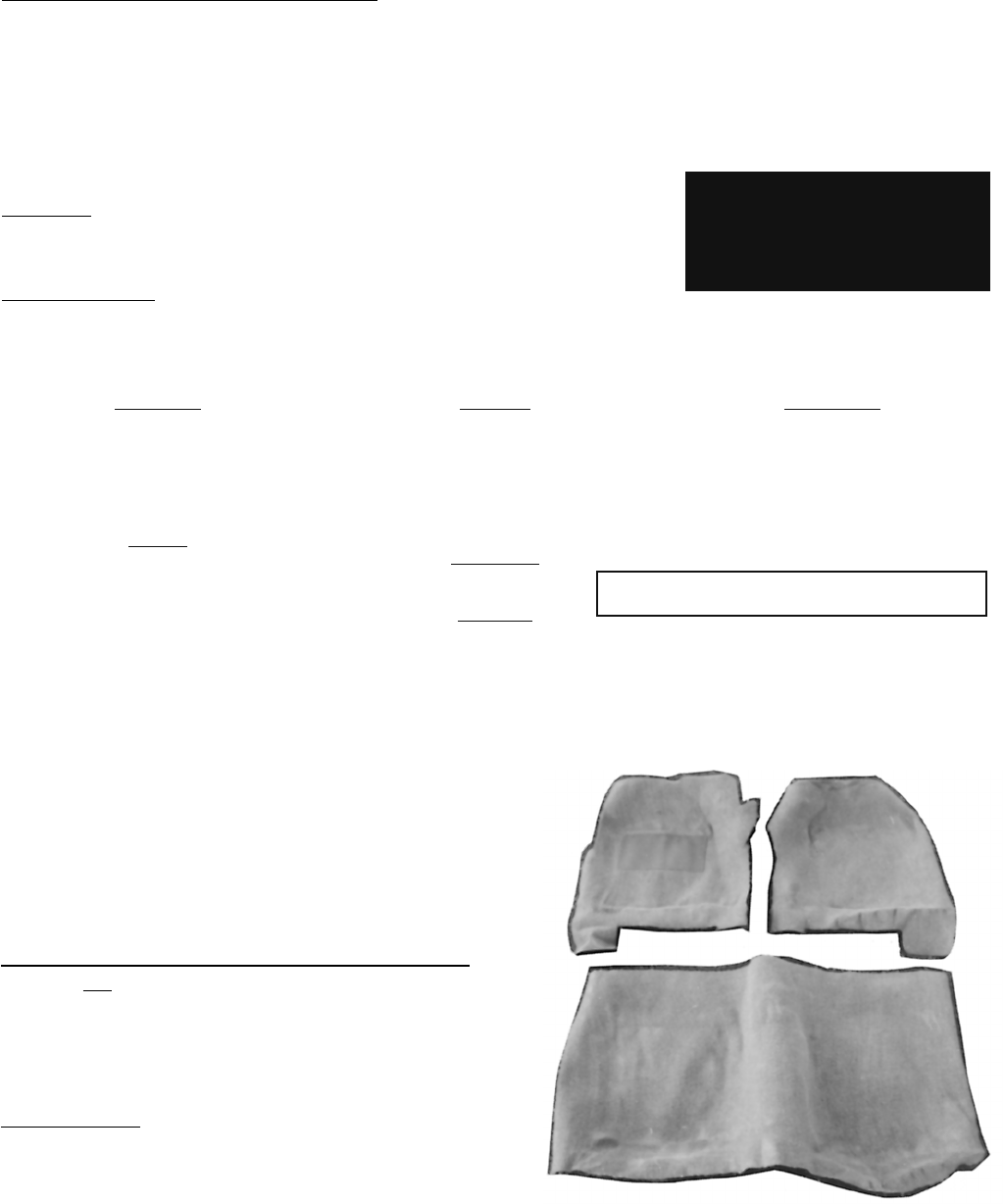 i
WARNING:
Product

s on this page can expose you to a chemical, which is known to the State of California to cause cancer or reproductive harm. **For more information go to w

ww.P65Warnings.ca.gov**
15
RIVIERA CARPETS
Molded vs. "Cut & Sewn" Carpets
We are offering both types of carpets. The molded carpet does fit a little better where it goes over the "center hump" but other than that I
believe our "Cut & Sewn" carpets are better overall.
We've been making our own "Cut & Sewn" carpets for Corvairs for over 45 years & Riviera for 30 years. We are very accurate with cutting
the material to original size and our binding. Both types include the padding glued on. "Cut & Sewn" carpet sets also include enough
matching carpet material for door panels and kick panels at no extra charge. NOTE: Extra material is available for molded carpet sets
by special order only (allow 1-3 weeks). See below to order extra molded carpet yardage for door panels, kick panels and 1965 custom
seats. Carpets can usually be shipped in 1-3 days, (not 2-3 weeks like many companies).
Material
All carpet is "loop" style except for ones indicated as "cut pile". The "80-20" materials are
the most original. All molded carpets are "80-20".
Free Samples
We suggest a free sample before you order. No returns because you didn't like the color. For a free sample, simply add the color code to
the end of
SAMCP
(example:
SAMCP–A
). Printed color samples page 17.
Chart of ALL COLORS
(except molded) – Order
C7070
8 oz.
BLACKS
REDS
EL
"80-20"

Maroon – Medium
BLUES
DK
"80-20"

Very Dark Blue
(a little darker than MZ)
GREENS
AQUAS
KN
"80-20"

Med. Aqua/Turq.
BROWNS
MS
"80-20"

Med. Brown/Saddle

These loops are not

AS DENSE

as most loop carpets.
1963-65 Riviera Carpets are the same basic pattern.
**NO RETURNS DUE TO COLORS – Please get a FREE sample first!**
"Cut & Sewn" CARPETS
for 1963-65 Riviera = R91
22 lbs. (Add COLOR CODE to end of part number)
CARPET MATS
Mats can be made from "cut & sewn" carpet colors. They are bound,
have velcro on the rear to hold in place & drivers side has a small
black rubber mat. Look great & protect your carpet.
SOLD AS A

PAIR.
FRONT
R244
REAR
R245
3 lbs.
Molded CARPET for 1963-65 Riviera
18 lbs.
Color code
NOT
needed. For
FREE
color sample,
add code to SAMMCP–
Black (
BK
)
R83
Medium Blue (
BA
)
R184
Medium Red (
MR
)
R92
Light Saddle (
SL
)
R93
Light Blue (
BC
)
R94
Golden Saddle (
GA
)
R187
Extra Materials
Order "2" yards vinyl to do all 4 door panels & "2" yards of carpet.
(Enough for the doors and kickpanels.)
CARPET: "1"
= 36" x 40" or
"2"
= 72" x 40"
(ADD COLOR CODE)
"80-20"
C7523
5 lbs./yard
Cut Pile
C2978
5 lbs./yard
MOLDED CARPET YARDAGE: Note –
This has a plastic backing and is hard to glue to anything.

Not a stocked item; special order
(allow 2-3 weeks). NO RETURNS – SEE SAMPLE. "1"
= 36" x 72"
(ADD COLOR CODE)
R186
5 lbs./yard
CARPET PADDING: "1"
= 36" x 36"
C3801
3 lbs./yard
Molded Carpet
All R items on this page
qualify for the interior