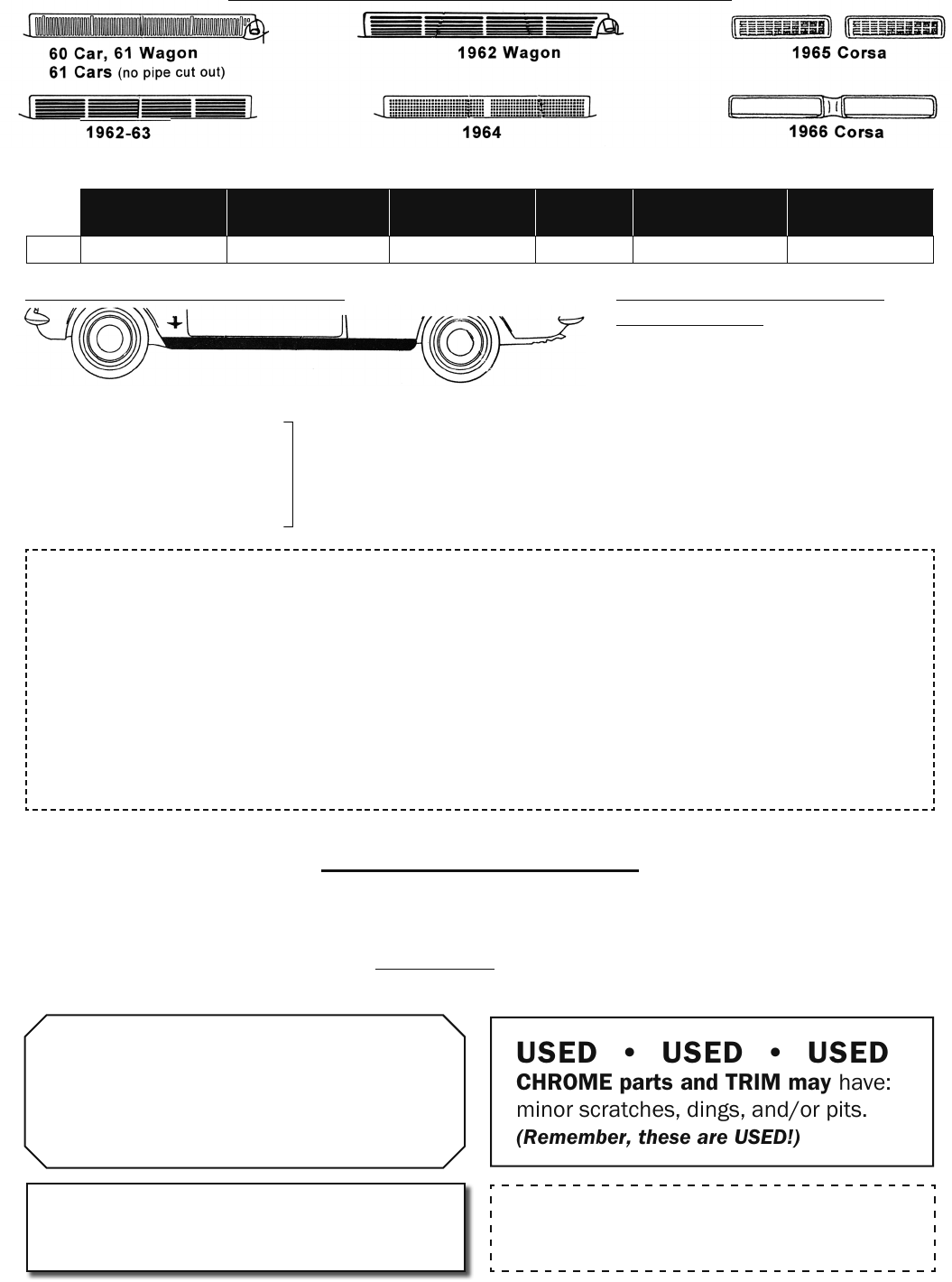 i
WARNING:
Products on this page can expose you to a chemical, which is known to the St

ate of California to cause cancer or reproductive harm. **For more information go to www.P65Warnings.ca.gov**
384
USED REAR ALUMINUM AIR GRILLS & TRIM
These aluminum grills and trim are quite rare.
We will never have a show quality USED one.
Available as GOOD but we usually do not have any.
GOOD
= Minor scratches and/or minor dings, and/or corrosion, grease and oil. Acceptable for everyday car.
1960 Cars & 61 Wagons
(has pipe cut out)
4 lbs.
1961 Cars (exc. Wagon)
Like 60 but has
no pipe cut out – 4 lbs.
1962-63 Cars
(exc. 62 Wagon)
4 lbs.
1962 Wagon
4 lbs.
1965 Corsa
"Wire Mesh" – 2 needed
12 oz.
1966 Corsa
Goes "around" louvered
section – 2 lbs.
GOOD
CU2949
CU2951
CU2953
CU2955
CU2959
CU2961
USED ROCKER PANEL TRIM –
no hardware
We'd rate these as "
good USED
". Road tar but no major dents. Will have scuffs,
scratches,
slight corrosion and minor dents.
These are USED!
Acceptable for everyday car.
1960-62
"500/700" L or R
CU3265
All Rocker Panels
are 10 lbs. each + AH.
See page 370 for AH info
USED DOOR SILL TRIM
EXTENSIONS
Will have scuffs, scratches, slight corrosion and minor dents.
These are USED!
Acceptable for everyday car.
1960-64 COUPE
REAR EXTENSION
1965-69 COUPE & CT.
REAR EXTENSION
Please don't wait to buy new repros
Some customers think that once we have a new repro in stock that they can wait years to purchase,
but consider the following arguments for buying sooner rather than later:
1. Sometimes, we sell out, lose the supplier, or can't warrant the large
re-run requirements.
2. The sooner we see your orders, the sooner we can start reproducing
other parts.
THANKS TO ALL OF OUR CUSTOMERS FOR YOUR CONTINUED SUPPORT.
It makes it possible for Clark's to do the repros you need.
JOIN CORSA!
A STRONG Corvair club is important in ways you may not realize. Enjoy Camaraderie, Tech Support, Share "Stories",
Picnics, Parties, Shows, Club Events & more. CORSA (Corvair club) info & application –
C2
FREE
To Find a Local Corvair Club & Expand Your Horizons:
Go to www.corvair.org (CORSA web site)
Click: Corsa Online, Corsa Chapters, Enter your State, click lter
All parts on pages 343-384
are USED
You Must be Satisfied
We double check all Used Parts but
you
are the final judge. If you
are
not
happy with a Used Part please call and talk to a
"Tech"
person.
DIRTY? . . . yes
Many of these parts may still be greasy or dirty.
Please read the used Parts Intro Page.
.
CHROME parts and TRIM may
ha
v
e:
minor scratches, dings, and/or pits.
(Remember, these are USED!)
k