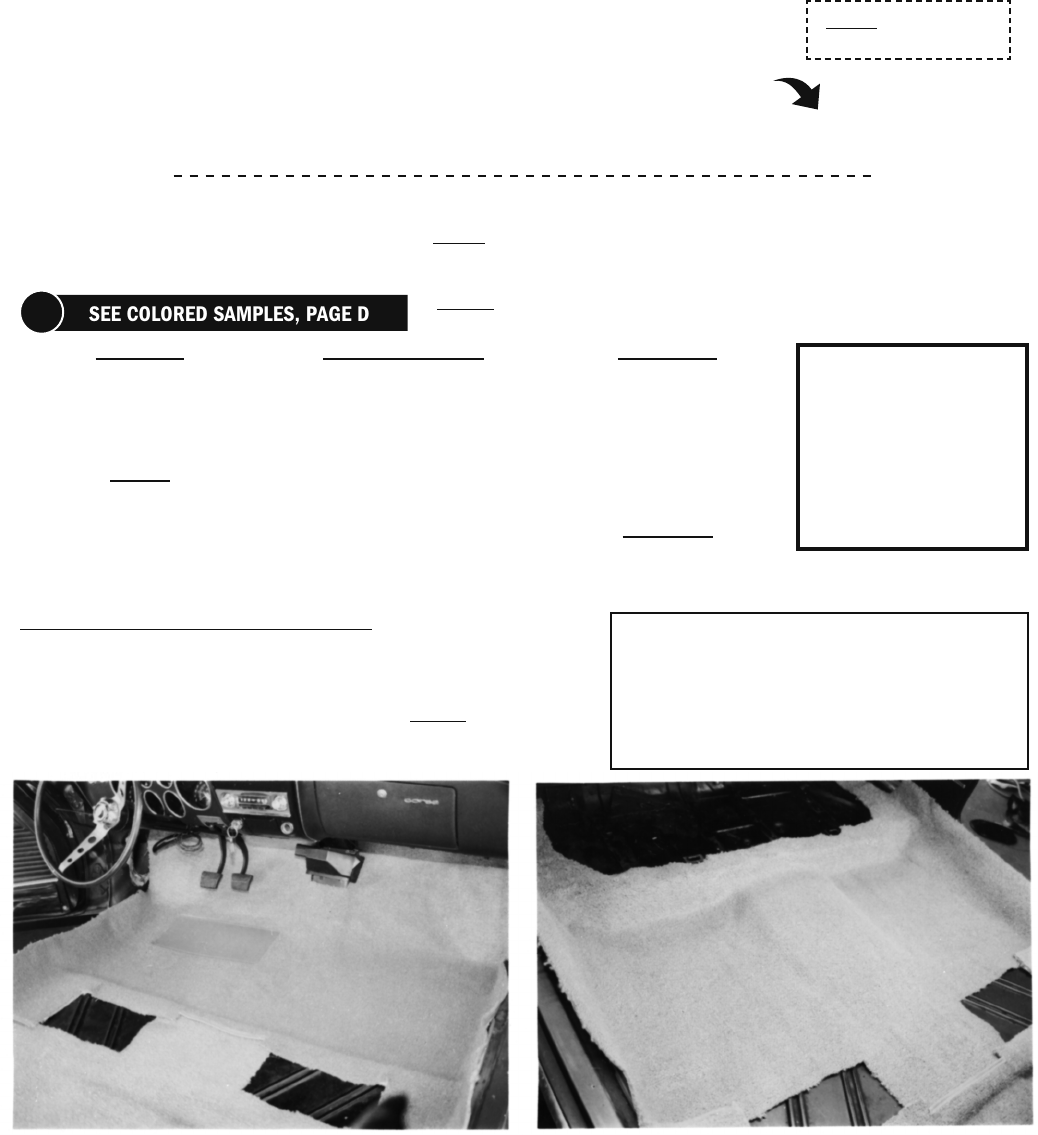 i
WARNING:
Products on this page can expose you to a chemical, which is known to the St

ate of California to cause cancer or reproductive harm. **For more information go to www.P65Warnings.ca.gov**
281A
1965-'69 MOLDED CARPETS
Now the BEST available since Corvairs left the factory!
Cal worked directly with the molded carpet company to insure the best carpet for our customers. The molding process uses a mold equal to the contours
of the Corvair floor. The carpet backing is heated and pressed into the floor forms. It cools and takes the shape of the floor. This is the reason a Clark's
quality molded carpet fits better. The best molded carpet for your Corvair is a Clark's molded carpet.
You Get:
The highest quality original
"80/20"
loop in many original colors. Heel pad sealed to carpet like the factory originals, binding where it should be, quality
padding and excellent molding. The rear carpet nearly installs itself!
(Some trimming is needed, on the front and rear, mainly under the door sills.)
These
MOLDED CARPETS
are made exclusively for
Clark's Corvair Parts
®
One part number for ALL 1965-69!
We were able to combine all carpets for 1965-69 into one carpet design that looks like the original and fits
Coupes
,
Convertibles
and
4-Doors
(we made it big enough for 4-Doors - you just cut a little off the rears for
Coupes and a little more for Convertibles)
. Will even fit

500's

.
MOLDED CARPET for 1965-69 – ALL Cars
C9359

16 lbs.
ADD the COLOR CODE to the END of the part number
(

example:

C9359
BK
)
MOLDED CARPET COLORS
All are original
"80/20"
loop
EXCEPT
ones listed as
CUT PILE
. All are priced the same.
We
SUGGEST
you get our
FREE COLOR SAMPLES
.
ADD
the letter code to
SAMMCP-
(
example: SAMMCP-MR
= sample for medium red)
ON WEB –

Click on

SAMMCP-

, color choices display below
Clark
Please request
FREE samples
before ordering.
Only from
Clarks!
BLACKS
REDS
BLUES – AQUA
XB
Cut Pile
Medium Dark Blue
BROWNS
GX
Medium Green/Gray Fawn
GREENS
CHART of
MOLDED
CARPET
COLORS
Matching Carpet Mats
See NEXT page
Yardage of MOLDED CARPET MATERIAL
Available with "plastic backing" or latex (slightly more flexible).
Special order (allow 1-3 weeks).
1 Yard
= 36" x 72",
2 Yards
= 72" x 72"
ADD MOLDED CARPET COLOR CODE to Part #
(example: C9841
PBK
)
with Plastic Backing
C9841P
7 lbs./yd.
with Latex Backing
C9841L
7 lbs./yd.
No returns
on extra material.
These carpets were simply placed in position for the photos, nothing else was done.
SEE COLORED SAMPLES, PAGE D
N
and all colors display below.
# & color drop down