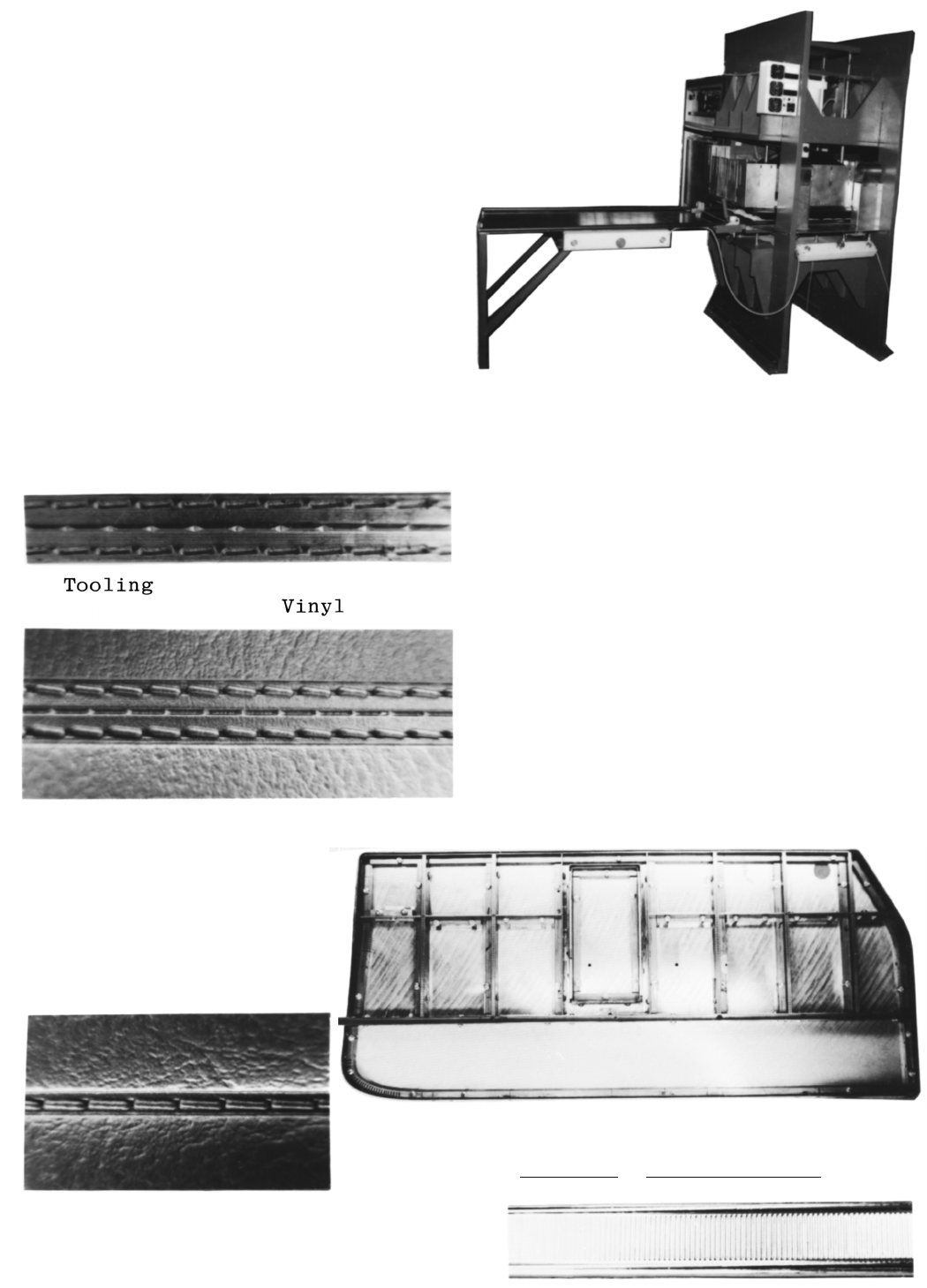 i
WARNING:
Products on this page can expose you to a chemical, which is known to the St

ate of California to cause cancer or reproductive harm. **For more information go to www.P65Warnings.ca.gov**
261C
VINYL EMBOSSER
We thought you might be interested in our dielectric embosser which
gives us complete control over all our upholstery and door panels
and allows us to seal them right to the cardboard like the factory. This
machine is 8 feet tall and capable of up to 30 tons pressure with no
distortion (critical for good even door panels). It was custom made
to our specs for our specific Corvair needs. It requires 2 electrical
circuits – a small one of 208V 20 amps – 3 phase and the BIG ONE
of 208V – 150 amps – 3 phase (for those of you unfamiliar with
3 phase that is equal to 208V – 450 amps single phase! ...and if
that still doesn't mean much, it is enough for 2-3 average size all
electric homes!). I don't totally understand the mechanics behind
this machine but in gen eral it produces radio waves (similar to a
microwave oven), these oscillate rapidly back and forth between the
flat pressure plate and the brass rule of the tooling. In so doing, it
"excites" the vinyl and filler and they in turn heat up just to the point
that they "melt" and then take the "set" of the tooling pushing against
them. In the case of the 1966 stitched rule below, the vinyl must flow
into each small engraving to give the correct detail. The production
sequence is quite simple, we can either mount the tooling to the flat
pressure plate or put it on the shuttle, pile the correct material on top
of it and roll the shuttle under the pressure plate.
It goes basically like this:
1) Put tooling on the shuttle and load with vinyl and filler (and
2) Push under the machine and push starting buttons.
3) Machine puts pressure to force out any air (about 5 seconds).
4) Radio waves activate for 2-4 seconds and turn off.
5) Machine keeps pressure down for 4-8 seconds until material
6) Remove finished product.
TOOLING
All our tooling is brass (considered to give the best results). Each
brass bar is attached to a 1/4" machined aluminum "jig plate"
and spacing and height are checked +/- .003". It took nearly 240
feet of custom made single stitched bar for the 1965, while the
triple stitch for the 1966 cost $30.00 a foot and took 4 months to
finish. Each detail has to be actually engraved into the brass. We
currently have at least 70 different toolings to make alI the various
upholstery and door panels.
The tooling below is for the 1966 drivers side door. Our biggest challenges have been the 1966 stitching, the 1962 door panel mylar and the
1968-69 upholstery. We take great pride in all our upholstery items, have complete control over its production, and guarantee that you will be
satisfied and have the best that is available.
CHROME MYLAR
The 1961, 1962, and 1964 door panels had "chrome mylar" embossed onto the door
panels. Our door panels DO COME WITH the chrome mylar embossed on. Below is a
section of the 1961 mylar.
1965 SINGLE STITCH –
about 3 times life size.
The edges are slightly out of focus due to the
close-up lens.