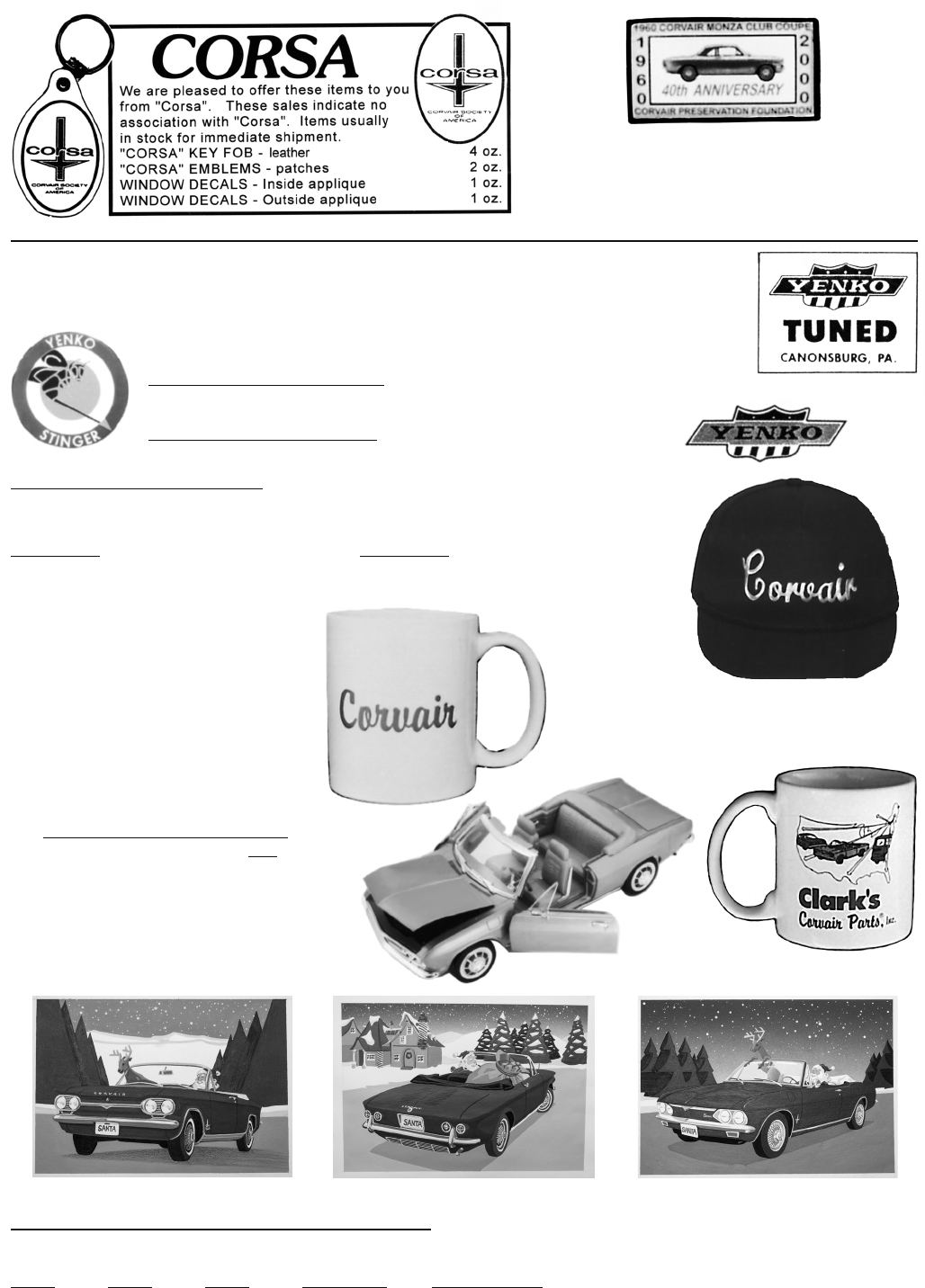 i
WARNING:
Products on this page can expose you to a chemical, which is known to the St

ate of California to cause cancer or reproductive harm. **For more information go to www.P65Warnings.ca.gov**
241
1960 Monza Coupe PIN/TIE TACK
40th Anniversary (1960-2000)
Produced by
The Corvair Preservation Foundation
.
PIN is 1 1/8" long x 5/8". Black border, white background,
red Monza Coupe and blue lettering.
C11354
2 oz.
YENKO PRODUCTS
The
"YENKO"
emblem is the same color on all items.
"YENKO"
and the outline of the emblem are dark blue.
The area behind
"YENKO"
is silver and the stripes are red.
YENKO TUNED WINDOW STICKER

C11312

2 oz.
Embossed Stinger Decal –
In Stock
.
Most accurate decal to date.
We believe 4 were originally used. One on each side panel (2), 1 in the front above the bumper
& 1 on the glove box door.
C8485R
2 oz. ea.
"Flat " Yenko Stinger Decal:
"Flat Style" metallic decal (red, blue, black, silver).
EMBROIDERED CAPS:
These are quality adjustable caps with fine embroidery.
"SOLID"
caps completely cover your head with fabric.
"MESH"
caps are approx. ¾% mesh with the front "solid fabric".
"SOLID" CAPS with "Corvair"
(in script)
12 oz.
WHITE
cap with red script
C10026
BLACK cap with silver script

C10027
These quality white mugs are imprinted with
1969 Convertible Models
Highly detailed, both hoods open. 1:18 models
69 Frost Green
C12597
3 lbs.
"MESH" CAPS with "Corvair"
(in script)
WHITE cap with red script

C10028
12 oz.
BLACK
cap with silver script
C10029
Clark Coffee Mug
A large 12 oz. white coffee mug with the
Clark
logo
imprinted in 3 colors.
C11284
10 oz.
Colored Corvair Christmas Cards
Cards A & C have the inscription inside "Oh what fun it is to ride!" and "Happy Holidays". Card B "Over the river and through the woods"
and "Happy Holidays". Each part number gives you 12 cards (7" x 5") with 12 white envelopes. Produced from the original artwork. 10 oz./set
12 of A
12 of B
12 of C
6 ea. of A & B
4 ea. of A & B & C
C1443A
C1443B
C1443C
C1443E
C1443G
C6784
C5459
C5462
C5463
C11312
C11313
C11284