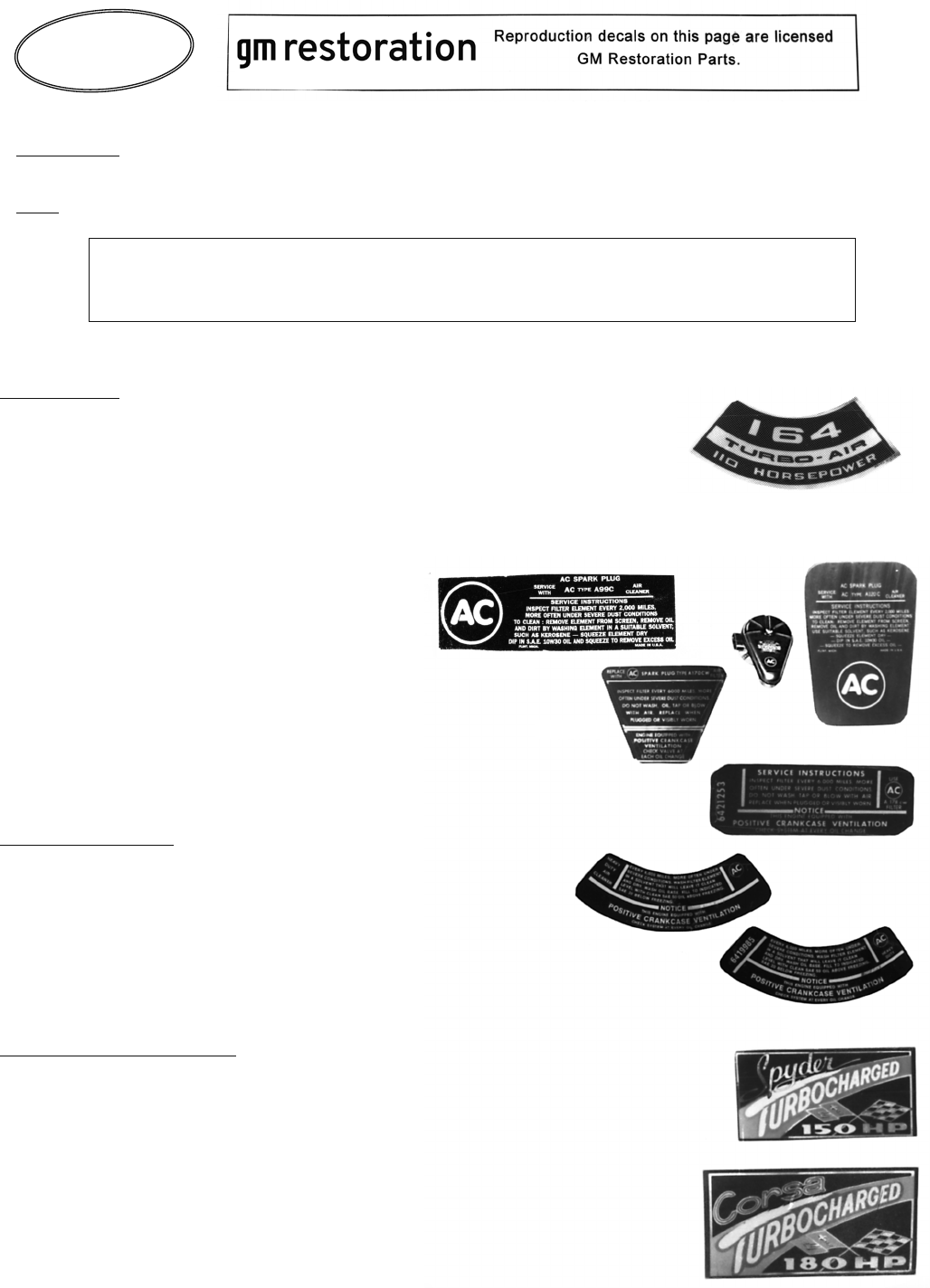 i
WARNING:
Products on this page can expose you to a chemical, which is known to the St

ate of California to cause cancer or reproductive harm. **For more information go to www.P65Warnings.ca.gov**
237
Decals, Stickers, Warnings, Jacking Inst.
MULTI-KITS
see Blue pg. MK-18
These perfect reproductions are from some of the original suppliers. We initiated this reproduction project in 1974 and have continued to add more and
more items. These are the best, most accurate decals available.
WATER TRANSFER:
Some original decals were "water transfer". Prepare the surface, put the decal in warm water for 20-30 seconds and the water softens the decal and
activates the glue. You then slide the decal off the backing into place, smooth it out and let it dry at least 24 hours. These are the most original and usually last well for
2-4 years. NOTE: Do not "over-smooth"; minor wrinkles will dry away.
MYLAR:
This is a type of plastic (often clear) with a "self-stick " glue on back. These are easier to apply but have several drawbacks. They are shiny, attract dust and heat
tends to make corners peel up.
Free Location Pamphlet
Where do all your stickers, decals , jacking sheets go? This pamphlet will show you to the best of our knowledge.
1 free per order
C9837
2 oz.
AIR CLEANER STICKERS – NON TURBO
Crossed Flags:
Some years the crossed flags decals (see page 238) went on the air cleaner or air cleaner cross tubes.
1/4 MOON SHAPED STICKERS:
For air cleaner top cover. Original for

1967-69

. (C405 not originally used)
"164 TURBO-AIR"®
C405
2 oz.
AIR CLEANER INSTRUCTION DECALS – NON-TURBO
These decals tell how to clean or care for the air cleaners.
1960 AIR FILTER DECAL:
Water transfer; looks quite original.
C12561
1 oz.
1961-63 Cars & Vans –
All (
except
Turbo)
:
One used on each air cleaner top.
Now you can replace the one that's worn off! Paint your air cleaner
cover and put this back on.
Original Water Transfer
C1570
1 oz. ea.
1964-65 Vans & 1964-65 Cars
(
with
Air Cond.), black & gold (2 used) &
early 1964
(
with
heavy duty oil bath) Decal
C7594
1 oz.
1964-69
(All
with
single air cleaner above fan): Goes on side of air cleaner base.
C424
1 oz.
1969 Air Cleaner Sticker "Keep Your Car GM"
C3126
1 oz.
Oil Bath Instruction Decals:
Oil bath cleaners were "pre-cleaners".
These instructions were on the oil bath unit in addition to the ones above on the regular cleaner units.
1963 and Early 1964
(
except
Air Cond.)
C9829
1 oz.
1964-65
(
with
Air Cond.) and
1965-66
precleaner
(desert cleaner)
C9753
1 oz.
Late 1964-65
(
except
Air. Cond),
1966-69 All C9752
1 oz.
AIR CLEANER STICKERS – TURBO
FILTER BODY STICKERS
1962
Turbocharged Spyder – 150 hp.
(early 1962)
Water transfer
C404
1 oz.
1962-63

Metallic style

C404A

1 oz.
1964
Turbocharged Spyder – 150 hp.
C409
1 oz.
1965
Turbocharged Corsa – 180 hp.
C410
1 oz.
1966
Turbocharged Corsa – 180 hp.
C412
1 oz.
1965 Spyder – Turbocharged
– 180 hp.
C411
1 oz.
Collectors item! (A few people claim they actually had these on 1965 Cars).
As you may know the Corsa model kept the "Spyder" name during the early development.
Looks same as C410 except for "Spyder" printed on it.
C12561
C7594
C1570
C424
C9753
C9752