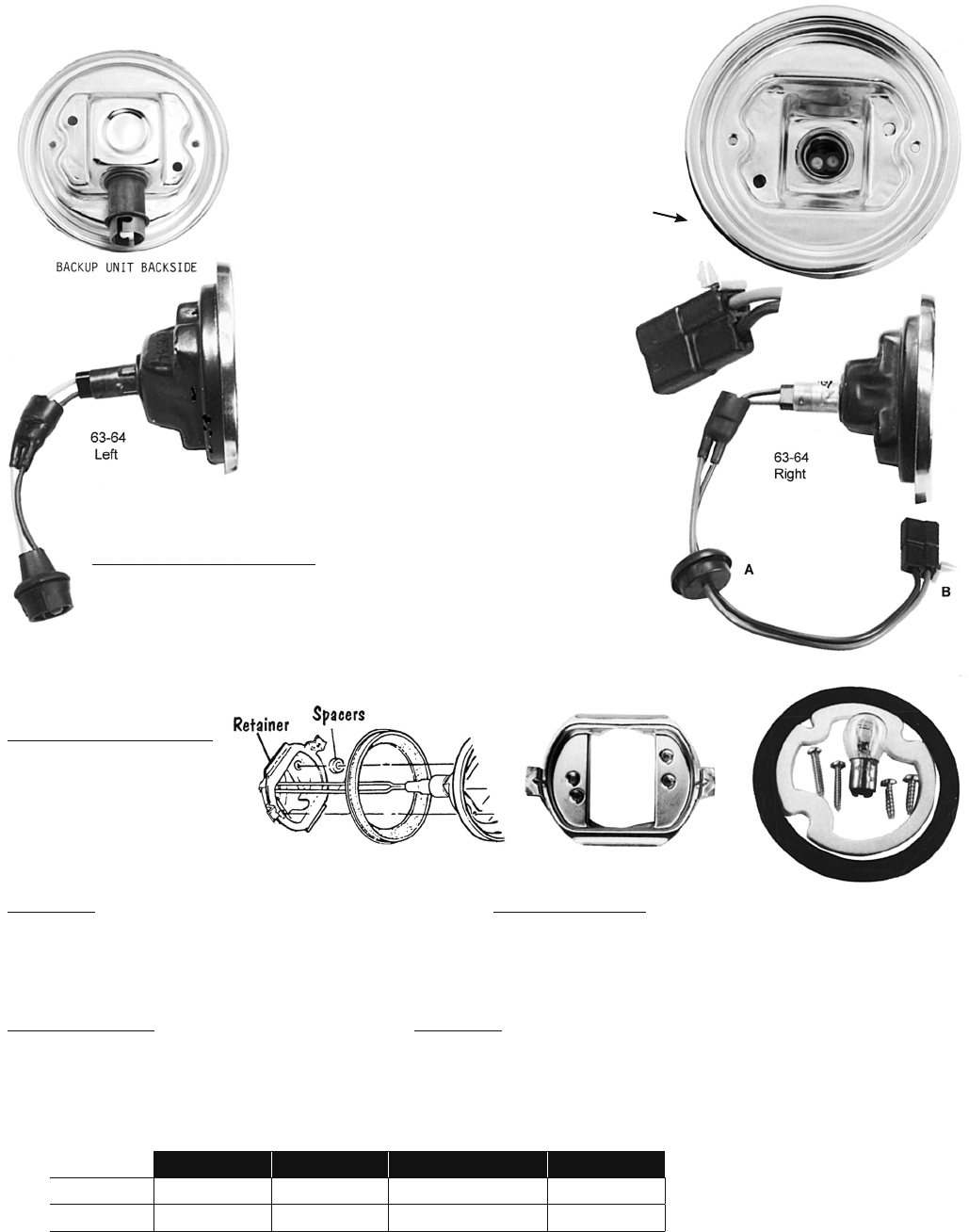 i
WARNING:
Products on this page can expose you to a chemical, which is known to the St

ate of California to cause cancer or reproductive harm. **For more information go to www.P65Warnings.ca.gov**
93B
Repro 1963-64 Tail Light & Backup Units
with Wiring Harnesses & Grommets
Exact tail light repros come with complete original style harnesses attached, as well as including the grommets, boots, clips,
and connectors making them ready to install. Use the new part numbers below.
Cal says these are better than most NOS!
1963-64 Left (drivers) Tail Light Unit
C7553L
12 oz.
1963-64 Right (passenger) Tail Light Unit
C7553R
12 oz.
1963-64 Backup Units (left or right) – "Bare"
C7553B
10 oz.
Individual Harness Parts
(also see bottom of this page)
A. GROMMET:
Fits right side 61-64 tail light harness. Comes on our
new 63-64 repro tail light housing unit. You must slit the grommet or
cut wires to install if ordered separately.
C12811
2 oz.
B. CLIP:
Fits in plastic connector on right tail light harness. Comes on
new 63-64 tail light housing.
C12810
1 oz.
Beautiful Reproductions
Lens & Retainer Screws:
See page 96
Chart of REPRO and all "NOS" Housings
No Phone "Systems" Here!!
You get a real live person/
OR
you get a busy signal/
OR
we're not here.
Installation Kits:
Tail Light And Back-Up Units
Other than these
KITS
you only need a retainer (below) and a lens to install your tail light
or back-up unit. Kit Includes: Exact reproduction black gasket (unit to body), lens gasket,
bulb, screws for lens to unit, screws for unit to retainer (body on back-ups), and retainer spacers.
(Also order a retainer – see below)
1960-64 Tail Light Installation Kit
(for 1 unit)
C7554
6 oz.
1960-64 Backup Installation Kit
(for 1 unit)
C7555
6 oz.
Tail & Backup Retainers
These metal retainers go behind
the tail light units and hold them in.
Usually VERY rusty and corroded and
do not make a good ground.
Repro
combined the 1962 & 1963-64 style
so it fits 1962-64. 62-64 REPRO
C7558
8 oz.
1960 Backup & 60-61 Tail Retainer (round hole)
CX2438
6 oz.
1961 Backup Retainer (rectangular hole)
CX2439
6 oz.
1962 Backup & Tail Retainer
CX2440-2
6 oz.
Retainer Spacers:
1960-64
These rubber spacers go between the metal retainer and backup/tail
units.
Sold Set of 4
(for 2 units) and
Set of 8
(for 4 units). Help seal out
water and dust.
Set of 4
C8252
1 oz./set
Wiring Harnesses
For All 1960-64 Car & 61-65 FC

Tail Lights
Now you can add correct harnesses to your original or repro tail light units. We do not expect to ever offer the units complete
(except for the 1963-64
cars)
. These harnesses are similar to the ones pictured above for 63-64. The new harness will give you the complete harness with all connectors and
rubber parts as well as the new inner part of the socket (has the contacts the bulb makes contact with).
Note: The old metal part of your tail light & socket must still be in good condition (glass bead or small wire brush).
Kit replaces black plastic insert; no soldering required. Wire colors may not match originals. Easy to follow instructions included.
All 6
oz. each
1960 Cars

61-62 Wagons

61-64 Cars (exc. wagons)

61-65 FC
Left harness
C5730A

C5731A

C5732L

C5733T
Right harness
C5730A

C5731A

C5732R

C5733T
Each household or business please order under one name and one customer # if possible.
C7558