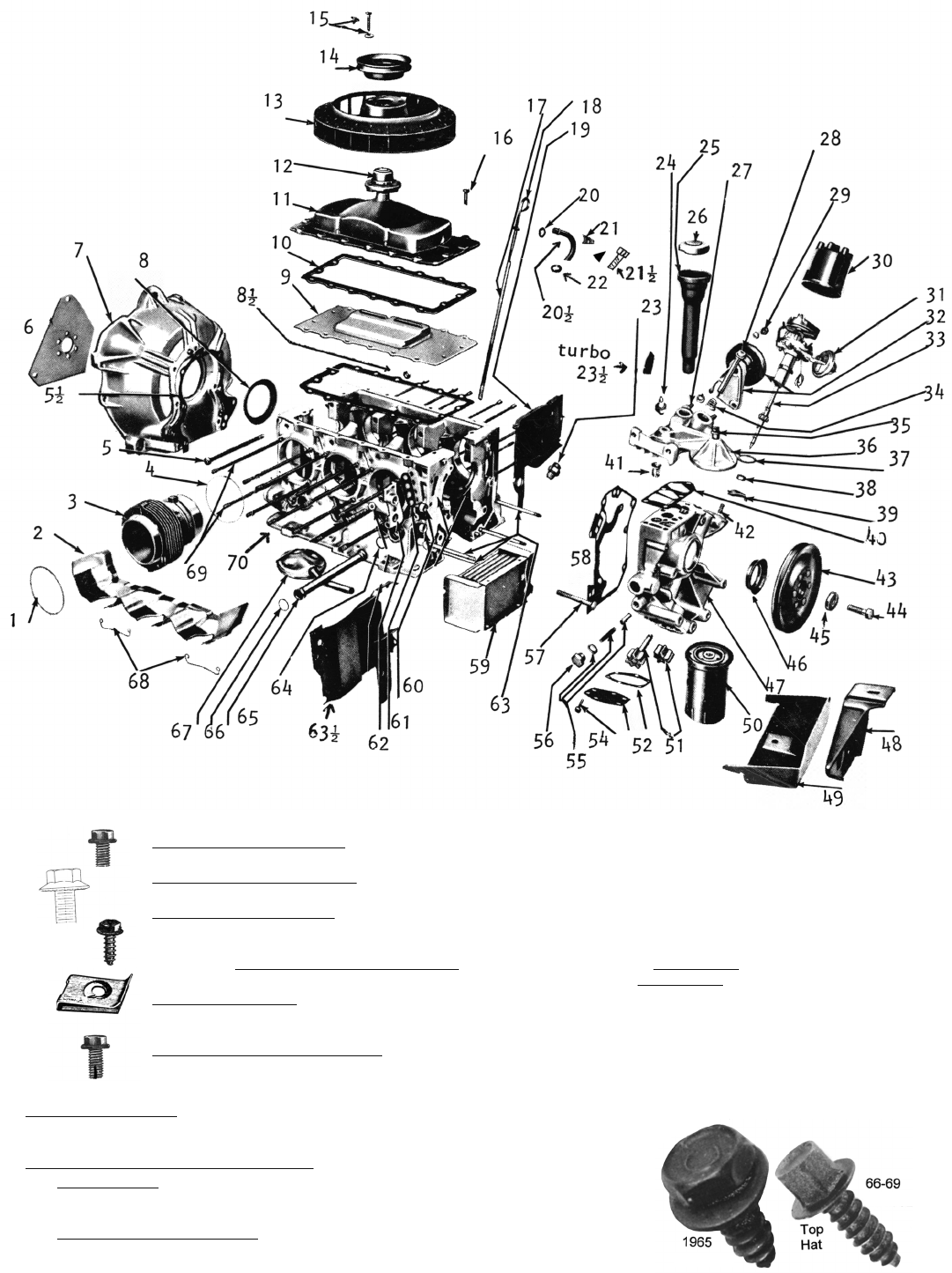 i
WARNING:
Products on this page can expose you to a chemical, which is known to the St

ate of California to cause cancer or reproductive harm. **For more information go to www.P65Warnings.ca.gov**
9
Engine
Block
SHROUD BOLTS
– All Year Corvairs
Order extras so you have them when needed.
Also see page 8.
1/4" DIAMETER WASHER HEAD –
plated, used in several places on the top shroud and Iower thermostat shroud,
muffler heat shields (sold Set of 10)
C2121
6 oz./set
3/8" LARGE WASHER HEAD BOLT –
used for edges of top shroud. Holds heater hose ducts to heads and other shrouds
at other end of heads, plated. (sold Set of
10
)
C2122
8 oz./set
WASHER HEAD SHEET SCREW –
(2) sizes used on most engines in various places for shrouds (upper and lower) – (sold Set of

10

)
Smaller Original Size (#8) Screws
C2124A
2 oz./set
Larger Original Size (#10) Screws
C2124
2 oz./set
OVERSIZE FOR STRIPPED ORIGINALS –
If Original Size is C

2124

A – for OVERSIZE, USE

C2124

2 oz./set
If
Original Size is C2124 – for OVERSIZE, USE (#12 screws)

C2125

2 oz./set
CLIP FOR SHEET METAL –
Used in several places on rear shrouds, below oil cooler, etc. 1960-69 – Gives you something to "screw into".
Available in 2 sizes: Larger usually for front & rear shroud retainers (60-64). "1" = Set of 10 (both for #10
screws)
5/8" x 7/16"
C2128
2 oz.
3/4" x ½"
C2128L
2 oz.
HEX HEAD WASHER MACHINE SCREW –
Self-tapping. This is it! The one you lose and then try to force in a sheet metal screw. This is
used in numerous places. Goes into little nuts welded to shrouds, also those 3 where heater hose adaptor
attaches to shroud. "1" = Set of 10 Original Size
C2126
2 oz./set OVERSIZE
C2127
2 oz./set
SHROUD BOLTS – mixed –
Set of 21. 3 of each bolt and screw

(including oversize)

listed above. Gives you a good selection but is
NOT ENOUGH
for a full engine.
C6171
6 oz./
set
Rubber Engine Seal Retainer Screws – These original repros not in any sets
1965 Screws:
Most were not "top hat" style. These are a good repro (black oxide like the originals),
screw and small washer.
Individual Screw

C3400C
½
oz. ea.
Full Set of 28
(includes one extra)
C3400CR
6 oz.
1966-69 "Top Hat" Screws:
These black oxide screws were used to attach the engine rubber seal to
the body. Ours are nearly exact repros, but the built in washer is slightly thinner and they do not have the small
letter stamped on the top.
Individual Screw

C3400L

½

oz. ea.
Full Set of 28

(includes one extra)

C3400R

6 oz.
C3400L
C3400C