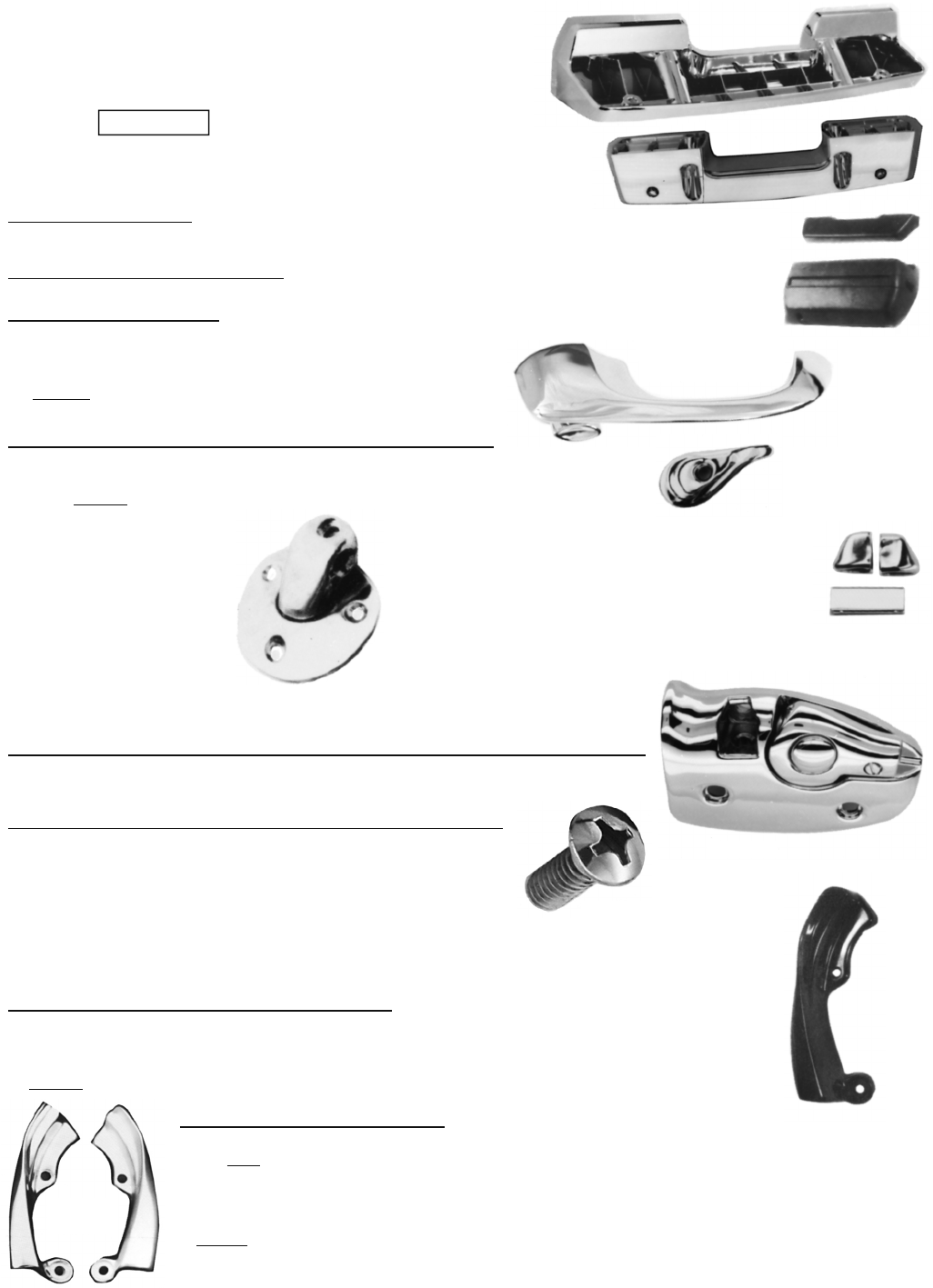 i
WARNING:
Products on this page can expose you to a chemical, which is known to the St

ate of California to cause cancer or reproductive harm. **For more information go to www.P65Warnings.ca.gov**
307
LATE MODEL TRIM
FRONT ARM REST BASES
1965-67 "Chrome" arm rest bases.
Exact reproductions at great prices.
(New vinyl covers –
see pages 268-269
)
PRE-COVERED ARM REST PADS –
See page 269
68-69 ARM RESTS –
Excellent repro.
Bases & Pads in most colors. See page 269
65-67 REAR 4-DOOR BASES –
See page 228
DOOR HANDLES –
Sold as a

Pair

with new push button installed.
Finally you can replace those scratched and pitted outside door handles.
A repro just for Corvair. Coupe, and Convertible
order 1 pair
. 4-Door
order 2 pair
.
Pair 1965-69 Door Handles

C9525P

4 lbs./pair
GASKETS
sold separately –
Set for 2
handles
C2850
2 oz./set
60-67 CHROME COAT HOOKS
Excellent Repro
(not original for
1967
). An excellent reproduced chrome coat hook. Take a look at yours!
They are probably pitted and rusty.
Sold each
C8777
2 oz. ea.
SCREWS – Chrome –
All 1960-67 coat hooks. Sold each.
C1218
1 oz.
CHROME SWIVEL
SUNVISOR BASE
1965-69 either side (
except
Conv't.)
SUNVISOR END CLIPS
Included on new sunvisors.
Very good reproduction. Replace those rusted, missing ones.
Triangular
C7891
1 oz./
pair
Rectangular Clips
C9063
2 oz./
pair
1965-69 Conv't REPRO
CHROME SUNVISOR PIVOT ASSEMBLY
Excellent repro for this hard to rechrome part. Will fit 68-69 but finish is bright chrome (not satin).
Includes nylon bushing. Tighten screw very tight.
Sold as a pair. C12616
2 lbs. 4 oz./pair
62-69 Conv't Top Sunvisor Pivot Screws
Fit all years. Set of 6 polished stainless screws to attach the front catch to the front
windshield header. Replace those rusted, rounded screws.
C13230
1 oz./set (set does both sides)
MIRRORS – SEE PAGES 303-303A
DIRECTIONAL LEVERS – '65-69 – See page 88
PLASTIC FINISH PIECE –
1965-69 Coupes or Convertibles
At inner top side of rear door pillar. Screws to the body.
Usually broken or missing.

Black
in color.
Paint as required to match your interior, enough for (2) finish pieces.
Left
C517R
4 oz.
Right
C516R
4 oz.
SCREWS
– For attaching plastic finish piece. Set of 4
C6402
1 oz./set
1965-69 Pillar Caps:
PEWTER or CHROME
– Sold as a Pair
The pewter caps are cast and can be painted with self etching primer. The chrome ones are polished & then chrome
plated.
Note:

as with plastic ones, sometimes, the pinch weld metal needs to be bent slightly & the factory holes might
be slightly off.
Sold set of 4 for both sides.

C6402

1 oz./set
C1976
C12616
C13230
C93P
C93C