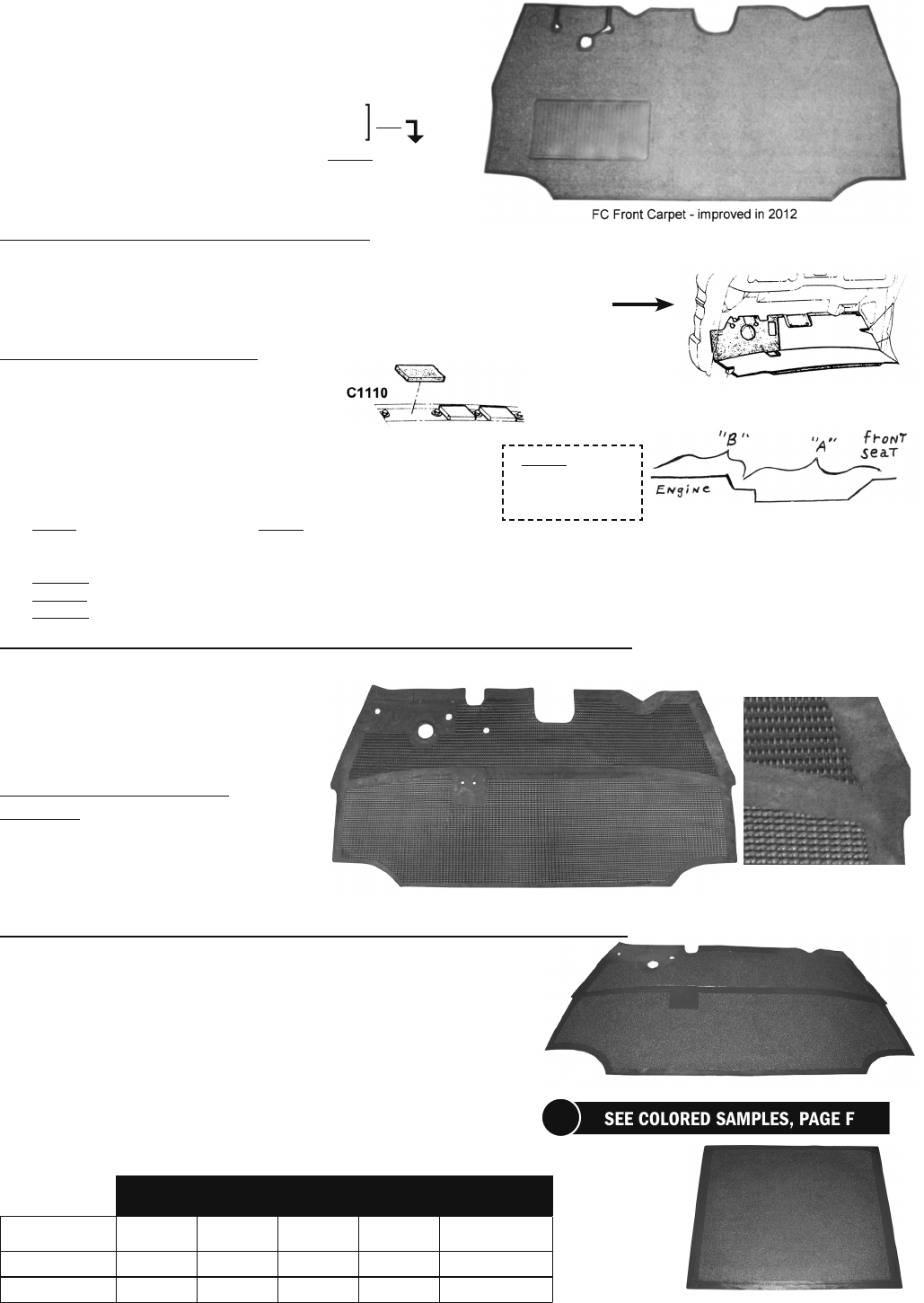 i
WARNING:
Products on this page can expose you to a chemical, which is known to the St

ate of California to cause cancer or reproductive harm. **For more information go to www.P65Warnings.ca.gov**
Front Deluxe
282
FRONT VAN CARPET
Although not original, these look very nice in your 1961-65 Van. The front fits just like the
original rubber. All of this carpet is padded and completely bound. For Carpet Colors – see
page 279. Cut pile & Tuxedo priced higher – see price list. 63-65 w/floor shifter must cut
shifter hole.
NOTE – 61-65 FC: If you have Hot Air Heat, ADD "H" in comments.
If you have Gas Heater, ADD "G" in comments.
61-63 Standard Transmission
C5228
10 lbs.
61-63 Automatic Transmission
C5229
10 lbs.
64-65 Standard Transmission
C13251
10 lbs.
64-65 Automatic Transmission
C13252
10 lbs.
TAR PAPER & FELT (Underlayment) –
under the front floor rubber mat
was a 1/4" jute padding and under that was a thick tar paper. Since most are putting in a carpet that comes with padding, you may not need to add the felt so we are
offering several options. Some minor trimming may be needed. 2 pieces – floor & "firewall".
Thick Tar Paper ONLY

C12880
3 lbs.
Thick Tar Paper with thin (1/8") felt glued on
(good combination with carpet)
C12881
4 lbs.
Thick Tar Paper with thicker (3/16") felt glued on
C12882
6 lbs.
61-65 FC FIBER BLOCKS –
Used on front floor between the bolts; often broken or deteriorated
from moisture. Glue in place. 10 used. Sold in sets of 5.
C1110
8 oz.
REAR VAN CARPETS
– Center & Rear
Due to the width of these carpets they must be seamed.
The seam barely shows.
Carpets can be overlapped at "A" and "B". All edges have binding and carpets are padded.
For Carpet Colors – see page 279. Prices higher for cut pile and tuxedo.
Area "A" –
C5230
25 lbs.
Area "B" –
C5231
10 lbs.
If you plan to stand on these carpets or put loads over the engine, we suggest C13373C, C13373F and C13373R. The dense foam tape is 3/8" thick x 1" wide with
adhesive on one side to stick to the floor between the ribs to help give support.
C13373C:
Thick tar paper with 3/16" felt for the lower area of section "A" to cover the ribs & support carpet.
C13373C
23 lbs. & UPS special handling
C13373F:
Foam tape to fill all the spaces between the ribs for the lower area of section "A".
C13373F
4 lbs.
C13373R:
Enough adhesive backed foam tape for the space between ribs under section "B" over the engine.
C13373R
2 lbs.
FC (Van) Repro Rubber Floor Mats – DELUXE STYLE
– WILL FIT ALL FC'S
These are a nice but not "perfect" repro, you may see some defects in the pattern but this is the best possible
on these low volume parts. Made from industrial grade rubber, colors are mixed in the rubber (not just on top),
colors may vary slightly from run to run and are not an exact match to the originals. We do not have the large
mat for the center section.
FRONT – Deluxe
These only come with 3 holes, you will also need to cut additional holes depending your year
& options – such as shifter, hot air heater/defroster. Consider "underlayment" for front "standard" mats above.
ENGINE Cover Mat
This fits all FC's and is thicker than the original to help bridge the ridges. It is approx 44" x 45"
and covers the engine cover & the 16" flat panel in front of the cover.
Foam tape for the space between ribs under the engine cover mat to prevent sag:
C13373R
2 lbs.
RED
FAWN

TURQUOISE
GREEN
BLACK
Front Floor Mat
C13385

C13386

C13387

C13388
not available
(see standard above)
Engine Cover Mat
C13389

C13390

C13391

C13392

C13393
Color Samples FREE
SAMFC-RED
SAMFC-FAWN
SAMFC-TURQ
SAMFC-GRN
- - - - - - - -
FC (Van) Repro Rubber Floor Mats – FRONT & REAR
These are a very nice repro in black rubber if you want to stay more stock. Different years had slightly different patterns but we only have this one style. If you look closely
you may see minor imperfections but they do not really show up. Includes installation instructions – will have rubber smell for several weeks.
FRONT – Standard Interior
These come with most holes already cut, depending on your
FC you may have to cut a few more. You should also consider
our fiber spacer blocks and tar paper & felt underlayment.
Front Standard Mat – Black:
C13372
11 lbs.
Underlayment:
See tar paper & felt above. If you still
have the original tar paper on the floor then we suggest
C12881
If the tar paper is missing, then we suggest
C12882
6 lbs.
Detail
Standard Front
Engine Cover Mat
SEE COLORED SAMPLES, PAGE F
N
ON WEB –
Click on part #,
color drop menu, options
below, put "H" OR "G" in
comments
C5230 or C5231 &
color drop down menu
& options below
WEB