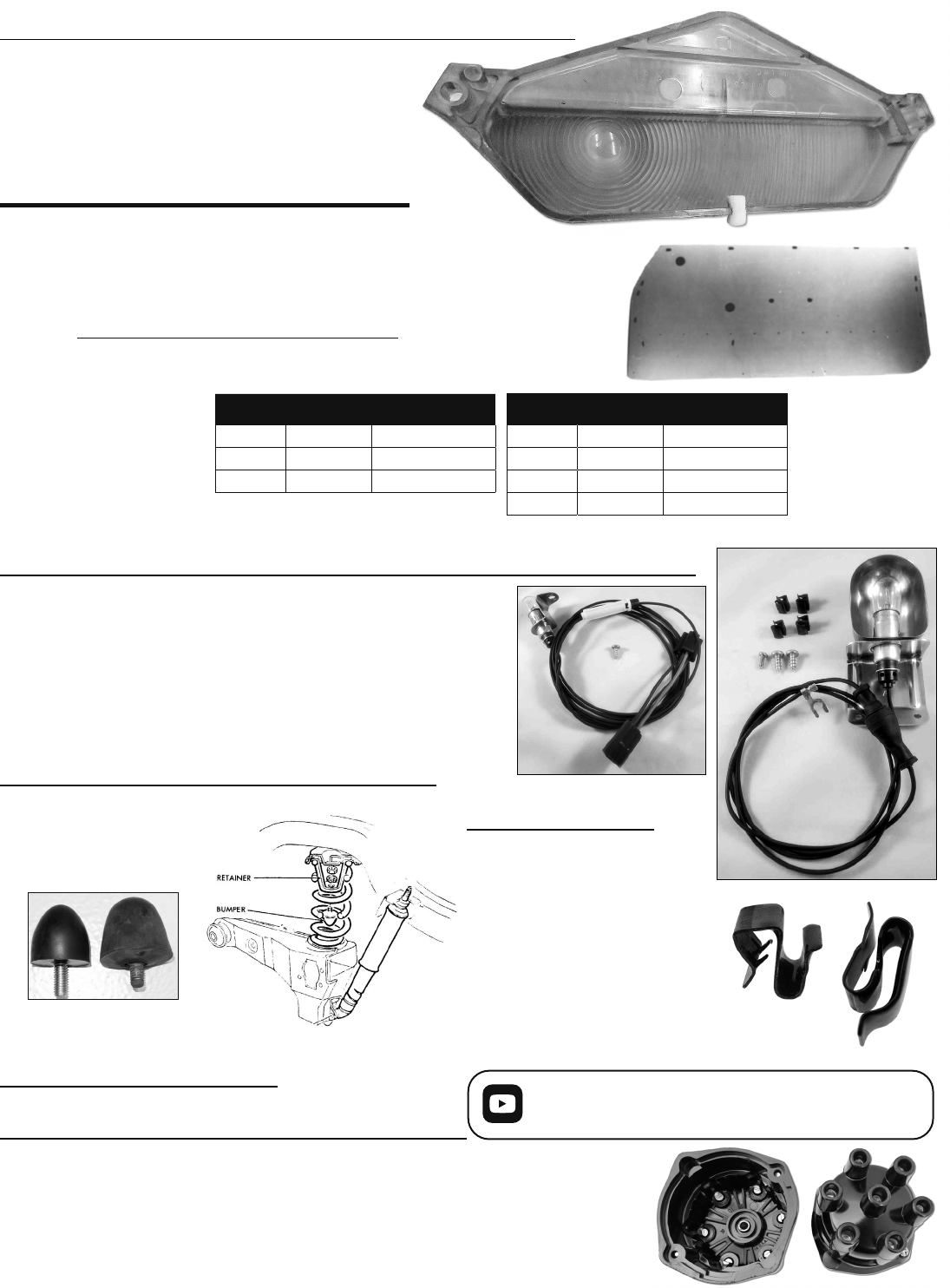 i
WARNING:
Product

s on this page can expose you to a chemical, which is known to the State of California to cause cancer or reproductive harm. **For more information go to w

ww.P65Warnings.ca.gov**
DOOR + REAR PANELS
CARDBOARD ONLY
We personally do not suggest trying to transfer your old vinyl although it can be done. The 1960-64 are
especially difficult due to the outer binding and the way they are attached. The later models are easier but it
is hard to remove the vinyl and reglue it. These door panel cardboards are die cut from water resistant card
board of thickness and rigidity equal to the originals. All necessary holes, slots etc., are reproduced just like
the originals.
ABSOLUTELY NO RETURNS ON THESE ITEMS.
(Some panels may have a few extra
holes as they fit several years).
SHIPPING –
Several can be shipped for these weights
All Front & Rear Door Cardboard
Approx. 13 lbs. due to size
All Rear 1/4 Panel Cardboard
Approx. 8 lbs. due to size
FRONT DOOR
*Except 500
FRONT DOOR
1963-64
Convertible
C6588B
1960-62
All 4-Door
C6599A
1963-64
All 4-Door
C6599B
Engine Compartment and Trunk Light Kits
These light kits with mercury switches are very similar to the original Chevy accessory kits
but not necessarily exact for each application. Comes with instructions and all needed
parts for easy installation.
Estimated in stock SUMMER 2022.
Engine Compartment
60-61 Cars and 61-62 Wagons

C874L

NTF

1 lb. ea.
62-64 Cars

C2839
NTF
1 lb. ea.
65-69 Cars

C4526
NTF
1 lb. ea.
Trunk
60-64 All exc. FC

C6525

NTF

1 lb. ea.
65-69
C6525L
NTF
1 lb. ea.
Rubber Rear Suspension "Cone" Bumper
There has not been enough demand to reproduce
this but a customer told us about this bumper
which is just slightly smaller and fits.
Sold each.
Engine
Compartment Kit
Trunk Kit
BLACK DISTRIBUTOR CAP with BRASS CONTACTS
We are having this superior cap made in black (usually only available in gray) so it looks stock.
Why brass
contacts?
Better conductivity and much longer life. Aluminum contacts tend to corrode from moisture and
arcing across the gap. If you've looked at used aluminum contact caps you have probably found blackish/gray
flaky deposits that can be scraped off; these deposits seem to build up quickly from use or sitting and do affect
performance.
Black Distributor Cap with Brass Contacts

C8237B
$16.90
1 lb.
EVOLUTION CAR COVERS
ARE DISCONTINUED
After 40 or more years, the evolution material has been discontinued. All other
covers in our catalog are still available. "Noah" is a good similar replacement.
Clark YouTubes
Most up-to-date links are on our "YouTube" heading on our website
Trunk and engine compartment light kits
come with these clips but if you lose any
or need some clips for original accessory
lights they are available separately.
Small rubber coated clips for single
18-gauge wires
Larger rubber coated clips designed to
hold 3-4 18-gauge wires
C3674
C3684X
5
1960-64 Front Directional Lens Wicking Felt
All cars & FC came from the factory with this felt wick in the bottom
of the lens – it keeps water from splashing in while wicking moisture
to the outside to evaporate. Sold set of 2. Remove lens to install.