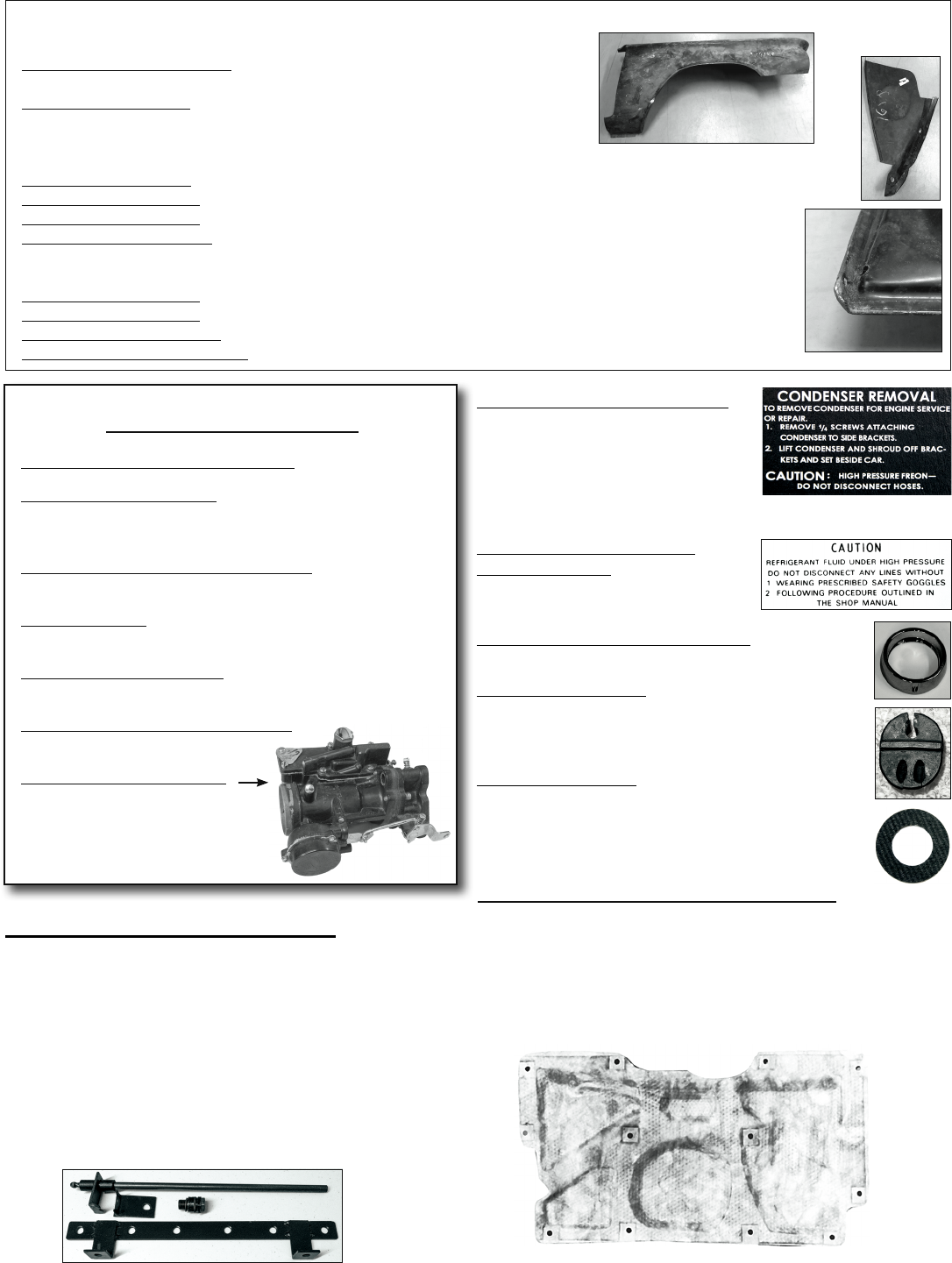 i
WARNING:
Products on this page can expose you to a chemical, which is known to the State of California to cause cancer or reproductive harm. **For more information go to www.P65Warnings.ca.gov**
More NOS Parts
1961-65 FC Front Delco Pleasurizer Shocks:
CX7981
$19 ea 4 lbs.
1965 Full Monza Wheel Covers:
With new Monza inserts – raised
center paint has scratches from way Chevy packed them, otherwise
perfect (set of 4).
CX9036
$250.00 9 lbs.
1965 NOS Black Wrinkle Paint Glove Box Door:
New but the wrinkle
is rubbed smooth along right edge in 1/4".
CX9037
$69 2 lbs.
Glove Box Surround:
Black wrinkle paint with thin silver trim –
absolutely perfect but was removed from a car.
CX9035
$59 1 lb.
1964 Tail & Backup Center Trim:
(not as nice as our repros)
1964 Rear Leaf Spring NOS Bolt Kit For End
CX9039
$19.00 6 oz. (1=1 end)
1964 BLACK TURBO CARB – NOS
Sell us your used one and have one with
all new chrome new factory paint, just
replace the gaskets & fuel pump.
NOS BODY PANELS
1961 Lakewood Inner Rear Panel:
Reinforces the rear panel below the rear bumper
CX9149
$195 –

Oversize UPS shipping
1961-64 Front Body Panels
Very rusty – needs blasting
CX9137

$450
Bottom below bumper, cut off
CX9141
$225
Bottom below bumper, cut off, some surface rust
CX9142
$195
1960-64 Left Front Fender:
Surface rust – front bottom cut off
CX9143

$475
1960-64 Right Front Fender:
Front bottom cut off
CX9144

$425
1965-67 Front Right Fender:
Surface rust
CX9146

$495 –

Oversize UPS shipping
1965-69 Engine Lid Complete:
Both panels have 2 front corners that are bent – best guess is an hour for a body shop
to fix both corners
Surface rust, front 2 corners bent
CX9135
$325 –
Oversize UPS shipping
Dusty, front corners bent, slight dent inside
CX9136

$350 –

Oversize UPS shipping
1968-69 Front Right Fender:
Very slight kink in center of wheel opening, some surface rust
CX9138

$495
1968-69 Front Right Fender:
Perfect – slight surface rust
CX9139

$525
1960-64 Car NOS Rear Bumper:
Very good but "cloudy" on the top side near each end (area about 1-2" x 5-6")

CX9163

$150
1967-69 NOS Engine Wiring Harness
CX9164

$105
CX9144
CX9151
CX9135 & CX9136
AC Water Transfer Decal
1961-65 AC "condenser removal" (4" x 2 1/4")
White print on clear background.
Note: We include instructions but water transfers
can be tricky, therefore we offer a discount if you
buy 2, in case your first try isn't perfect.
Limit of 2 per order at the 2 price.
C13403
1 – 12.95 2 – $8.50 1 oz.
AC Caution Refrigerant
Fluid Warning
Red print on clear self stick backing
1960-64 Chrome Ignition Switch Bezel
1960 Speedo Grommet:
This is a very low volume part so
they are handmade in low volume tooling, don't look "great" but
don't show under the carpet & are very close to the originals.
Photo shows used grommet.
C13410
$14.75
GAS HEATER GASKET:
This gasket is inside the
trunk where the exhaust pipe exits to help seal around
the pipe. The originals were asbestos, these are very
high temp blackened fiberglass.
C13411
$3.75
C4231B
C13410
C13411
VALVE SERVICING TOOL
We just found 2 of these that we hadn't sold in over 15 years. It allows you
to remove the rockers without losing adjustment to replace valve springs or
intake seals. The main section bolts to the head; there are 2 sizes of "feet"
that are used on the pry bar. A spark plug is removed and the modified
spark plug base is screwed in, with an air line adaptor you supply, and the
cylinder at top dead center you pressurize the cylinder. NOTE: Only one kit
has the adaptor; for the other kit you will need an adaptor to pressurize. Once
pressurized, follow the detailed instructions for moving the rocker arm out of
the way without losing adjustment & removing the valve spring.
Complete Kit

CX9169
$89
1 lb.
Kit Less Spark Plug Adaptor

CX9170
$79
1 lb.
Last Insulation Run for 65-66 Corvairs
In 2011, we received a full tractor trailer of insulation.
This is the smallest amount they were willing to run & the next order
would have to be much larger, so this is most likely the last order. C135RD &
C135R6 will now give you the hood insulation with the correct "cut out" for the
engine light. We have some $$ Saver Molded Hood Insulation with the engine
light "cut out" that is off by 1/2" (but still in place).
$28.00 38 lbs. (due to size)
21