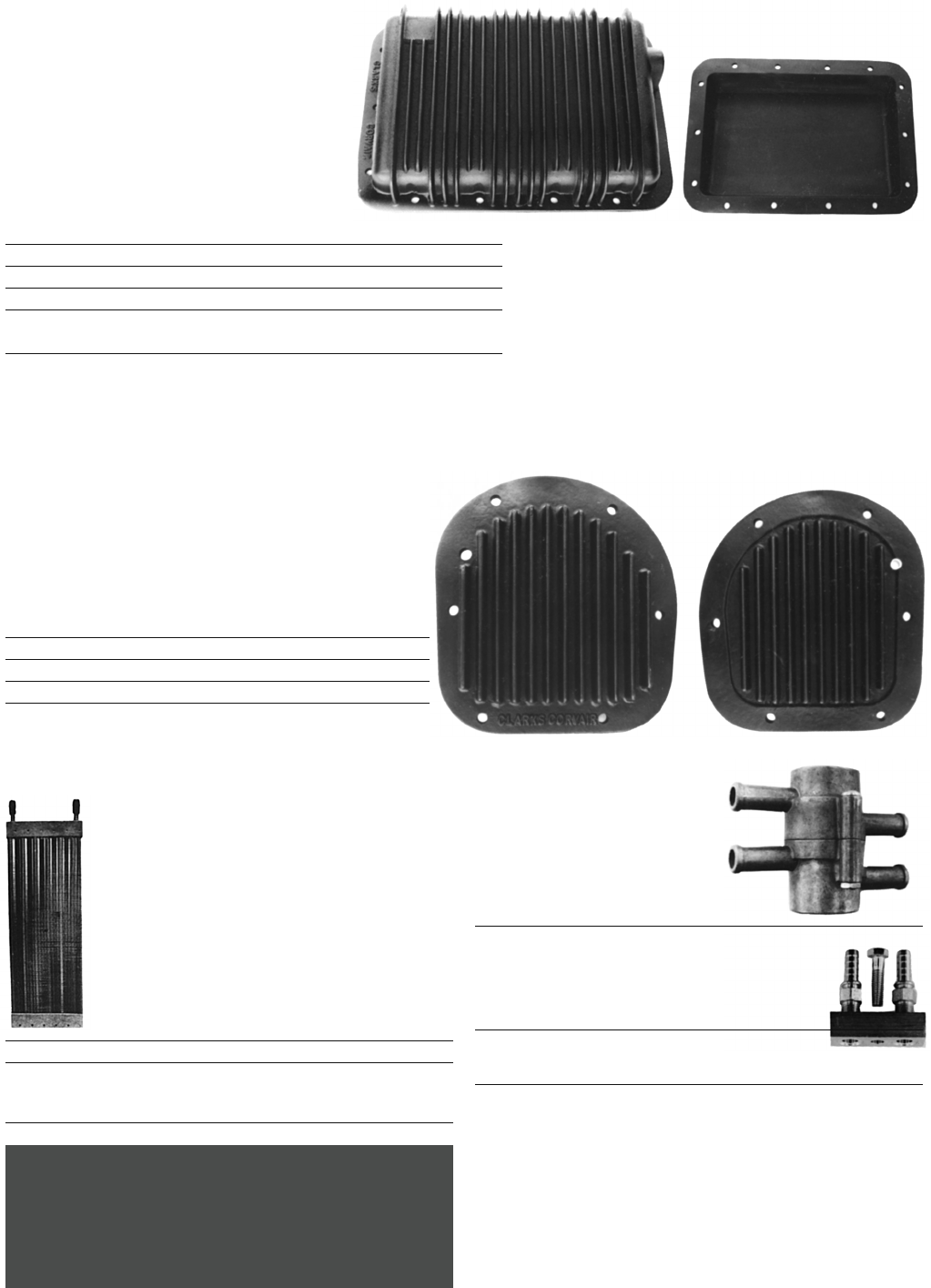 i
WARNING:
Products on this page can expose you to a chemical, which is known to the St

ate of California to cause cancer or reproductive harm. **For more information go to www.P65Warnings.ca.gov**
31
Finned Powerglide Pans
The best protection for your powerglide transmission is a finned
aluminum pan. Not only does it stop leaks (from that weak, steel
pan), but more impor
tant, it helps your transmission run much
cooler, which is important to any transmission.
A magnetic drain plug is included.
Our rugged pan is finned (matches our oil pan and valve covers)
and black anodized for maximum heat transfer. Get one now!
ORDER SPECIAL GASKET SEPARATELY
Fits all Corvair powerglide transmissions.
Powerglide Pan
C7224

8 lbs.
"Paper" Gasket
C7225

6 oz.
Optional "Paper" Gasket:
May seal better.

C3033W

6 oz.
Aluminum PG Pan:
Included with pans.
Bolts for Aluminum PG Pan (set of 14)
C7224B
6 oz.
Finned Axle (Differential) Covers
Your differential generates a great deal of heat. Our black anodized aluminum
cover is finned inside and out for maximum heat dissipation. The cover is also
very strong and will help strengthen differentials that are raced or driven hard.
Cover
includes
vent tube and bolts.
COVERS ARE 7/16" THICK.
ORDER SPECIAL GASKET SEPARATELY
Fits all Corvair differentials.
Aluminum Axle Cover
C7226

5 lbs.
Special Gasket
C7227

4 oz.
Aluminum Axle Cover Bolts
(set of 6)

C7226B

4 oz.
Oil Coolers
Greatly improves oil cooling for your Cor vair. Can be mounted
above fan, in front of air intake openings, or outside engine
com partment. Comes with all necessary parts (exc. hose) and
instructions. You may need to fabricate a few parts depending on
where you mount the cooler. Air must be forced through to cool
effectively. (Requires removal of stock cooler.) Order length of hose
needed below. Large oil pump also suggested. Just a 20° drop in
oil temperature can double engine life!
Oilstat is also suggested.
KIT:
With 7 3/4 x 14 x 1 cooler
C5233
8 lbs.
Special Hose:
Order by number of feet you will want. (Example: 6 = 6 feet) Don't
forget that you will need feed hose and return hose.
"Oilstat"
A must for any cooler. Install this in the lines
to your oil cooler and oil will be returned to
your engine until it reaches warm enough
temperature, then this thermostat will open
and let it go to the oil cooler (includes clamps).
Oil Cooler Adaptor:
This is the adaptor we supply with our oil
cooler kits. It bolts in place of the stock oil cooler and includes
2 brass connectors to attach 3/8" I.D. hose. Viton seals & bolt.
NOTE: Adaptor replaces factory adaptor – you could use other
connections in the pipe threaded holes.
Plug – For Oil Pressure Release Valve:
As suggested when
installing oil coolers. Included in C5233 Kit.
Weatherstrips
We can now supply nearly every weatherstrip, as either a good quality replacement
or as an exact reproduction.
See pages 213–219
PREPAID?
Some items Indicate that they must be prepaid.
Credit Card orders qualify as prepaid.