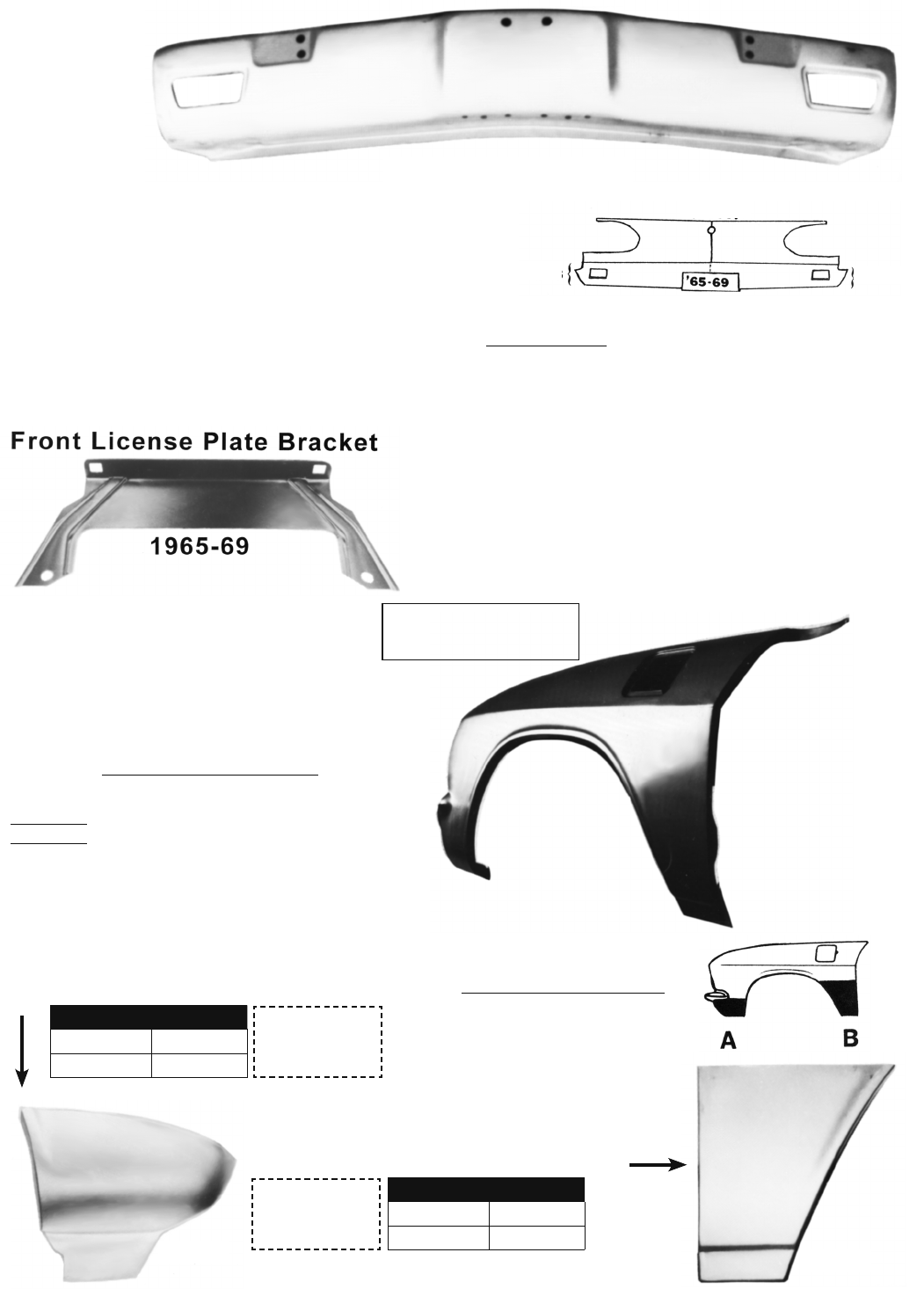 i
WARNING:
Products on this page can expose you to a chemical, which is known to the St

ate of California to cause cancer or reproductive harm. **For more information go to www.P65Warnings.ca.gov**
192
1965-69
front
lower
steel
Body Panel
An excellent one piece steel repro that includes the reinforcement on the backside
for the license plate. This exactly replaces the stock piece from the left and right
seam and as high as behind the bumper.
C9173C
40 lbs. dimensional
Fiberglass Front Panels – thick-hand laid panels – FIBERGLASS
Lower Panel
FULL WIDTH
(see bottom of sketch above)
C3643
45 lbs.
WHOLE PANEL
COMPLETE
(like sketch above) Includes trunk weatherstrip channel.
Can go UPS but not insured (usually OK) or Truck Collect.
Shipped UPS order C1066F-U
77 lbs.
Shipped Truck order C1066F-T
Replace that missing, rusty or bent bracket with these exact repros. We believe the 1965
(only) had round holes for the license bolts. These are all with the square holes for the
plastic push in retainers. Fits 1965-69 All.
Bracket With Square Holes
C8924
1 lb.
Square Retainer – plastic
C535
1 oz. ea
Set of 4 License Screws
C1273
2 oz./set
Set of 2 Bolts – Bracket to Body
C9O6O
2 oz./set
1965-69
FRONT FENDERS
COMPLETE
Fit 1965-69 but (1968-69) have to cut the side marker light holes. Fender
includes trunk gutter. Very strong, thick, hand laid fiberglass. Pop rivet and
epoxy in place.
These are not an easy replacement.
Must be PREPAID.
(NO COD. Credit card OK)
FIBERGLASS
Left

(Driver)
C2441 UPS
98 lbs.

u
FIBERGLASS
Right (Pass.)

C2442

UPS

98 lbs.

u
Steel Fenders – See "NOS" on website.
FRONT FENDER PATCH PANELS
1965-69
A – BOTTOM FRONT CORNER
About 1O" high.
Steel are excellent repros
Covers areas shown in
sketch marked A or B
1965-69
B – REAR BOTTOM CORNER
u
(plus UPS LPS due to size
See page 204 for shipping info)
Please
Wear
Panels!
PANEL DISCOUNT
page 186
PANEL DISCOUNT
page 186
IN STOCK – Late 2019
C3643
C1066F
C3643
C9062
C9062